Boredom is US soldiers' new foe in Iraqi desert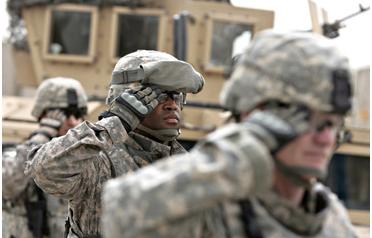 Behind T-walls – the concrete anti-blast barriers that are also omnipresent in Iraq's capital – most soldiers in high-security Camp Liberty adjoining Baghdad airport already live in isolation from Iraqi life.
At the Main Street USA Food Court, not far from Vigilant Street, trailers converted into fast-food takeaway joints such as Burger King, Taco Bell, Popeyes, Seattle's Best Coffee and Subway compete for business.
A huge supermarket caters for almost every imported need, including DVD films and music, especially for the desert joggers' MP3 players and iPods, but there is no alcohol which is banned for the men and women in uniform.
As the "Allahu akbar" (God is Greater) call to evening prayers wafts in from across the lake at Saddam's former Faw Palace, from a mosque outside the camp, soldiers try to hone their golfing skills by driving balls across the water.
With Cuban cigars on offer from Romeo y Julieta to Cohibas and even more exclusive brands – starting at $10 (Dh36.80) a pop and banned back home because of a long-standing embargo – soldiers can indulge in both pleasures at once.
The Faw itself, which cigar-lover Saddam Hussein had built to celebrate his "victory" in the 1980-1988 war against Iran, has been rebaptised as the Victory Palace to mark his crushing defeat in the US-led invasion of March 2003.
It has been turned into a US coalition headquarters and tourist attraction for American and allied troops visiting from other parts of war-battered Iraq.
As soldiers fish in the lake or feed the ducks, others take turns posing for photographs in the extravagant armchair which the late Palestinian leader Yasser Arafat is said to have sent as a present for his friend Saddam.
"I have been here four months and have hardly fired a shot," said one 20-year-old soldier from Texas, stoking wood in a fireplace of another lakeside building that is now used as a hotel for the generals.
'You have to embed in their culture'
With violence around Iraq at its lowest level since the invasion nearly six years ago, Camp Victory has not been the target of any significant rocket or mortar attack for months, according to the US military.
However, some 4,250 US military personnel have been killed in Iraq since March 2003.
On January 1, the United States launched its disengagement by handing over control of central Baghdad's Green Zone, home to the Iraqi government and US embassy, to Iraq's own security forces.
Washington signed a security pact with Baghdad in November that allows its combat forces to remain in towns and cities for four more months and in the country until the end of 2011, as Iraq gradually takes over its own security.
During a massive Shiite pilgrimage to the central city of Karbala that ended last week, the US military remained on the sidelines. US drones overflew the pilgrimage routes only, as part of the hands-off approach.
Back at Camp Liberty, three US army chaplains based in southern Iraq showed off pictures of the ziggurats of ancient Ur and the reputed birthplace of the prophet Abraham, as their young armed escort chomped on a cigar.
They had given tours of the rich historical sites to US civilian personnel.
Colonel Edward Dorman, who has been working with the Iraqi military in his specialised field of logistics, said the two sides have to make efforts to overcome the cultural divide.
"You have to embed in their culture," he said.
Iraqi army officers have been sent to the United States for "military ethics training and character development," and police counterparts are being trained in gathering forensic evidence.
But apart from cooperation between the allied security forces and the Iraqi interpreters in their ranks, the 146,000 US troops have few dealings with the Iraq on the other side of the checkpoints, barbed wire and T-walls.
Black Hawk helicopters give only a bird's eye view of the country, as vigilant gunners on each side of the aircraft slowly swing heavy machine-guns from side to side in case an insurgent tries his luck with a potshot.
Follow Emirates 24|7 on Google News.
For a growing number of young US troops in Iraq, boredom is becoming the new enemy as major anti-insurgency raids turn rarer and their disengagement from the country starts to take shape.