Clinton says Gaza aid and peace must go hand in hand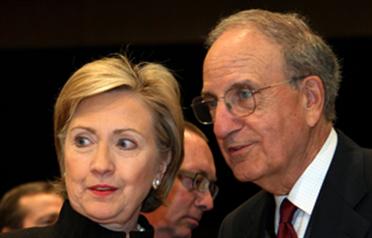 Hillary Rodham Clinton is making her first foray into Middle East politics as US Secretary of State. She has arrived at the international donors' conference with a US pledge of about $300 million in humanitarian aid for the war-torn Gaza Strip, with an additional $600 million in assistance to the Palestinian Authority.
Clinton also has scheduled one-on-one meetings with several of her Mideast counterparts, including Egyptian Foreign Minister Ahmed Aboul Gheit and foreign ministers from Morocco, Algerian, Libya and Tunisia, as well as Egyptian President Hosni Mubarak, French President Nicolas Sarkozy and Italian Prime Minister Silvio Berlusconi.
Hillary Clinton said on Monday that aid to rebuild the war-battered Gaza Strip cannot be separated from the peace process, in remarks prepared for an international aid conference in Egypt. "Our response to today's crisis in Gaza cannot be separated from our broader efforts to achieve a comprehensive peace," Clinton said. "By providing humanitarian assistance to Gaza, we also aim to foster conditions in which a Palestinian state can be fully realised," she said about Washington's goal to see peace in the Middle East.
Follow Emirates 24|7 on Google News.