Explosions rock Gaza as Israeli troops roll in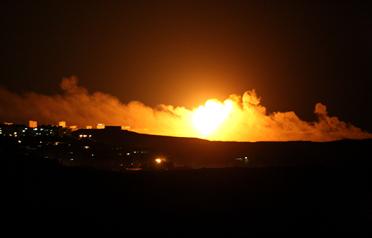 Explosions shook the Gaza Strip and fires lit up the night skies as Israeli ground forces surged into the battered Palestinian enclave late Saturday following a week of air and naval raids.
Hours after infantry kitted with night-vision goggles trotted alongside tank columns across the border and into the Hamas stronghold, battles raged in open areas east and north of Jabaliya and east of neighbouring Gaza City.
The heaviest fighting was reported in the north, in and around Jabaliya, as well as around Gaza City, Beit Hanun and Beit Lahiya. Hamas fighters fired mortars and detonated roadside bombs.
Flames shot high into the sky after the Israeli air force bombed a gas depot near the northern town of Beit Lahiya, causing a deafening explosion.
A huge fire raged at the depot, on a main road through Gaza, following the strike on the private business, which supplies cooking gas to the local population.
Flares streamed into the sky and exploded like fireworks, lighting up the overcrowded territory.
Medics said ambulances were unable to reach the battlefields, where numerous Palestinian fighters were said to lie seriously wounded, because of the fighting.
As the night wore on, witnesses said Israeli troops were approaching a built-up area in northwestern Gaza known as Sudaniyah.
Separately, witnesses said soldiers had entered a neighbourhood of Beit Hanun, in the northeastern corner of Gaza. They said residents were being told by loudspeaker to evacuate the area and move to another neighbourhood.
The air force said it had hit 40 targets, including seven tunnels.
Witnesses said that among the targets was the home of a senior Hamas official, which was destroyed without any casualties resulting.
As troops clashed with Hamas fighters on the ground, the battle raged on the airwaves, with Israel breaking into broadcasts of Hamas television and radio.
Follow Emirates 24|7 on Google News.