Fresh air raids across Gaza as toll passes 1,000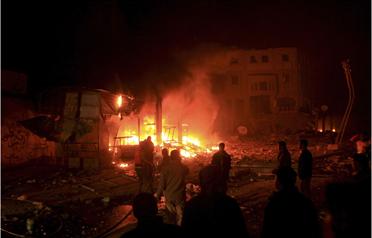 The death toll passed 1,000 as fresh air raids were carried out on Thursday across Gaza and ground troops waged more street battles as its war entered a 20th day despite hopes of a truce.
With UN chief Ban Ki-moon in the region to seek an end to the conflict, diplomats said Hamas has accepted an Egyptian-brokered ceasefire, although the Islamists merely indicated support for its "broad outlines."
The head of Gaza's emergency services Moawiya Hassanein told AFP 1,038 people have been killed in Gaza while a further 4,850 people have been wounded since the December 27 launch of Operation Cast Lead.
Israeli warplanes blasted Gaza's southern border with Egypt, carrying out some three dozen bombing raids and sending panicked residents fleeing, witnesses said.
At least 16 people were killed in the night-time raids across the territory, including a 13-year-old boy in a Gaza City neighbourhood and two suspected militants near Jabaliya refugee camp in the north.
In addition, five people were injured in the bombing of a mosque in Rafah, according to medical sources.
The war, which has killed some 400 civilians and has sparked outrage across the Muslim world, could well continue until the January 20 inauguration of US president-elect Barack Obama, revealed sources.
A Gaza-based leader said after talks with officials in Cairo that it did not reject the "broad outlines" of an Egyptian-brokered truce plan, without accepting the plan outright.
"President (Hosni) Mubarak's vision is the only one that was proposed, we don't ask for any amendment to its broad outlines," Salah al-Bardawil told journalists in Cairo.
He said Hamas has "presented to the Egyptian leadership our detailed vision," despite the fact Egyptian and Spanish diplomats said Hamas had accepted the plan.
In Cairo, Ban again pleaded for "an immediate and durable ceasefire," at the start of the Middle East trip.
Germany's Steinmeier praised Egypt's peace-brokering in a joint statement with French counterpart Bernard Kouchner.
"Important progress has been made over the past days in identifying workable solutions," they said.
But Bolivian President Evo Morales said his country had severed ties with Israel to protest the Gaza war, a move matched by Venezuela, whose President Hugo Chavez had already expelled Israel's ambassador on January 6.
In a recording posted on the Internet entitled "A Call for Jihad to Stop Aggression Against Gaza," Al-Qaeda chief Osama bin Laden called for a holy war to restore "Jerusalem and Palestine."
The offensive has sparked widespread concern about a humanitarian crisis breaking out in one of the world's most densely populated places where the vast majority of the 1.5 million population depends on foreign aid.
Follow Emirates 24|7 on Google News.