Gaza calm as Israeli troops begin pullout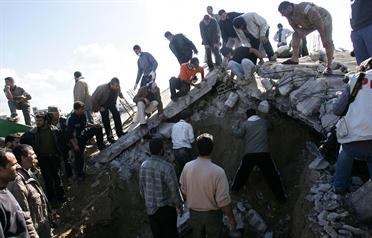 Gaza enjoyed a second night of calm on Monday as Israeli troops began withdrawing after their deadly 22-day onslaught in the battered territory was halted by a fragile ceasefire deal.
As Hamas also announced a week-long truce of their own, the guns on both sides fell silent giving Gaza's traumatised population a second night of relative peace.
"Everything is calm, there have been no reports of any activity throughout the night," an Israeli army spokesman said shortly after dawn. Palestinian security sources also had nothing to report for the first time in over three weeks.
Israel has said it wants to leave Gaza as quickly as possible after its deadliest-ever offensive there which reduced much of the area to ruins.
Hamas leader Ismail Haniya claimed a "great victory". "God has granted us a great victory, not for one faction, or party, or area, but for our entire people," said Haniya, Hamas' prime minister, in a televised address.
"We have stopped the aggression and the enemy has failed to achieve any of its goals," he added.
French President Nicolas Sarkozy hailed Israel's ceasefire but said it was "only a first step" and must go further.
"We should immediately convene a major international conference which would allow us to establish peace this year," Sarkozy said.
British Prime Minister Gordon Brown urged Israel to reopen the crossings to long-blockaded Gaza, saying a sustainable ceasefire would require "humanitarian access" to the territory.
Follow Emirates 24|7 on Google News.