Gaza City toll passes 510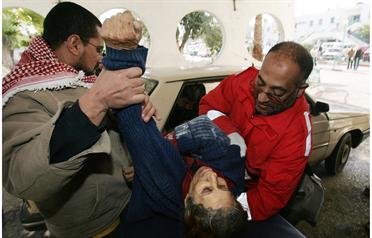 Tens of thousands of troops battled Hamas fighters in Gaza early on Monday amid tank, artillery and air strikes, as the death toll from the offensive to end rocket attacks passed 510.
Israeli forces moved into the fringes of Gaza City as families fled or hid on the second night of combat.
At least 70 Palestinians have been killed since the ground offensive began on Saturday night, Gaza medics said.
Columns of troops and tanks surrounded Gaza City and fighting was reported in outer districts.
Witnesses said tanks had cut off Gaza City and the far north from the rest of the strip, which would prevent the entry of arms, supplies and fighters from the south.
An AFP photographer said warplanes were also bombing targets in the southern border town of Rafah.
Fierce clashes were also reported around the northern towns of Beit Lahiya, Beit Hanun and Jabaliya.
Moawiya Hassanein, head of Gaza medical emergency services, told AFP the number of Palestinians killed since the operation was launched on December 27 was now 512, including 87 children.
Five members of the same family died when a tank shell hit their car near Gaza City, emergency services said.
Three ambulance workers were killed when they were hit by a missile as they helped wounded victims of the conflict, medics said.
Aid groups said the offensive had aggravated a humanitarian crisis for the population, who have no electricity, no water and now face dire food shortages. Hospitals were only running on backup generators.
International efforts to halt the conflict sought new impetus after the UN Security Council failed to agree a statement on the conflict.
Sarkozy was scheduled to meet Palestinian president Mahmud Abbas in Ramallah on Monday, after first meeting his Egyptian counterpart, Hosni Mubarak, in Cairo.
France hopes Egypt can rekindle its role as a mediator.
The European Union and Russia are both part of the Middle East diplomatic Quartet, along with the United Nations and the United States.
The UN Security Council failed to agree a statement calling for a ceasefire in closed-door consultations late on Saturday.
That drew expressions of regret from UN chief Ban Ki-moon on Sunday, who said he would be working with key players to facilitate a consensus to bring about an end to the violence.
Hamas spokesman Fawzi Barhum condemned the Security Council action as "a farce".
Egypt summoned the ambassadors of the UN Security Council's five permanent members -- Britain, China, France, Russia and the United States -- to protest at the delay in passing a ceasefire resolution.
Follow Emirates 24|7 on Google News.