Hamas announces one week ceasefire for Israel to leave Gaza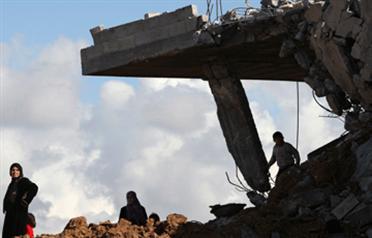 A senior Hamas official says Syrian-based Palestinian groups will declare a cease-fire and give Israel a week to withdraw from Gaza.
The Hamas official's comments came shortly before the group's exiled leader Khaled Mashaal was to make an "important" announcement in Syria on Sunday afternoon regarding Israel's unilateral cease-fire declaration.
The official spoke on condition of anonymity because he was not authorised to make the news public to the media. 
Israeli troops and Hamas fighters had punctured a tenuous truce on Sunday, as dozens of bodies were pulled from the rubble after Israel halted its war on Hamas.
As militants fired rockets and Israel launched retaliatory air strikes, Prime Minister Ehud Olmert warned the unilateral ceasefire Israel had begun just hours earlier was fragile and was being constantly reassessed.
"The government's decision allows Israel to respond and renew the fire if our enemy in the Gaza Strip continues its strikes," he said at the start of the weekly cabinet meeting in Jerusalem.
"This morning they again proved that the ceasefire is fragile and it has to be reassessed on a minute by minute basis," he said. "We hope that the fire ends. If it continues, the IDF (Israeli Defence Forces) will respond."
Palestinian medics took advantage of the halt in Israel's deadliest offensive on Gaza to rush to areas which had been inaccessible due to furious fighting, pulling at least 95 bodies from the rubble, including those of several children.
Israeli troops shot dead an eight-year-old girl in the northern town of Beit Hanun and a 20-year-old man near the southern town of Khan Yunis, the first deaths since the truce, medics said.
The incidents come amid a major diplomatic push by Egypt to secure a lasting truce, with President Hosni Mubarak hosting leaders from Britain, France, Germany, Italy, Jordan, Spain and Turkey.
But officials said that the clashes did not necessarily mean a return to all-out fighting.
"There will no doubt be isolated incidents," Israeli Infrastructure Minister Benjamin Ben-Eliezer said. "It will take two to three days for everything to end completely, for Hamas to understand that we are now in a new scenario."
Gaza's Hamas rulers warned that they would not accept the presence of a single Israeli soldier in Gaza.
"We have clearly said: if Israeli troops remain in Gaza, this will be a wide window for the resistance against the occupation," Osama Hamdan, the group's representative in Lebanon, said in an interview with Al-Jazeera television.
Palestinian president Mahmud Abbas repeated his call for a complete withdrawal of all Israeli forces from Gaza and the re-opening of the enclave's border crossings, saying Israel's truce was "important and necessary but insufficient."
On the ground, as Hamas congratulated the Palestinians on "victory" from mosque loudspeakers, Gaza residents cautiously ventured out into the streets to survey the rubble that was once their homes.
Meanwhile Yahia Karin, 54, surveyed the damage in Zeitun, his neighbourhood in southern Gaza that was the scene of some of the most furious battles between Israeli ground troops and Hamas militants.
"Everything has been completely destroyed," he said looking at the charred pile of rubble on the spot where he once lived.
On the diplomatic front, Egypt was hosting an international summit on Sunday afternoon attended by several European leaders and UN chief Ban Ki-moon.
Hosni Mubarak, the Egyptian president, said on Saturday his country "will continue its efforts as soon as there is a ceasefire to restore the truce and lift the blockade" imposed by Israel on crossing points into Gaza after Hamas seized power in the territory in June 2007.
Olmert announced late on Saturday that Israel was unilaterally silencing its guns after an unprecedented 22-day-long campaign in Gaza, which killed at least 1,300 people, including more than 400 children, wounded another 5,300, and left large swathes of the territory in ruins.
On the Israeli side three civilians and 10 soldiers were killed in combat and rocket attacks.
During the course of the war, schools, hospitals, UN compounds and thousands of homes all came under attack with the Palestinian Authority putting the cost of damage to infrastructure alone at $476 million.
The halt to the violence came after the Jewish state won pledges from Washington to help prevent arms smuggling into Gaza, a key demand to halt the fighting.
The ceasefire comes less than a month before Israel holds elections when Olmert, who formally resigned last autumn, is due to stand down.
The premier, whose reputation was badly damaged by a 2006 war in Lebanon seen by many Israelis as a disaster, said the Gaza war had "strengthened the deterrence of the state of Israel in the face of all those who threaten us."
Follow Emirates 24|7 on Google News.