Hariri tribunal to open with no courtroom or trial date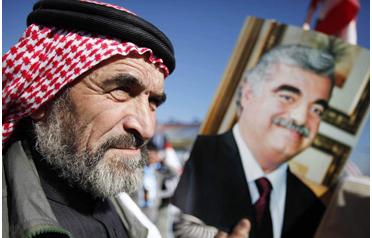 The Special Tribunal for Lebanon will be officially launched in a special ceremony on March 1, but it could be years before any suspect is brought before a judge.
"There is a lot of work left to turn this into a court," registrar Robin Vincent told journalists at the seat of the tribunal, the former headquarters of the Dutch intelligence service in Leidschendam, this week.
The courtroom itself, to be housed in what was a gymnasium used by spies, is not expected to be completed before November, he said.
As for the date of the first hearing, "that depends on the success the prosecutor (Daniel Bellemare) has in pursuing his investigation. Only the prosecutor knows how advanced his investigations are."
The court, known informally as the Hariri tribunal, has existed on paper since June 10, 2007, when it was brought to life by a UN Security Council resolution.
It was created to try those behind a series of attacks on Lebanese political and media personalities, notably Hariri's assassination in a car bombing in February 2005 that also killed 22 other people.
The attack on Hariri on the Beirut seafront was one of the worst acts of political violence to rock Lebanon since the 1975-1990 civil war and led to the withdrawal of Syrian troops after a 29-year presence.
In its early stages, the UN probe into the murder implicated top Syrian intelligence officials. Damascus has consistently denied any involvement.
Eleven judges, including four Lebanese, have been nominated to work at the tribunal. None have been identified for security reasons, and Vincent said the Lebanese judges' names would likely be withheld until they take up their duties.
From taking office officially on Sunday, the office of the prosecutor will have 60 days to apply to the Lebanese authorities for the transfer of suspects and evidence files.
The identities of potential witnesses and suspects have also not yet been revealed. "The prosecutor has kept his cards very close to his chest," said Vincent. "It is important that he does that for confidentiality."
On Wednesday, just days before Sunday's official opening, Lebanon released three of seven suspects it had been holding in connection with Hariri's murder – three civilians suspected of withholding information and misleading the ongoing probe.
Vincent said that if suspects refused to come before the tribunal voluntarily, the tribunal could ask the UN Security Council to put pressure on member states to hand them over.
If all else failed, "and that is something that is unusual about this tribunal, we have the provision to try people in their absence. I think that would be the last resort."
While the courtroom may not be ready, the tribunal already has a separate wing of holding cells at the Dutch penitentiary in Scheveningen, which "is operational, staffed and ready to receive anyone we get," Vincent said.
A facility could be prepared in the tribunal building in case a trial space is required earlier than expected.
Vincent said the tribunal would have a staff of 350 in its first year, and a budget of $51.4 million (Dh189 million) of which the Lebanese government would contribute 49 per cent.
"They have already made a significant downpayment," said the registrar, adding he was encouraged by pledges for the remaining 51 per cent from UN members.
"We have more than enough money ... as far as this year is concerned. The finances of this tribunal are in an extremely healthy state."
The tribunal will apply the Lebanese penal code, and victims of those convicted can seek compensation from Lebanese courts.
Follow Emirates 24|7 on Google News.
The tribunal created to try the suspected killers of former Lebanese premier Rafiq Hariri opens near The Hague on Sunday with no courtroom, no first trial date and its judges' identities a secret.