In baby steps, Saudi women rise up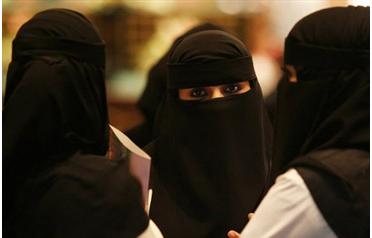 In a country where strict Islamic doctrine demands segregation and prevents women from driving or working and travelling freely, a handful of changes in the past two months suggests an increase of freedoms for women, activists say.
In a sweeping government shakeup last month, King Abdullah named Norah al-Fayez deputy education minister in charge of women's education, the first time a woman has been given a ministerial post in the country.
Also last month, a princess called publicly for women to be able to drive their own cars.
And at a regional conference on child abuse in a Riyadh hotel, with Abdullah's daughter Princess Adela presiding, there was virtually no barrier to prevent the more than 1,000 men and women present from mixing.
"That was a very very big step for the leaders," said Fouziyah al-Ayoumi, who campaigns against violence against women in the eastern city of Dharan.
In other countries such moves would be minor, but in Saudi Arabia, where arch-conservative Muslim clerics set the tone of law and policy – especially regarding women – they are being hailed as revolutionary.
Women's rights activists speak hopefully of being able to drive, move around without permission of a male relative, work in modern offices and be liberated from the black "niqab" face veil and "abaya" cloak women must wear in public.
While the king himself has not spoken directly about such issues, Saudi women activists see his hand opening the door for them while simultaneously holding back the clerics.
"I have the feeling that King Abdullah wants this change," said Ayoumi.
But success is not a given, activists say. In his shakeup, the king targeted the clerics' power base in the justice and education systems.
But some doubt that the new progressive ministers will be able to overcome the entrenched Islamic bureaucracy as well as general Saudi male opposition to giving women more freedoms and putting them in positions of power.
The signs of resistance are there, from speeches by clerics defending the restrictions on women to an effort in February by the Muttawa Islamic morality police to suppress shops selling fashionable decorated abayas.
According to French researcher Amelie Le Renard, the women's movement in Saudi Arabia has two very divergent tracks.
Some leading activists aim to break down barriers between the sexes, allowing free and equal interaction as in many other Muslim countries.
But Le Renard told AFP that others, including many young educated women, prefer the expanding equal-but-separate structure, where women have their own parallel structures to men – a distinctly "Islamic women's rights" view.
This includes women-only bank branches, hotels and shopping centres, and strict women's sections taking care of women's affairs in government departments and corporate offices.
"In general young women in Riyadh really want to work," she said. "Segregation is not their main problem... Some of them are really for segregation," said Le Renard, a PhD candidate at Sciences Po in Paris.
The problem, she said, was that this does not give women inroads into the Saudi male power structure.
In addition, for some women's rights supporters, the king's changes did not go far enough and leave the effort for more women's freedoms vulnerable.
Abdulaziz al-Sowayegh, a former member of the consultative Majlis al-Shura council, pointed out that in his shakeup, the king did not name any women to the 150-member council. Instead, six women have observer and consultant status.
"It's like avoiding putting women in the majlis. They are not full members, they don't have a vote. They will only be consulted on women's issues like feeding babies," he told AFP.
Follow Emirates 24|7 on Google News.
It is not exactly Riyadh Spring, but Saudi Arabia's first female minister and the free mixing of the sexes at a recent conference are giving Saudi women hope that some of the world's tightest restrictions on their gender may be easing.