International donors meet on Gaza rebuilding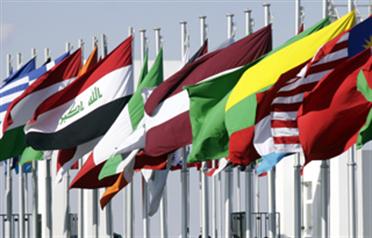 International donors are expected to pledge billions of dollars for rebuilding war-battered Gaza at a top-level meeting in Egypt on Monday.
But the donors are demanding that Hamas agree to play no role in spending the cash, which they insist be handled by the Western-backed Palestinian Authority of president Mahmud Abbas. "We expect rapid international aid from all parties to completely rebuild Gaza," Abbas told reporters on Saturday ahead of the meeting in the Red Sea resort of Sharm El-Sheikh. "We also expect that as in the past there will be one mechanism, the Palestinian Authority."
The 22-day onslaught on the impoverished territory in December and January destroyed homes, hospitals, schools and other infrastructure as well as killing more than 1,300 Palestinians. Tensions around Gaza were running high on the eve of the conference.
Palestinian prime minister Salam Fayyad has said the authority is seeking $2.8 billion to rebuild Gaza and shore up the Palestinian economy.
US Secretary of State Hillary Clinton, in Egypt on her first visit to the Middle East since President Barack Obama took office in January, is reportedly carrying a cheque for $900 million. But she said on Friday the aid would depend on how well the Palestinians meet the conditions of the diplomatic Quartet grouping the United States, the European Union, the United Nations and Russia. "I will be announcing a commitment to a significant aid package, but it will only be spent if we determine that our goals can be furthered rather than undermined or subverted," she told Voice of America radio.
"At the donors' conference, we are going to provide support to the Palestinian Authority and Gaza recovery totalling over $900 million," State Department spokesman Robert Wood told reporters.
The US contribution will include $300 million for urgent humanitarian assistance for Gaza, which was devastated by the three-week war in December and January, he said.
Those funds will be channelled via the United Nations and non-governmental organisations, he said, thus avoiding Hamas. Some $200 million will meanwhile go towards running the Palestinian Authority led by president Mahmud Abbas, with the remaining $400 million to be channelled towards economic development on the West Bank.
Alongside Clinton will be UN chief Ban Ki-moon, Russian Foreign Minister Sergei Lavrov and EU foreign policy envoy Javier Solana, with about 75 delegations attending the conference in all.
Western countries have said they will work only with Abbas. However, the Palestinian leader's control extends only to the West Bank since Hamas gained control in Gaza in June 2007, ousting Abbas loyalists after days of factional fighting in a takeover he branded a 'coup'. The Gaza economy was brought to its knees by the punishing blockade.
The Palestinians say the war destroyed 5,000 homes and caused extensive damage to infrastructure in Gaza, where many of the 1.4 million residents depend on outside aid.
Former British Prime Minister Tony Blair made his first visit to Gaza as Quartet envoy on Sunday, saying: "I wanted to come to hear for myself first-hand from people in Gaza, whose lives have been so badly impacted by the recent conflict."
The IMF said in a report last month that the Palestinians needed to secure additional donor aid "immediately" to cover external recurrent financing needs for 2009 of $1.15 billion, $500 million for development projects, and at least $600 million dollars for Gaza reconstruction.
Saudi Arabia is expected to reaffirm a commitment to provide $1 billion for reconstruction, and the European Union has said it will grant $554 million to the Palestinian people in 2009. Donor countries from the January 2008 Paris conference will reiterate a pledge of $7.4 billion in aid to the Palestinians in the three years 2008-2010, of which $3 billion has so far been distributed.
Follow Emirates 24|7 on Google News.