Iran official sees positive US signal in Mideast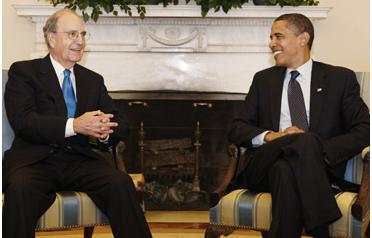 "The US president has announced he will send someone to the Middle East to listen to people and not to dictate," Ali Larijani, the speaker of Iran's parliament, told the annual Munich Security Conference.
"This approach is a positive signal," added Larijani, a major figure in the Islamic Republic and a former nuclear negotiator.
Obama has named former US Senator George Mitchell as his envoy to the Middle East. Richard Holbrooke has been named special envoy to Afghanistan and Pakistan.
Obama has vowed a strong push to secure peace between Israel and the Palestinians, as well as a new approach in dealing with Iran and its contentious nuclear programme.
His predecessor George W Bush opposed direct talks with Tehran to resolve the nuclear standoff but Washington is now reviewing its Iran policy.
Larijani said the new White House could rebuild some of the bridges that had been destroyed by the Bush administration but this required a "pragmatic strategy based on fair play".
"The old carrot and stick cliché must be discarded," Larijani said.
Most of his speech was spent attacking US policy in the region and he also questioned whether a change of tone from Obama really meant the United States was prepared to work towards a diplomatic solution with Iran.
The UN Security Council has imposed three rounds of sanctions on Iran for refusing to suspend uranium enrichment. Western powers suspect the work is aimed at building an atomic bomb. Tehran says it is for peaceful power generation only.
Follow Emirates 24|7 on Google News.
US President Barack Obama's decision to send an envoy to the Middle East to sound out countries in the region is a "positive signal", a senior Iranian politician said on Friday.