Iran ready for fair talks, wants real US change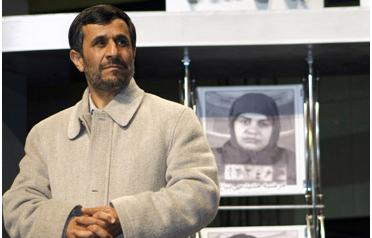 Obama said in his first White House news conference on Monday that he saw the possibility of diplomatic openings with Iran in the months ahead, marking a break with his predecessor George W Bush.
The United States and its Western allies accuse Iran of seeking nuclear weapons, a charge Tehran denies. Despite a new approach, Obama's administration has also warned Iran of tougher sanctions if it does not halt its disputed nuclear work.
"The new US administration has announced that they want to produce change and pursue the course of dialogue," President Mahmoud Ahmadinejad told a rally to mark the 30th anniversary of a revolution that ousted the US-backed shah.
"It is quite clear that real change must be fundamental and not tactical. It is clear the Iranian nation welcomes real changes," he said, adding: "The Iranian nation is ready to hold talks but talks in a fair atmosphere with mutual respect."
Ultimately, policy will not be decided by the president but by Supreme Leader Ayatollah Ali Khamenei, who has the final say in all matters of state under Iran's system of clerical rule.
Khamenei said in January that Washington could not be trusted but has, so far, kept silent on Obama and his overture.
Obama in his first formal television interview as president said America was prepared to extend a hand of peace to Iran if it "unclenched its fist".
After those comments, Ahmadinejad set tough conditions for any breakthrough, demanding Washington withdraw its troops from Iraq and Afghanistan, and that it apologise for what he said were decades of US "crimes" against Iran.
Ahmadinejad has a presidential election to contest in June, which will pit him against former President Mohammad Khatami, who pushed for detente with the West when in office from 1997 to 2005. Ties with Washington have already become a hot topic of political debate as the election race takes shape.
That race may encourage the United States and Iran to tread cautiously as they await the result, analysts say.
'SHADOW OF THREAT'
In his speech broadcast on state television, Ahmadinejad also turned to some of his more typical language to criticise the West, saying nations who sought to monopolise power, impose sanctions and threaten military action had not succeeded.
"The shadow of threat has been removed forever from over the head of the Iranian nation. They (powers) were all together, united, they imposed the heaviest economic sanctions in history, which included closing the banking jugular," he said.
Three rounds of UN sanctions, that included targeting some big Iranian banks, have been imposed on Iran for refusing to rein in its nuclear work. Washington has also tightened sanctions, driving many Western banks away from Iran.
"They brought military force and made military threats," Ahmadinejad said. "They were all together and they could not impose their will on the Iranian nation."
"I announce officially today that the Iranian nation is a real and genuine superpower," he said, pointing to achievements like this month's launch of the first Iranian-built satellite.
The satellite launch on a rocket that analysts say could be used for military as well as peaceful purposes has again raised worries in the West. Obama's administration has refused to rule out military action if needed but says it wants tough diplomacy.
"We will be looking for openings that can be created where we can start sitting across the table face-to-face," Obama said.
But he said Iran must stop its pursuit of nuclear weapons, end support for terrorist organizations and cease "bellicose language" toward US ally Israel.    
Iran celebrates the victory of the revolution on the 22nd of the Iranian month of Bahman, which this year falls on February 10. That date in 1979 marked the collapse of the last government of the US backed shah, who had left Iran in January.
Later that same year, radical students stormed the US embassy in Tehran and then held 52 Americans hostage for 444 days. Washington broke diplomatic ties with Iran in 1980. 
Follow Emirates 24|7 on Google News.
Iran is ready for talks with the United States based on mutual respect but wants real US policy change, the president said on Tuesday, in his most measured remarks towards America since President Barack Obama took office.