Iraqi reporter who threw shoes at Bush goes on trial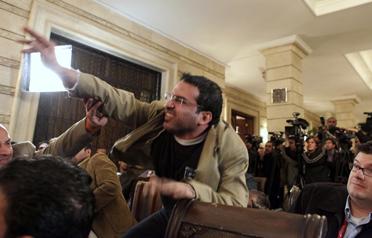 The Iraqi journalist who became an icon for critics of the US-led invasion when he hurled his shoes at former President George W Bush went on trial on Thursday, facing up to 15 years in prison. Muntazer Al Zaidi, whose shoe-throwing protest overshadowed Bush's final visit to Iraq in December and who also called the former US leader a "dog" – both insults in the Middle East – is charged with assaulting a visiting head of state.
Zaidi was handcuffed and surrounded by a pack of security guards when he was brought to Iraq's Central Criminal Court in Baghdad's fortified Green Zone.
Family members waiting for him inside the courthouse ululated wildly as he was brought in and draped an Iraqi flag across his shoulders.
Zaidi has been imprisoned for more than two months and his family complains he was beaten after being pounced on by security guards at Bush's news conference.
The reporter for an Iraqi television station based in Cairo became a hero in much of the Middle East.
Bush, whose support of Israel and decision to invade Iraq in 2003 to oust Saddam Hussein made him passionately disliked in many parts of the Middle East, nimbly ducked out of the way of the first shoe and made light of the incident afterwards. The second shoe also missed.
The invasion plunged Iraq into six years of sectarian warfare and insurgency that killed tens of thousands of Iraqis.
Zaidi's defence lawyers lost an appeal to have the charges reduced to insulting Bush, a lesser offence. They argued he could not have truly hurt Bush with a shoe.
Follow Emirates 24|7 on Google News.