Israel pounds Gaza City after warning of escalation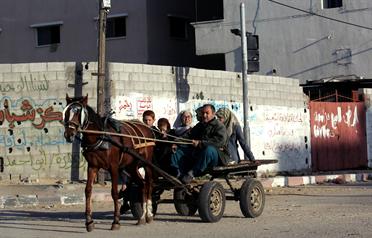 Tanks and warplanes pounded the outskirts of Gaza City before dawn on Sunday after Israel warned it would escalate its war, as the death toll in the 16-day-old conflict passed 850.
With the body count spiralling, medics said three Palestinians were killed and dozens wounded by heavy Israeli tank fire and air strikes, some according to doctors by banned white phosphorous shells that Israel denied using.
As dawn approached, an AFP correspondent reported increasing tank fire on the Al Sheikh Ajlin and Zeitun neighbourhoods of Gaza City, as well as on Sudaniyah, near the Mediterranean Sea in northwestern Gaza.
Several people had been hurt during clashes between Palestinian gunmen and Israeli tanks on the edge of Al Sheikh Ajlin.
Dr Yusef Abu Rish at Gaza City's Nasser hospital told AFP that at least 55 people were injured early Sunday by white phosphorous shells, banned under international law for use against civilians, but permitted for creating smokescreens.
"These people were burned over their bodies in a way that can only be caused by white phosphorous," said Abu Rish.
A closed-door briefing was told on Saturday that Israeli troops had killed more than 550 Palestinian fighters since the operation began, a senior military official told AFP.
Hamas supremo Khaled Meshaal said that Hamas would not accept any truce without the withdrawal of all Israeli forces and the lifting of the blockade slapped on the territory when the Islamists seized power in 18 months ago.
"With an open mind we will work with any initiative or any resolution but only based on these demands. We will not accept negotiations on a truce under fire," he said.
Since the Israeli offensive began on December 27, at least 854 people have been killed, including 270 children, 93 women, and 12 paramedics, according to Palestinian medics.
Another 3,490 people have been wounded, overwhelming Gaza's beleaguered medical facilities.
Egypt has been spearheading Western-backed efforts to end the fighting. On Saturday, President Hosni Mubarak met Palestinian president Mahmud Abbas, who urged Israel and his Hamas rivals to accept the plan "without hesitation."
A Hamas delegation was also due to hold talks with Egyptian intelligence chief Omar Suleiman.
Mubarak is calling for an immediate truce and opening Gaza's border crossings.
The conflict has sparked worldwide pro-Palestinian demonstrations, including rallies in Europe that drew tens of thousands of protesters.
Follow Emirates 24|7 on Google News.