Israel threatens more Gaza strikes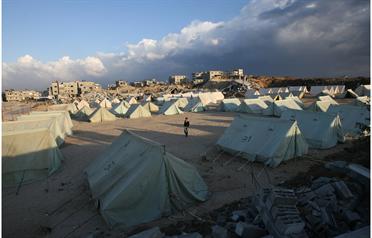 Israel threatened more strikes against Hamas on Monday hours after aircraft bombed Gaza.
Israeli aircraft late on Sunday targeted an empty police station in central Gaza and some seven tunnels along the Gaza Strip's southern border with Egypt, witnesses said.
The action came two weeks after the end of an Israeli offensive that devastated the impoverished territory and left more than 1,300 Palestinians dead.
There were no reports of casualties in the latest strikes on the Hamas outpost and the tunnels.
According to witnesses, hundreds of Palestinian workers involved in tunnel construction in southern Gaza fled to the Egyptian side of the border shortly after the bombing began.
The renewed air strikes come nine days before Israelis go to the polls.
Hamas slammed the Israeli threats as a "campaign stunt" before the election.
"This is an attempt... to destroy the Egyptian efforts to improve the calm," spokesman Taher al-Nunu said in Gaza.
The Hamas spokesman did not say whether the group was behind the latest rocket fire, but called on "all groups to respect the national decision concerning the ground situation in Gaza."
At least 15 rockets have been fired since mutual ceasefires by Israel and Hamas on January 18 brought an end to the 22-day war.
Egypt has been leading international efforts to consolidate the ceasefires into a lasting truce.
Follow Emirates 24|7 on Google News.