Israel to halt Gaza attack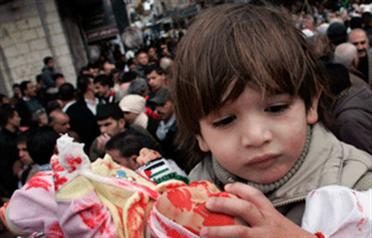 Israel's leaders voted late on Saturday to halt an offensive that has killed nearly 1,200 people, turned the streets and neighborhoods of the Gaza Strip into battlegrounds and dealt a stinging blow to the Islamic militants of Hamas.
Israeli Premier Ehud Olmert said in a televised address that Israel's "goals have been achieved, and even more".
Fighting will stop at 2am local time (midnight GMT) but Olmert says Israel will keep troops on the ground for the time being.
But Hamas leaders have repeated that it will not accept the presence of a single Israeli soldier in the Gaza strip.
Around half of the 1,200 Palestinians killed in the three weeks of violence were civilians, according to Palestinian and UN officials.
Thirteen Israelis, including 10 soldiers, have also died.  
Israel's ceasefire comes without any agreement from Hamas.
A Hamas official in Beirut said earlier that the militants would fight on until Israel met their demands, mainly for an end to a crippling Israeli blockade of the Gaza Strip. 
Another Israeli official said he expected the cabinet to declare a unilateral ceasefire and reach an agreement with Egypt on increased security along the Gaza-Egypt border.
Under that agreement, he said, the Rafah border crossing would open in line with a 2005 agreement with the Palestinian Authority, which calls for President Mahmoud Abbas's forces to control the border and for Europeans to monitor it.
The Israeli official said Gaza's border crossings with Israel were likely to be open initially only for humanitarian supplies.
However, Egyptian Foreign Minister Ahmed Aboul Gheit said on Saturday that Egypt had no commitment to a US-Israeli pact signed in Washington on Friday to halt arms smuggling into the Gaza Strip.
Follow Emirates 24|7 on Google News.