Obama presented with troop withdrawal options: official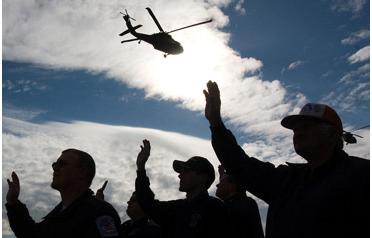 A 19-month scenario was also presented to the president by military advisers at the White House's request, the official told AFP on condition of anonymity, confirming an earlier report by US-based McClatchy Newspapers.
"We know they would like to do it in 16 months" but "we presented a range of options and the risks associated with it," said a second defense official, who also requested anonymity.
The newspaper group said the White House had received assessments of the risks associated with the 16, 19 and 23-month troop withdrawal options.
Obama warned in late January that he would have to make "difficult decisions" on the wars in Iraq and Afghanistan, following his maiden meeting as commander-in-chief at the Pentagon with military brass.
During his first week in the White House, he asked top military commanders to draw up plans for a "responsible" military drawdown in Iraq, where there are currently 142,000 US troops.
US military commanders in Iraq worry that a precipitous withdrawal would threaten security gains as Iraqis go to the polls in a series of elections this year.
Secretary of Defense Robert Gates has said that a 16-month drawdown was one of a "various options" being evaluated, warning about a potential reversal in Iraq.
"Let me just say, I think our obligation is to give the president a range of options and the risks associated with each of those options," Gates said after meeting with Obama in late January. "And he will make the decision."
McClatchy Newspapers said Obama would likely announce his Iraq strategy by mid-March.
Obama is also preparing to send up to 30,000 US troops to Afghanistan, which he has called "the central front in our enduring struggle against terrorism and extremism."
Some 36,000 US troops, some part of a broader NATO force, fight a resurgent Taliban and Al-Qaeda there.
Follow Emirates 24|7 on Google News.
The White House is weighing several options for US troop withdrawals from Iraq, with timetables ranging from President Barack Obama's campaign pledge to remove all combat troops within 16 months to a 23-month option, a defence official said on Friday.