Obama sees 'more responsibility' for Iraqis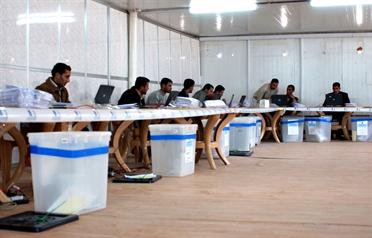 President Barack Obama said Sunday that the United States is in a position to place more responsibility in the hands of the Iraqis following provincial elections and a reduction in violence there.
"In conversations that I've had with the joint chiefs, with people, the commanders on the ground, I think that we have a sense now that the Iraqis just had a very significant election, with no significant violence there, that we are in a position to start putting more responsibility on the Iraqis," Obama told NBC television.
"And that's good news for not only the troops in the field but their families who are carrying an enormous burden."
Asked about his campaign promise to end the Iraq war and bring combat troops home within 16 months, and whether he could "say that a substantial number of them will be home in time for next Super Bowl Sunday," Obama replied: "Yes."
"We're going to roll out in a very formal fashion what our intentions are in Iraq as well as Afghanistan," he added in the interview which aired just before the start of the Super Bowl, an annual American football final, this year pitting the Arizona Cardinals against the Pittsburgh (Pennsylvania) Steelers.
Obama on Saturday praised the elections as an "important step forward" after millions of Iraqis went to the polls to elect councils in 14 or Iraq's 18 provinces.
Iraq is struggling to emerge from years of sectarian strife and to strengthen its fledgling democracy following the US-led invasion there in 2003 that ousted former president Saddam Hussein.
Saturday's election is seen as a key test of Iraq's steadily improving security and political system as Obama seeks a withdrawal from the country in order to shift more troops to Afghanistan.
Last year, Obama put forward a 16-month timetable for the withdrawal of US combat troops, but he has not restated that commitment since taking office on January 20, when he said the United States would "begin to responsibly leave Iraq."
Follow Emirates 24|7 on Google News.