Pakistan militants could sign peace deal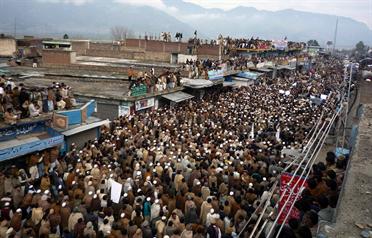 Militants fighting to establish Islamic law in Pakistan's Swat valley could sign a peace deal with the government as early as Monday, after announcing a 10-day ceasefire.
The government of troubled North West Frontier Province has been holding talks with a local militant leader, Soofi Mohammad, on the possible enforcement of strict Islamic sharia law in the area.
"The talks were very positive and the people of Swat will hear good news soon," provincial information minister Mian Iftikhar Hussain told AFP on Sunday.
Mohammad, a pro-Taliban cleric whose son-in-law Maulana Fazlullah is waging a violent campaign to impose sharia in the region, said talks on a draft agreement had been successful.
"We had been holding negotiations with the government on a 22-point charter of demands for quite some time. There were differences on five points, which have been removed in a meeting on Sunday," said Mohammad.
Hussain said provincial chief minister Amir Haider Hoti has convened a meeting of political and religious leaders and tribal elders in Peshawar on Monday, and if a consensus is reached he will reveal details to the press.
He gave no details beyond saying that the talks focused on establishing an Islamic system of justice in the region.
Taliban spokesman Muslim Khan said Sunday that the militants would observe a 10-day ceasefire as a "goodwill gesture". The ceasefire could be declared permanent if the accord is signed on Monday, he said.
Taliban militants and the government last year signed a peace agreement that collapsed as both sides accused the other of violating the deal.
The picturesque Swat valley was once a popular tourist destination but it has turned into a battleground since Fazlullah, who has links to Pakistan's Taliban movement, launched his campaign.
His fierce and violent effort to institute sharia - which is not the law of land elsewhere in Pakistan, the world's second most populous Islamic nation - led the government to pour troops into the region to fight the militants.
The Pakistan military launched a major offensive in the area in 2007, but local residents say much of Swat has still fallen out of government hands.
Fazlullah's men have executed dozens of state employees, torched some 180 schools, banned music and stopped barbers from shaving off beards.
The cleric has also used his own private FM radio station to promote his brand of sharia and to threaten his opponents.
Pakistan's tribal belt has been considered a safe haven for hundreds of Al-Qaeda and Taliban extremists who fled the US-led invasion of neighbouring Afghanistan in 2001, and they wield significant sway in the region.
The Pakistani Taliban last week threatened to destroy all the schools in another region of northwest Pakistan if government troops did not leave the area within three days.
Follow Emirates 24|7 on Google News.