Palestinian PM resigns in hopes to 'unify rival factions'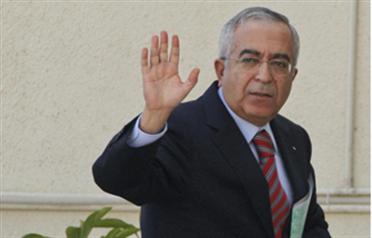 Palestinian Prime Minister Salam Fayyad said on Saturday he intended to resign by the end of March in a move that could help unity talks between the rival Fatah and Hamas factions.
But Palestinian President Mahmoud Abbas, the Fatah leader who appointed Fayyad after Hamas took over the Gaza Strip in 2007, triggering a schism amongst the Palestinians, said he asked the prime minister to stay on until results emerged from the Egyptian-sponsored reconciliation talks. "Brother Salam Fayyad has submitted his resignation to us in order to support and strengthen the Palestinian dialogue on forming a government," Abbas told reporters.
Hamas has long criticised Fayyad, accusing him of doing the bidding of the United States and other Western powers which finance his government in the Israeli-occupied West Bank. The executive committee of the umbrella Palestine Liberation Organisation, which is run by Abbas, said in a statement that Fayyad's resignation would "pave the way to forming a new Palestinian government emanating from national dialogue". "This move is meant to encourage the dialogue," an aide to Abbas said. "If we do not reach an agreement, the president can ask Fayyad to continue as prime minister." Hamas spokesman Fawzi Barhoum said he believed Fayyad's announcement was motivated by "internal and personal differences" with Abbas and not part of an effort to promote unity.
The president dissolved the government after Hamas drove his forces out of Gaza. Fayyad was appointed to replace Ismail Haniyeh of Hamas, who still heads the administration in Gaza. Abbas's authority has been effectively limited to the West Bank. Palestinian officials and Western diplomats said it was unclear whether the two factions would be able to form a coalition acceptable to Western powers in the Cairo talks, which entered a first round last week and will resume on March 10.
GOVERMENT OF TECHNOCRATS
Abbas wants the factions to form a unity government of non-partisan technocrats to spearhead reconstruction of Gaza of after the 22-day offensive and to prepare the way for new Palestinian elections.
A senior Western diplomat said Fayyad had said privately in recent weeks that he wanted to leave his post "because he doesn't see any hope" of healing factional rifts or making progress in peace talks with Israel. The United States and the European Union have strongly backed Fayyad, and they have privately urged him to stay on, possibly to head a unity administration, diplomats said.
The brief statement announcing Fayyad's resignation offered few details. "Prime Minister Salam Fayyad announced tendering the resignation of his cabinet to President Mahmoud Abbas, effective once a government of national reconciliation is formed, but no later than the end of March," it said.
A source in Fayyad's office said the prime minister's resignation would take effect by the end of month, regardless of the outcome of talks. But Abbas could then ask Fayyad to remain in the prime ministerial post or form another government.   
WHAT DO YOU THINK?  Is the PM's resignation a step forward to a unified Palestine? Have your say by posting a comment below, or emailing us at online@business24-7.ae.
Follow Emirates 24|7 on Google News.