Red Cross says Gaza now in 'full-blown' humanitarian crisis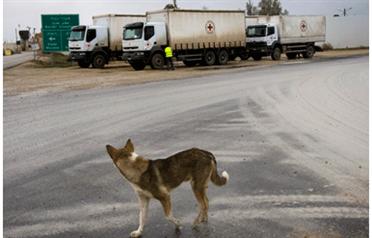 The Red Cross says an ambulance post was hit during what it called the most terrifying night yet of violence in Gaza. The neutral aid agency says Gaza is suffering a full-blown humanitarian crisis.
Pierre Kraehenbuehl, the International Committee of the Red Cross, head of operation, says the military offensive against Palestinian rocket squads launched by Israel on December 27 has left up to 600 dead and as many as 3,000 injured in Gaza so far.
Gaza's 1.5 million residents are facing an "alarming" humanitarian situation under constant Israeli bombardment, with the main power plant shut down, overcrowded hospitals struggling to cope and very limited food supplies.
Many Gazans are without electricity or running water and thousands have been displaced from their homes.
Water utility official Munzir Shiblak says about 800,000 residents in Gaza City and northern parts of the territory have had no access to running water since Tuesday.
Follow Emirates 24|7 on Google News.