Tragedy stalks Gaza family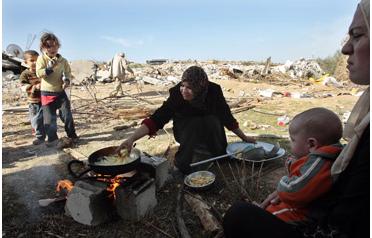 Alarmed, they urge him to put it down.
"Don't worry – if I die it would be no more than what has already been destroyed," he shouts before finally relenting and climbing down from the rubble left after this month's Israeli offensive in the Gaza Strip.
The mine, he says, was one of many placed by Israeli soldiers to demolish the apartment building that once housed dozens of members of his extended family.
"Fifty years I've been building this and it's all gone in the blink of an eye," he said in a quavering voice.
The house had been the family's refuge from an earlier calamity, when 18 relatives were killed two years ago by Israeli tank fire that destroyed another home.
Athamna's house, three neighbouring buildings which belonged to his sons and every other property along a kilometre (half-mile) stretch in Abed Rabbo, a village on the outskirts of the city of Gaza, were levelled by Israeli forces.
The assault left behind twisted steel and personal belongings scattered among the mounds of rubble.The family deny taking part in the rocket fire against Israeli towns which Israel said was the reason for its assault.
The gnarled remains of the two yellow, Mercedes limousine taxis that were the family's livelihood, lie in bushes next to the toppled homes.
Athamna's son Raed, who looks older than his 37 years, says the cars cost him $35,000 (Dh128,800).
The money he and his brother made driving the taxis, sometimes doubling up as English-speaking "fixers" for visiting journalists, supported an extended family of 56 people.
PAST HORRORS
He says the money was also key to helping his family recover after November 2006, when Israeli tank shells slammed in to the Athamna's former home in the nearby town of Beit Hanoun.
Eighteen members of the Athamna family, including eight children, were killed in that attack, which Israel says resulted from a technical mistake misdirecting the tank shells.
Three months later, in February 2007, the Athamnas moved to Abed Rabbo, where Majdi, the patriarch of the family, already owned a home and property.
"We had a little hope that we could restart our life, but wherever we go they continue to destroy us," says Ehteram al-Athamna, Raed's wife and mother to their seven children.
The Athamna family tried to see out the recent Israeli attack in their new home at Abed Rabbo.
But as the fighting got more ferocious with the start of a ground offensive the Athamnas set off on foot, carrying white flags, to what remains of their old home in Beit Hanoun, which they deemed to be safer.
Raed al-Athamna says going back to the Beit Hanoun house in these circumstances brought back nightmarish memories of 2006.
After a fragile ceasefire took hold a few days later they returned to Abed Rabbo, and to scenes of utter devastation.
"When I left, I thought I will come back and find some parts of my house, but I found rubble. Nothing was left of it," said Ehteram al-Athamna as she sat outside the tiny corrugated iron lean-to that has become their home.
Her year-old son clung, crying, to her arm although her other, school-age, children are of more concern to her now.
"It's difficult to live like this. We are not used to this. Even if I want to put them up in one room there is none.
"I have seven children, where can I go with them? When you are 15 and you don't have a house to go to or a desk to study on, what can you do?"
For her husband Raed, even an abiding religious faith cannot shield him from a desperate and uncertain future: "God will open a door to bring me money?" he asks, gesturing towards the sky.
"Will he bring me stones, cement? How [can we] build anything without a life and without safety?"
He turns on his heel and walks back through the rubble, his eyes scanning furiously for anything worth salvaging. 
Follow Emirates 24|7 on Google News.
Standing on the ruins of his family home, 75-year-old Majdi al-Athamna waves an unexploded landmine in the direction of a camera crew.