Triple blasts kill 50 in Baghdad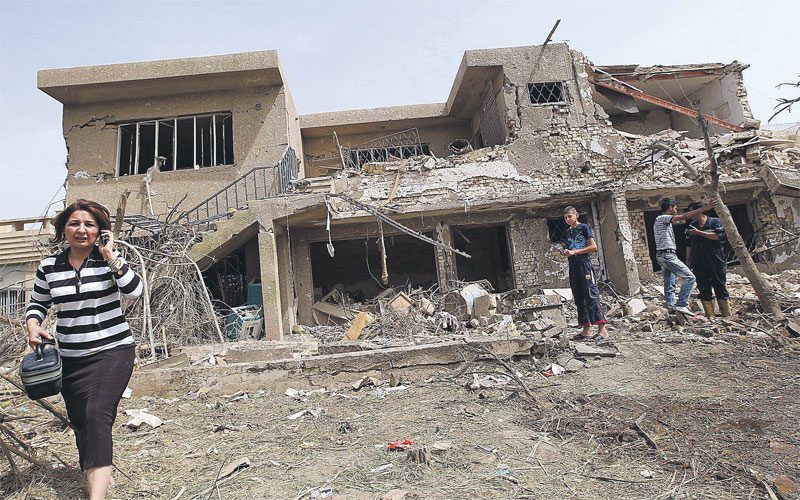 Three suicide car bombs targeting the Iranian and Egyptian embassies rocked Baghdad yesterday, killing 50 people in a surge of violence as Iraqis struggle to form a government four weeks after elections.
Officials said the near-simultaneous blasts in the morning wounded 224 people while witnesses reported mayhem in central Baghdad as ambulances and emergency workers raced to the sites of the explosions.
"They were suicide attacks against the Egyptian and Iranian embassies," said Major-General Qassim Atta, spokesman for the Iraqi security forces' Baghdad operations. Atta said one of the bombings struck at an intersection close to the German and Syrian embassies, with the German foreign ministry saying an Iraqi security guard was killed and three others wounded.
The Egyptian foreign ministry said the head of its mission's security was killed, and several guards were wounded. Atta said Iraqi security forces had stopped a car primed with a bomb in Masbah, in central Baghdad, that was apparently to be used in an attack on the headquarters of security police tasked with protecting foreign embassies. The driver was arrested and the bomb defused, he said.
The explosions occurred within minutes of each other, shattering windows in nearby buildings, sparking bursts of gunfire and sending large plumes of smoke billowing across the Iraqi capital.
Yesterday's blasts follow major sets of co-ordinated vehicle bombs in the Iraqi capital in August, October, December and January that killed more than 400 people.
They came as Iraqi political parties negotiate to form a government, nearly a month after a general
election that left four main blocs, none with sufficient seats to form a parliamentary majority on their own.
Follow Emirates 24|7 on Google News.