Why Gaza is staring into oblivion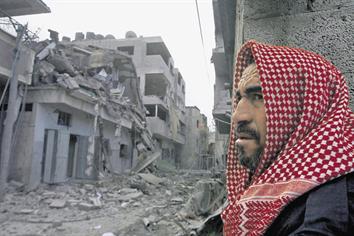 Believe it or not, only a few years ago the future of the Gaza Strip looked positive – developers were looking at this tiny strip of land as a place to plough their no-doubt considerable sums of money.

After all, it has a near-perfect climate and 40km of prime coastal land perfect for hotels, resorts, and acres of luxury living. Now, all that has gone.

Israel's latest attack on the impoverished Gazans has all-but indefinitely put an end to any foreign direct investment into what is already one of the poorest places on the planet. Total GDP is around $770m (Dh2.85bn); $600 per capita.

The air strikes, and more lately the ground assault, are destroying what little infrastructure there is, but, more importantly, it indicates to the world that this is a dangerous place, and ends any hope of a better economic future for the one million-plus inhabitants.

Even in a pure financial publication such as Emirates Business, there is a story to be told of the current conflict in Gaza, away from the human cost of such an abhorrent attack.

And it was our story, by Ryan Harrison and built around interviews with leading Palestinian bankers and estate agents in the UAE, that was among the best read online of all of last weekend's content.

"Economically, it's a complete catastrophe," said Fouad Dajani, Vice-President for Middle East Equities Sales and Trading at Credit Suisse. "You're talking about the poorest stretch of land on Earth – with 50 per cent of people living in poverty. Add to this the fact that they are being bombed and you have a complete disaster.

"You can only imagine the horrors on the ground.

The UN has said countless times over the past few months that this is a humanitarian disaster.

"There is no light at the end of the tunnel economically, but perversely, from a political standpoint, this has brought Gaza back to the forefront of peoples' attention and maybe popular pressure will eventually force Israel to loosen its grip on the place."

In the past few days, humanitarian issues have come to the fore, with the international community calling for a ceasefire to allow aid into Gaza.

Yet, at the time of writing, there seems to be no end to the Israeli agression which began on December 27 and has so far claimed the lives of close to 1,000 people.

In other news, the turn of the year is always a time to look back and forward. So it was a perfect time to ask some of the UAE's business leaders what their 2008 was like, and what 2009 holds for them.

In what was compelling reading, both in print and online, the likes of Saeed Ahmed Saeed, CEO of master-developer Limitless – the company behind Arabian Canal – James Hogan, CEO of Etihad Airways, Ahmad A Julfar, COO of etisalat, and Abdullatif Al Sayegh, CEO of Arab Media Group, offered frank views both of the global market and local conditions in their respective sectors.

Readers did not have to read between the lines: The message was clear the next 12 months will be challenging for everyone – here and globally – and it required strong leadership and consolidation.

Alongside Gaza, and much closer to home, was the thorny issue of income tax. In Saturday's edition, we analysed what the introduction of personal and corporate income tax would mean to the UAE. (The issue had been raised earlier in the week at the GCC Summit in Muscat).

And the bottom line is any level of taxation in the GGC would boost "economic progress and well-being" in the region.
Follow Emirates 24|7 on Google News.