Unexpected holiday for schoolchildren as rain batters UAE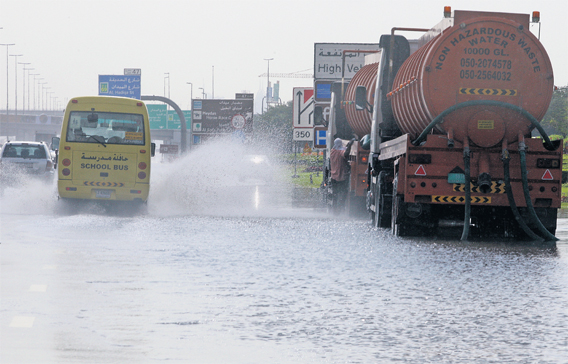 Inclement weather conditions have forced many schools across the UAE to declare a holiday today. Students were also given unscheduled time off yesterday as some schools closed for the day and others sent children home early.
Some parents too decided against sending their youngsters out in the severe weather yesterday. By late evening , several schools sent out text messages and e-mails informing parents and staff that there would be no school today as well.
Parents with children at Delhi Private School (DPS) at Al Qusais received an SMS early yesterday morning saying the school was closing for the day, and parents with wards at Winchester School in Jebel Ali Gardens got an SMS saying they would be sent home early.
"In the morning we got an SMS from the school saying they were closed for the day due to the inclement weather," said a DPS parent.
Another parent with a child at the school, said: "We did not send our son to school on Monday because of the horrible traffic conditions which occurred due to rains on Sunday night. I am glad the school decided to close down yesterday as it is better for him to stay at home than be stuck in traffic for hours on end."
A circular sent out by DPS said the school would remain closed today. A parent whose child studies at Millennium School Dubai, said: "When I woke up yesterday and saw the heavily overcast sky and rain I decided against sending my child to school as I did not want her getting stuck in the ensuing traffic jams for hours. It's so unfair and cruel for a child to be stuck in traffic for hours."
However, the school said it did not face any difficulties due to the rain and everything ran on schedule. Its administrative officer said: "The rain has not made much of a difference to attendance as our buses picked up students on time in the morning and reached the school on time. The buses that left in the afternoon to drop off the kindergarten children returned in time to pick up the other students."
Some parents from Oxford School in Al Qusais said they kept children home yesterday as, on Monday, the school bus was stuck in traffic for more than two hours.
One parent said: "To start with, the bus that comes to Al Wahda area was delayed by the traffic jam. When it did arrive, it was stuck in traffic for more than two hours. Then we got a call from the school saying they were sending children home as the bus had been stuck in the same place for hours. So we decided to keep the children home today." The Winchester School sent children home early yesterday.
Keep up with the latest business news from the region with the Emirates Business 24|7 daily newsletter. To subscribe to the newsletter, please click here.
Follow Emirates 24|7 on Google News.