2009 was our best year in Middle East, but I'm not happy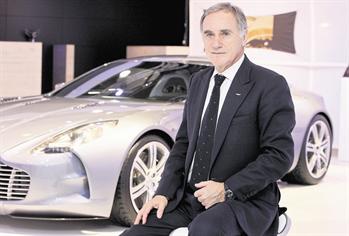 Britain's most exclusive sports car company, Aston Martin remains bullish despite prevailing market conditions and will be profitable this year.

Despite finishing the overall year lower than 2008, the company had its best year ever in the Middle East in 2009 and says it has still been an historic year for its famed stable and this year's introduction of a four-door sports car will boost sales.

Independently owned since 2007, by Kuwaiti investment houses Investment Dar and Adeem Investment, Aston Martin is also working on technologies that will outperform current hybrid technologies used by Toyota and others.

Dr Ulrich Bez, Chairman and Chief Executive of Aston Martin tells Emirates Business why high-performance sports cars are still a promising market and what its state-of-the-art facility in Gaydon, Warwickshire, United Kingdom is currently working on.


How has Aston Martin fared in 2009?

Our production and sales in 2009 is expected to be around 4,000 cars. Although this is down on 2008, it is still among the best years in Aston Martin history. Though the total number is less, it contains a greater product mix. Our flagship and most expensive DBS is up from an estimated 500 per year to almost 1,000. All told, Aston Martin will be profitable in 2009.

Last year was our best year ever in the Middle East. But I am not happy. I'm never happy about what we achieve. I think we should not have only between 150 and 200 cars, I think we should make at least 500 cars in the Middle East.

In 2008, we made 140 cars for the Middle East. In 2000, we made just nine cars. In 2009, instead of 200 cars, I think we should have made 350. Our most successful in the region has been the DBS.

What are your expectations for 2010?

We expect this to be another successful year for Aston Martin. We will have the most elegant four-door sports car in the world, the Rapide and I am confident this will help grow our company.

We will also have the best product line-up in Aston Martin's history and the coolest brand which is the envy of many.

We have a good chance to grow our business. With a stronger attention to how we are represented here by dealers and showrooms in the whole region I am very positive. Our cars have substance, are leading in design and in performance and quality are at the top level.

Of course, we do not expect the market to recover fully overnight. It is our expectation that it will be 2012 before the market returns to the levels seen in 2007, but our new products will keep us strong. We are confident but realistic. The company is committed to an exciting programme of future model development including the launch of the elegant Rapide and Aston Martins definitive sports car, the stunning One-77. We expect to surpass 2009 sales next year with the introduction of Rapide.

The Rapide is a four-door sports car. Why has it taken the company almost 90 years to create a four-door car?

Simply because the management in the past had not seen Aston Martin's potential as a global company and we were producing cars in very small numbers.

Our company has had some experience of four-door cars in the past but these have tended to be limited production runs like the Shooting Brakes. Now is the right time for a true Aston Martin four-door sports car – we have an established range catering for different tastes and characters and the Rapide is the culmination of that range.

About 50 or 60 years we had the DB2 and DB5 which were smaller four-seater cars with two doors. They could make four doors at the time with this shape but there was a lot of space. Now with all the development in the industry, our cars have grown bigger but the space inside didn't become bigger.

If you have something like an Aston Martin which is a delight to drive, you also want to use it to go to a restaurant with your friends or take your family out. You may want to drive it over a weekend to the Formula 1 race in Abu Dhabi, stay in a nice hotel and you want a proper car, not a Range Rover or just a limousine. Then you need a car like this. And if you have the space in the car you need access, access to the seats and to the trunk. Most importantly, a four-door partition makes a car better proportioned and elegant than a big one door. We do not have a limousine. We have a low car with low seating. You sit in sport seats but it's cleverly made and intelligent so basically we are without competition the only sports car with four doors, the others are limousines.

Do you think the Rapide will open Aston Martin to new markets?

Yes, the Rapide with a price tag of approximately £150,000 (Dh890,000) will appeal to people who want the prestige of a big sedan but with more refinement and elegance. It will appeal to connoisseurs of sports cars who also sometimes need more space to accommodate passengers or luggage. Our expectation is to sell at least 2,000 Rapides per year with a majority of conquest sales. So the car will boost overall volume.

Since September when we first showed the car we have taken orders. It is going up on display in lots of cities through our dealers. I assume when we start production in March we will have quite a nice order bank.

How many One-77 cars have you sold so far?

We have sold 50 to date and the process of showing interested customers the car individually is ongoing. We have 50 hot prospects for the remaining 27. We are confident that pretty soon we will complete the sale and have a big problem in telling people that even if they have all the money in the world, they can't get one. Of the 50 sold so far, 15 have been sold in the Middle East.

Does this mean the £1 million-plus price tag has not made it prohibitive?

Customers who are buying this car appreciate what One-77 stands for and have shown great confidence by committing their interest to the project.

How much has been invested in these two new models?

Both cars represent further serious investment and commitment from our shareholders. Aston Martin is owned by a consortium of two major international investment houses – Investment Dar and Adeem Investment based in Kuwait. The consortiums are led by David Richards.

The shareholders remain fully committed to Aston Martin and its long-term success.

This has been demonstrated with their investment in the future of Aston Martin both in terms of facilities; Design Studio and Nürburgring Test Centre and future models; Rapide, DBS Volante, V12 Vantage and the One-77.

How has the global recession affected Aston Martin?

Of course, we have been affected like every other manufacturer, but we took swift decisive action very early in the recession. The sports car market is down by an average of 30 per cent around the world but we are not down by this much and in some regions such as the Middle East, we are still seeing growth. This year will still be one of the best years in Aston Martin's history and our company will be profitable.

Of course, the 2009 crisis has not stopped short of the Middle East and we see irritations everywhere. We have on the other side a very exclusive number of cars. We have a strong history and heritage but a very modern and future oriented approach, which makes our brand attractive. We are not loud. And don't shout. Some people still want things that are very visible but we are very confident that in a longer term real substance will prove successful.

You remain one of the few British automobile manufacturers. Is there still a future for British-made cars?

I think there is a future for any manufacturer who is willing to change and innovate, regardless of where they come from.

Have you considered outsourcing to a country where the costs are cheaper?

No. For us the decision is not all about cost. Of course, we look at all the options for every project but we do not base a decision purely on cost.

Where does the UAE and Middle East sit in terms of worldwide business?

The region, in terms of GDP growth, is still among the fastest-growing in the world and for us is a very key market for our future. Sales in the past were not good enough. Only in the past five years, since we introduced cars with precision technology did we come back in the market. In the Middle East there has been a lot of interest in our cars but in the 1970s, 1980s and1990s in some places they did not have a good experience with the brand. So we had to restart with real substance and quality.

Take the One-77 for example. A lot of people here in the Middle East thought it's a piece of paper on which we've just put things together. If somebody who can afford this car comes to see it now he realises it's real. It's not a fake. It is something with substance, which he will want to go with. So we need to do more in the region than we have done classically in the last few years.

How much has your association with the James Bond franchise helped Aston Martin brand?

I think James Bond is now synonymous with Aston Martin around the world and the character of our cars especially the DBS, are suited to the modern Bond character represented by Daniel Craig. What this association does for Aston Martin is give our brand extra visibility, particularly in areas of the world where perhaps Aston Martin is not as well known.

Is there still a market for luxury cars?

Absolutely. The automotive industry is changing and the industry of the future will be different where those who are able to adapt, innovate and change will survive. There will always be a demand for luxury goods, for exclusivity, for bespoke and something special and I think this is the case with cars also.

With a focus on the environment, have you considered building a hybrid?

Hybrid technologies are not, in their current early stages of development, suited to the character of Aston Martin sports cars. However, the Lagonda brand would allow us to approach this differently and investigate the use of different powertrain technologies, although this would be 2012 at the earliest. We are developing a metropolitan concept with Cygnet, which will surpasses the potential of a hybrid project.

It is our answer to congestion and emission. It is a three-metre car. It is our approach with a very high luxury price with the same colours, leathers and design hues as the big cars but optimally environment friendly. There are a lot of instances when you don't need a seven-litre, 12-cylinder car, when you would use the Cygnet. Maybe it's not of the highest interest in the Middle East, but in general, globally, it is of high interest because you don't have parking or place to drive or are stuck in bumper-to-bumper traffic.

What's on the anvil?

You have a three to five year cycle for each model. So we are always working on new models. Next year we will do a little bit with motorsport and see how we can enhance the brand. We also want to incorporate our customers with driving. Those customers who are really interested in One-77 driving, we could take them sometimes for treks where they can experience high speeds of 350km/hr or more. It might be difficult to do that in this region because it may not be allowed.

We have in the past five years shown 20 new cars, so we will always be good for something. But I don't know yet. Maybe I'll have a great idea when I fly back but at the moment I have no idea.


PROFILE: Dr Ulrich Bez Chairman and CEO of Aston Martin

Dr Bez became Chairman and CEO of Aston Martin in July 2000. With more than 30 years experience in the motor industry, he is one of the world's foremost automotive engineers and strategists.

He has been responsible for product design and development at Porsche, BMW and Daewoo.

Before Aston Martin he was a business advisor to Ford Motors in the United States.

Bez was born in Bad Cannstatt, Germany, and has a doctorate in engineering from the University of Berlin. He is the author of more than 40 scientific publications on subjects related to passive safety, aerodynamics, material and design.

Since joining Aston Martin he has led the regeneration of the marque with new facilities including new world headquarters, 125 dealers worldwide, new corporate identity and the introduction of 10 new models.

In 2007, Aston Martin was sold by Ford and he has committed to be the CEO for the next five years.

He is an extremely skilled test and development driver with wide experience of racing.
Keep up with the latest business news from the region with the Emirates Business 24|7 daily newsletter. To subscribe to the newsletter, please click here
Follow Emirates 24|7 on Google News.