4G will be the next big thing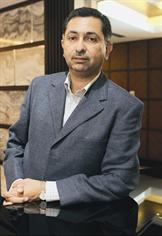 China's Huawei Technologies, one of the world's top suppliers of advanced telecom solutions, has a presence in most major economies and across the Middle East. The company managed to increase its sales in the region by 25 per cent to $3 billion (Dh11bn) in 2009 from $2.4bn the previous year despite the financial crisis, thanks partly to a shift to automation by companies wishing to cut costs. In this exclusive interview with Emirates Business, Ihab Ghattas, Assistant President for the Middle East, says the region is lagging behind in broadband and should focus on developing networks. He believes that 4G will be the next major industry breakthrough.


Do you think Huawei will take the number one spot in the market and is the company working towards achieving such a goal?

It's very difficult to classify telecom manufacturers and say which is number one. The telecom sector is a very big domain that takes you from simple enterprise solution to the most complicated mobile networks. We have leads in many of the areas and other suppliers lead in many other areas. The market, in my opinion, is large enough for the big players to share the bounty. Last year, Huawei made about $23.5bn in unaudited revenues and it expects to achieve contract sales of $36bn this year. Before that we had global sales of $23bn in 2008 and predict 15 to 20 per cent growth this year.

But I'm not expecting this much growth for the industry. I think we are fortunate that we are in the Middle East. We have to look at the credit crisis, it started in the US and as you go the East, the less impact you see. It is a similar picture with our industry.

How much did the region contribute to the company's sales last year?

Our revenues from the Mena region grew to $3bn, reflecting an annual compound growth rate of 50 per cent. We saw increased sales over the previous year and are definitely expecting growth this year. In 2008, the company had sales worth $2.4bn in the Middle East.

How did Huawei increase its sales by $600m when the crisis was peaking?

In difficult times companies in general reduce manpower. In order to keep work going at the same level, there has to be compensation for this, so in such times automation takes over. Most international companies, instead of having sales meeting all over the place, now conduct them through video-conferencing. So one aspect is that they are cutting costs on airline tickets and hotel accommodation but increasing other expenses on video-conferencing and e-mails. You see this across all industries, whenever manpower is cut, automation replaces it. The interesting thing is that the telecom industry has become part of our daily lives, which was not the case before.

What is the focus of Huawei's growth – organic or inorganic?

So far we have been growing organically. We have put a lot of money and effort into research and development and it is paying off. The company had the highest number of patents last year in some areas. We have handpicked some of the world's top talent people for R&D. We are a leading organisation when it comes to innovation. I think we are the largest vendor in terms of long-term evolution (LTE) technology.

What kind of tie-ups do you have with local telecom operators?

Of course, we have tie-ups with them. They are our strategic partners. We work with them in many areas such as mobile domain and fixed domain. So far we are the only supplier for etisalat's 3G project. Du has made quite a big enhancement to its network with our HSPA products We are also considering a number of deals which we can't disclose at the moment due to confidentiality issues.

What is the outlook for the regional telecom industry?

This region is a little bit behind when it comes to broadband. We will see major development in broadband. A lot of countries are considering expanding coverage for their broadband mobile and fixed-line networks. I personally think broadband is a big opportunity for operators to pull their economies out of stagnation. Once you have good broadband linking, a large number of businesses can take a lot of innovative approach by creating e-services, e-health and e-education, and so forth. The regional countries have also now realised that to some extent the prosperity of the people is linked to the broadband reaching a large part of the population.

What is the next technology breakthrough that you think will revolutionise the industry?

LTE, also known as 4G, is going to be the next major revolution. This is going to be the state-of-the-art network and deployment has already started in many countries around the world.

What challenges will regional operators face in coming years?

The basic challenge for operators is that stakeholders, business models and the value chain are not quite as they were before. Business models change as much as the technology changes. In my opinion, those who are able to adopt to the changes in business models will be successful ones, but those can't cope with the change will have difficult times.


PROFILE: Ihab Ghattas Assistant President for the Middle East, Huawei Technologies

Ghattas is responsible for driving Huawei business in the region besides being instrumental in developing strategies related to marketing, human resources, social activities and administration. He is a senior telecom professional with more than 28 years experience in the industry. Prior to joining Huawei, he spent most of his career with etisalat. He graduated from Ain Shams University in Egypt with a BSc in electrical and electronics engineering.
Keep up with the latest business news from the region with the Emirates Business 24|7 daily newsletter. To subscribe to the newsletter, please click here.
Follow Emirates 24|7 on Google News.