60m are trying to look fair and lovely globally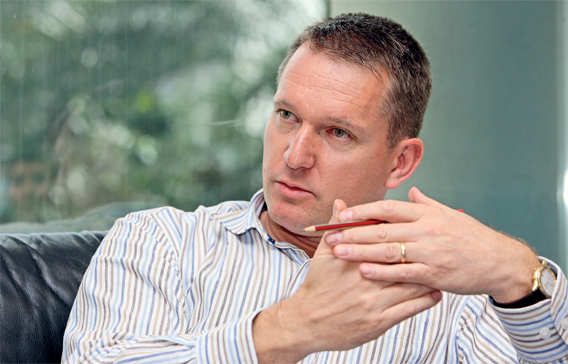 Communicating with millions of users beyond borders is a challenge that Unilever takes in its stride. With proper checks and filters, the company ensures that all its brand communication is accurate and stands the efficacy of any internal or external body.
With its vast line up of products that cater to personal health needs, Unilever counts on its in-house research and development wing that's given the responsibility of checking the accuracy of advertising campaigns, be it in body copy, the tag line or the concept, said Iain Potter, Vice-President, Marketing, Unilever.
Leading a team of communication experts, complemented by technicians from the R&D division as well as legal representatives, Potter's responsibility is not only to handle the sensitivities involved in communication but also to retain the creativity while conveying the message.
Do you have a body/authority within Unilever to ensure the claims made in the advertising tag lines/body copies are in line with those the products deliver?
Our advertising campaigns are creative and respect the cultural sensitivity of the region. They also take into consideration any limitations that may pose a challenge for any product. A dedicated team comprising representatives from our labs or R&D section, legal section and as well as marketing communication experts ensure an accurate brief is provided to our agency. And after the campaign is delivered, it is checked for accuracy in claims as well as sensitivity.
The Fair & Lovely advertisement has come under criticism, sometimes for being demeaning to women and on other occasions for exploiting cultural norms and values and for being racist. How does Unilever handle such negative publicity?
Fair & Lovely is a market leader in its segment. Even in other price brackets, it maintains the mass appeal because of its deliverables. The cream promises an even tone and a fair skin without the use of any chemicals that can cause skin bleach or any other harmful affects.
Today, we have more than 60 million users of Fair & Lovely worldwide and its growing rapidly. The message conveyed in promoting that product is sensitively filtered and has not been intended to promote any element of beauty as superior or otherwise.
The challenge is that some issues can be sensitive to some regions or cultures and we ensure that marketing communications never breach that line. At Unilever, we do understand that communication perceptions are different in different parts of the world, just as humour may not be the same all over.
Keeping that in mind, our ad campaigns for a product such as Fair & Lovely is structured differently and is beamed or used only in specific regions. Sometimes, if a media house ignores that and uses the same artwork or TVC in a region that it's not meant to be, of course, we come in to the picture and ensure that its discontinued at the earliest.
What is the USP of Fair & Lovely: Can you specify the terminology that is used in the advertisement copy?
Fair & Lovely promises an even tone of glowing skin with skin lightening. Our R&D has worked on this product to achieve this without using any chemicals that can have harmful affects. Essentially, the cream uses vitamins to generate skin-lightening cells and block those that age with time and give a dark complexion.
Initially, it slows down the process of skin darkening and eventually, with regular use, starts to reverse the process to whitening of skin with even tone.
Should advertising be extremely accurate or just indicative of the achievements claimed by products?
Accuracy of claims is very essential in any advertisement. At Unilever, we take extra efforts that only the proven facts are conveyed in the mass communication, without any distortion. The region and cultures may throw in extra challenge to maintain the creativity, but that's the challenge for a marketing communication professional. Our claims in our advertising or any other marketing communication material are approved by an in-house department and externally, all our material is approved by regulatory authorities – here or anywhere else.
Does Unilever have different advertising concepts in different parts of the world?
Indeed we do. The broad message in a campaign may retain a universal message – if it suits the sensibilities. But it will surely be altered and rectified if it crosses the boundaries of sensitivities of the region and culture.
While humour for a Latin American may be more liberal, it will be not the same in other parts of the world.
Would you welcome the formation of an independent body that would control advertising standards in the country/region?
We work closely with all the authorities involved, especially for the brand communication purpose. In addition, considering that at Unilever we impose lots of internal checks and filters, it will be good to see an independent body with authoritative powers to control and regulate the advertising industry.
PROFILE: Iain Potter Vice President, Marketing, Unilever
Potter completed his degree at the University of Southampton in England, after which he started his career in sales at Procter & Gamble. Six years later, he moved to L'oreal for a year before joining Unilever in the UK where his last role was Category Director of the Homecare business. In December 2004, Potter joined Unilever Arabia as Marketing Director of Home and Personal Care (HPC). In January, he was appointed Vice-President, Marketing of both food and HPC business
Keep up with the latest business news from the region with the Emirates Business 24|7 daily newsletter. To subscribe to the newsletter, please click here.
Follow Emirates 24|7 on Google News.