Al Majid plans new facilities worth Dh250m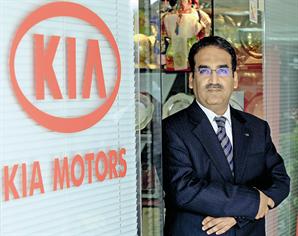 Dubai-based Al Majid Motors – the sole distributor for Kia in the UAE – is investing more than Dh250 million in the opening of new showrooms in order to increase its market share, said Mohammad Abdulla Rafiq Al Khader, General Manager of Al Majid Motors.

In an exclusive interview with Emirates Business, Al Khader said Kia market share in the UAE is likely to reach double digit in the next five years from the current six per cent. Despite the decline in sales, Al Majid Motors sold out all of its 2009 stock. Hoping the banks will start auto loans again, he sees vehicle sales and prices coming back this year following a 35 per cent slump last year. Below are the excerpts from the interview:


How many new Kia models will hit the UAE roads this year?

We just launched the new Sorento designed by one of the world's most famous car designers Peter Schreyer. He has designed most of Germany's luxury cars. In March, we will launch the new Cadenza with 3.5 litres engine, which will be very competitively priced. In July we will introduce the new Sportage and a month later Optima with 2.4 litres. All this for 2010.

How much do you intend to invest in new facilities?

We have already started a big facility in Al Mussafah, Abu Dhabi. The facility includes showroom, service centre and spar parts warehouse. Investment in this project is more than $50 million (Dh183.5m). We are also planning another showroom in Deira to cover Dubai. One showroom is under construction in Ras Al Khaimah and it will hopefully be finalised by October, which will have all kinds of facilities. The combined investments are likely to cross $70m this year.

What is the need for expansion when the economy is slowing down and car sales falling?

Kia Motors is constantly developing and expanding new vehicles year-after-year and working on a higher market share. Last year it made a huge profit because of new markets such as China and Africa. It continues to spend even now. The market share worldwide is increasing. So we have to be a part of this expansion. Kia sales increased substantially worldwide last year when the global crisis was at its peak.

Which segments do you see are in demand?

The mid- and high-segments will do better; we can't ignore the low-end either as it is also profitable for us. But we are more focused on SUV and luxury segments as they enhance our image in the market. We will not ignore the low-end segment because it gives good sales and market share. However, we will concentrate more on luxury – especially on four-wheel drives.

How was 2009 for Kia in the Gulf and the UAE in terms of sales and profitability? What is the forecast?

Last year was tough. Like other carmakers, our sales also dropped between 30 per cent and 35 per cent. Yet all of our 2009 stocks are cleared. In the Middle East Kia sold 180,000 units last year. In 2010, we hope our sales will exceed 10,000 to 11,000. We expect 25 per cent higher sales this year. If banks start releasing lending again, the market will immediately pick up. We get to hear from banks time and again on offers but they are not as flexible as they were in 2007 and 2008. There is some movement again and hopefully they will start lending in the second half this year. We see market share growing globally. Kia market share is around six per cent in the UAE and expected to reach double-digit in the next five years.

How many cars were sold across the industry in the Gulf and the UAE?

About 130,000 cars were sold after re-exports in the Middle East as re-exports were very high last year. Toyota and Mitsubishi, which are quite popular in the neighbouring region, are generally re-exported. So, excluding exports, 130,000 vehicles were registered locally.

Are Korean automakers benefitting from Toyota and Honda recalls?

Globally, yes. But not in the UAE, as the major problem was in the US. We would also like to assure that Kia had no recalls. Kia Motors is investing more than six per cent of its revenues on R&D. Recently, the engine development division of Kia was awarded a prestigious global award.

How much did car prices drop in the UAE last year?

Prices dropped 10-15 per cent last year. Prices in 2010 will likely come back to the normal level. When you have stock and there is a sudden drop in prices you have to do something. But at the end we have cleared out stocks.

Do you see a future for hybrid cars in the region?

Kia has already designed one hybrid car, Optima, which will be launched by end-2010. The UAE Government is spending on Masdar City and the Dubai Government is also working on different environment-friendly projects. So green has become the buzz word. Hybrid cars do have a future. But I think it will take some time as countries also need to develop infrastructure.

And what about Chinese automakers?

They are producing beautiful cars but not at the mass level. Initially, we thought they will overtake Korean and Japanese rivals, but they could not. They are lagging in after-sales service, as well. They are manufacturing economical vehicles that are more suitable for other markets such as Syria, Jordan and the Subcontinent.


PROFILE: Mohammad Abdulla Rafiq Al Khader General Manager, Al Majid Motors

Al Khader was appointed General Manager by Al Majid Motors in August last year. He is responsible for all aspects of the group's business including sales, marketing, finance, service and corporate communications. He has been with Juma Al Majid Group for nearly two decades, working through the sales department to become National Retail Sales Manager for the UAE.

He holds a Bachelor of Economics degree from Yarmouk University, Jordan.
Keep up with the latest business news from the region with the Emirates Business 24|7 daily newsletter. To subscribe to the newsletter, please click here.
Follow Emirates 24|7 on Google News.