BDC Holdings plans $30m expansion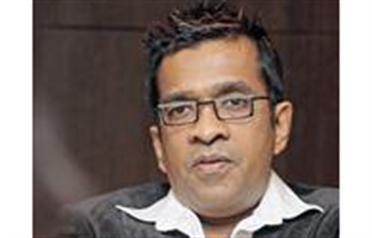 KS Ramakrishnan (Ram) arrived in the UAE more than a decade ago with only $200 (Dh734.4) in his pocket. Today, not only does he own a thriving advertising firm, he also heads BDC Holdings, a "multi-million dollar group", which has interests in retail and real estate sectors.

Dubai-based BDC is to undertake an aggressive $30 million expansion this year. It will almost double its workforce to 500 and will launch offices in Paris, Kuala Lumpur and Bangkok. In Dubai, the company would open a dozen new restaurant outlets and spas – all these without borrowing a single penny from the bank. "We have never taken a single penny out of the businesses over the past 10 to 12 years. We have put all profits back into the business so we have been completely self-funded."


Can you brief us what you do and how big is your current portfolio?

BDC, as a holding company, was launched only last year but we have diversified businesses, which have been existing for the past seven to 12 years. Companies operating under the umbrella of BDC Holdings are DigiPhoto Studio, DigiPhoto Entertainment Imaging, Al Maraya Retail Solutions, Alto Vista Realty and Latte and Lafter Café. We expanded all the way from Dubai to Singapore. Our offices in Malaysia, Bangkok and Paris will be operational on June 1. There are 300 people working with us across these countries but by the end of this year, we will number more than 500. We are now in the process of hiring 200 more, about 100 of which will be for our operations in Dubai.

Who owns it?

I'm the sole owner for now but other employees also own some small shares. I and my wife own over 70 per cent of the company.

How much capital are you going to deploy this year?

The group's current capital is over $25m but our current turnover is over $60m and by the end of this year, we'll probably be closing a turnover of around $85m… then by next year we will reach $100m. Our profit margin is a very relative question. We have days where we had 15-18 per cent profit margins. But this year, it could be at 9-10 per cent margins.

Where will the growth primarily come from?

We're looking at our service business – the DigiPhoto Studio and the hospitality division. Our photo business, the biggest part of BDC for now, contributes over 50 per cent of the total revenues. For this year, we expect revenues from this unit to reach nearly $40m. But by next year, we expect hospitality to be neck and neck with the photo business.

You also have real estate in your portfolio. How is it faring?

Last year our turnover was over Dh80m, we did get net profits of Dh5m on the brokerage. Singapore revenues last year was about S$18m (Dh42.7m) and profits were about less than S$1m. Although we have been affected, we are much better off than other companies. We are in fact bold at these times. We have a portfolio of about Dh50bn properties, we don't sell for an 'enter and exit' strategy. Instead, we look at it on an asset management point of view. We bought these properties over the past five years, bulk of which have been bought three years ago when the market was still stable. We did buy a couple last year, which we felt had high value like iconic structures. We still buy and sell properties and we also added leasing to our portfolio now – as it tends to rake in more revenues now. The ratio of buying has dropped by 50 per cent. But we are not expecting of achieving even 50 per cent of last year's level.

The mortgage market is virtually closed these days. Are people still buying despite this?

It is closed, yes, but everybody knows it can't be closed forever. It's a matter of time. People may need more time in deciding when to buy but they still definitely need to buy. The three basic things in a human being's life are food, shelter and clothing. They can shrink but you cannot live without them. Our clients are still pretty bullish, they are still buying and selling properties. The only difference is that before we used to finish transactions in three to five days while today, it's taking three to five weeks.

What are your expansion plans in the hospitality sector?

We will launch three Latte and Lafter Café – a chain of coffee shops – this year. There is one already opened at Dubai Mall. We will also open two outlets of Fire and Ice restaurant, a contemporary grill where you set out the ingredients that you want to eat and see it cooked in front of you. The first will be opened this month in Dubai Marina while the second one will be opened in May in Dubai Mall. We'll also open a couple of F&B outlets like Crust and Cones pizza restaurants and sports cafés. About eight to nine concepts will be opened this year. We will also open a 5,000 sq ft spa in Jumeirah, it's a tie-up with Thai Privilege Spa. We will be opening three more of them in 2010 to 2011 in the UAE.

How much investments are you earmarking for all these?

Overall, we would be investing $25m-$30m this year alone and that is direct capital injection.

Where are you going to get the money?

We have never taken a single penny out of the businesses over the past 10 to 12 years. We have put all profits back into the business. We do not take any bank finances, we are self-funded. I came to this country with $200 in my pocket. I'm a pretty simple guy, I don't need much money to live. Debt-wise, we have never done it and we don't have plans to do it in the future.

What prompts you to expand when every one else is being risk-averse?

A lot of large players are exiting and I find that as a major opportunity as they will be losing a large market share because of the downsizing and short-term profit goal. The biggest challenge today is to give employment to people, to bring a lot of positive energy in this market


PROFILE: KS Ramakrishnan Chairman of BDC Investment Holdings

Ramakrishnan has made BDC Investment Holdings a multi-million set-up with diverse interests that include advertising and marketing solutions, digital imaging, real estate, retail solutions and specialty foods chain.

He laid the foundation for his future successes with the establishment of Nebula – a full-service advertising agency located at Dubai Media City.

Since then the BDC Holdings Group has grown from strength to strength through horizontal and vertical integration of activities.

Under Ram's inspired guidance, BDC Holdings has seen considerable growth and has over 300 highly-qualified and motivated employees spread across the globe.
Follow Emirates 24|7 on Google News.