Business errors can damage ecosystem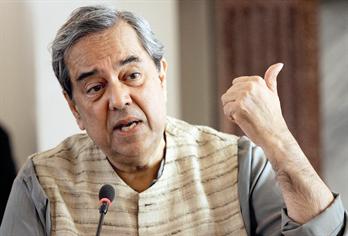 In his presentation speech at the Sasakawa Award ceremony, Klaus Toepfler, Executive Director of the UNEP, described Dr Ashok Khosla as "a legend in the realm of sustainable development, and an individual who personifies the hopes and dreams of billions trapped in the indignity of acute deprivation". This is fitting to his efforts of making this world an environmentally friendly place to live with business solutions that are not only viable because of their "green" approach, but in fact financially feasible as they consume resources that are recyclable and are not taxing to mother earth.


How much has the environment been affected by the current global financial crisis?

Good environment makes good business sense and when we make mistakes in conducting business, be it long or short-term, it is bound to inflict its lasting damage to the environment.

Technology that may have quick solutions for us may not necessarily be the best solution available and we must be careful not to jump to the first possible technological solutions without doing the necessary research and tests, which are essential to avoid future damage.

The economical slow down has brought many sectors to a halt. Has it affected the greening process?

In a way 'yes', because funds available to apply new technology for greening process is in short supply. But if you look at the reasons that have contributed to the current scenario, people are bound to come out wiser and smarter than before and adopt solutions that are lasting and not taxing to the ecological and economic environment.

Do technology and innovation provide solutions for environmental issues related to economic growth? How can the two be better balanced?

In many ways, the world is a better place to live in than it was before. But the spectacular improvements in our lives over the last 200 years have not come without costs. Few societies today have escaped the widespread scourges of growing pollution, waste accumulation, social alienation, drugs and general insecurity. Dozens of species become extinct each day and our actions may well lead, within a human lifetime, to a deadly change in the global climate. There is growing evidence that the production systems and consumption patterns of our economies cannot be sustained for much longer. Rampant unemployment with accelerating inflation; growing supplies accompanied by depleting resources; food surpluses and widespread hunger – these are the flip sides of many economies today, no less in the industrialised countries of the North than in the low income nations in the South.

Those who have benefited the most from these changes credit much of their material well-being to the huge technological strides and to how well they have mastered it and put it to work. Others see the negative impacts of the same technology as the main issue, ascribing to it much of the deterioration that has taken place.

What is your impression about the emirate and its development?

Dubai has definitely set a new pace of development and the rest of the world is watching as it grows at this pace. But what remains to be seen is the impact that it may have on the ecology. After all it has one of the largest ecological footprints in the world.

I am aware of the efforts that the government is making towards maintaining an ecologically-friendly environment, including the Masdar project; but what's lacking here is the contribution at the individual level. I see very little awareness among individuals and establishments towards being ecologically responsible.

How do you propose Dubai, or any state, impose that?

Legislation and regulations are necessary steps to impose and implement green solutions but it has to be financially viable for individuals and establishments to take that route. For this you start with educating masses about the dire consequences that may cloud our future and give financial support and relief for applying ecologically friendly methods.

And the benefit is not just ecological but also financial.


PROFILE: Dr Ashok Khosla Expert on environment and sustainable development

A former Director of the United Nations Environment Programme, Khosla was awarded the 2002 Sasakawa Environment Prize – the Nobel Prize of the environment world – and has been named in the UNEP's Global 500 Roll of Honour.

Khosla gained a master's degree in natural sciences from Cambridge University before doing a PhD in experimental physics at Harvard.

After a period of teaching in the US, where he was part of the team that designed and taught Harvard's inaugural undergraduate course on environment, he returned to India and became the Founding Director of the Indian Government's Office of Environmental Planning and Co-Ordination, the first such agency in a developing country.

In 1976 he was appointed Director of the UNEP, where he designed and launched Infoterra, the global environmental information exchange. He remained with UNEP until 1982 when he left to found Development Alternatives, a Non-Governmental Organisation devoted to promoting commercially viable, environmentally-friendly technologies.

He has been board member of numerous global environmental organisations and is the Co-President of the Club of Rome. He has served as an advisor to, among others, the World Bank, the United Nations Development Programme and the Indian Government.
Follow Emirates 24|7 on Google News.