Chart topping Blunt has sharp words for the music industry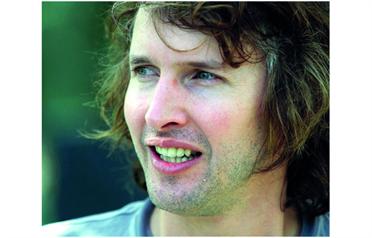 Having been shot at "more times than 50 Cent" after serving in the British army, who would've thought that a successful musical career would have been next on the cards for James Blunt? The multi-award-winning singer and songwriter, who doesn't come from a musical family, made his debut in 2005 thanks to his hit album, Back to Bedlam, which sold an estimated 11 million copies. His second album, All the Lost Souls, followed in 2007. Blunt was in Dubai for the first time to play at this week's Skywards Dubai International Jazz Festival. He talked to Emirates Business about touring, the economy, and piracy.


Have you been to the UAE before?

I've never been here before, but I have friends who live here. You cannot really appreciate it until you turn up and see some of these amazing buildings. It's a really amazing spectacle and I've been looked after pretty well.

You're in Dubai for the Skywards Dubai International Jazz Festival. Do you feel it is important for you to be versatile and explore new genres?

Well I won't be breaking into a jazz odyssey at any festival, but for me, I'm on a world tour, and I'm trying to get to as many places as I can where there is an audience. I've played a few jazz festivals before, and their roots might be that genre, but they are also places that offer diverse music. I think music is just too hard to define. As musicians, we don't really need to be pigeonholed, in the same way and you wouldn't want to be called "only a journalist" – you're probably much more than that as a human being.

John Legend is one of the other headliners. Are you a fan?

I know him as a musician and a friend – and both are really great.

Has the current financial crisis affected your world tour at all?

The more you travel, the more you witness more promoters going out of business, so I'm very lucky that people are still turning up to my shows.

Do you enjoy touring?

It's pretty difficult to find a complaint about touring really. I wake up everyday in a new city and get on stage with my band, who have effectively been my family for the past 15 months. And we're all doing our passion, which is music. On a world tour, you don't care about image or fame or chart positions – all we care about is communicating with people. What's fascinating is that people who don't even speak my language understand my songs and the meanings behind them, and appreciate it, and a great example of that is a show I played in Kosovo to some Serbs and some Kosovo Albanians whose families had been previously murdered. At the concert, they stood side-by-side, bound by the common sense of humanity. It was heart-warming to see.

In terms of album sales, have you seen yours drop due to the recession?

Music is pretty buoyant. My tour happens to be surviving so for that I feel lucky. I've been told that music through the recession has survived. At the end of the day, sales themselves aren't necessarily the most important thing. I have my one copy of Back to Bedlam and All the Lost Souls, and when everybody loses their copies and I am old and grey, the only person that will care about those albums will be me. And I'll be proud of them. That's as much as I need. Whether the albums sold or haven't sold, their success is in the making of them. Everything else that has come along – such as touring – is just a bonus.

So what's your take on those that download your tracks for free then?

I think it's theft. I get in the studio and I have a guitarist, a drummer and a bassist who are permanently asking me for pay rises. There are mixers, and there are people whose job is to provide these things we have in the studio. On a personal level, I have fun doing my job and making music, but there are other people out there who depend on it as a business. I'm sure if somebody stole something from your industry, you would say it's theft.

What do you think is the key to wiping out internet piracy?

The solution's clear. We have many digital retailers, which are unbelievably easy to access, and we can buy songs legally for not much money. The tracks are good quality and it would keep us all in business.

When are you planning on releasing a third album?

Oh no, I've retired now! (laughs) I've been on tour for 15 months; I did over 200 performances last year and a few this year, and now I think I need a break. I need to go live some really shallow moments for a period of time, so I can come back and write some deep songs about them.

Is it true you live in Ibiza when you're not working?

I don't get much time off. I get about two weeks a year. So Ibiza is a really fun place. In the media it's just known for its clubbing but in the north it's really tranquil. There are painters, poets, artists and writers. Ibiza has a great mix – it has the shallow and the deep.

Do you see yourself as a brand?

I've always been one to fight against that. I did my dissertation on the "Co-modification of image, and production of a pop idol", before Pop Idol was even a television programme. It was about the music industry being more obsessed with image and perception than with the music itself. You can spot that. I'm not really interested in selling myself as a brand. I'm not interested in me as a brand. I am not a celebrity.


PROFILE: James Blunt Singer/Songwriter

Born James Hillier Blount in 1974 into a family with a long history of military service, James Blunt is a British musician whose debut album, Back To Bedlam, and single releases – especially number one hit You're Beautiful – brought him to fame in 2005.

Along with vocals, Blunt plays a wide variety of instruments including the piano, guitar, organ, marimba and mellotron. The singer became the first British artist to top the American singles chart in nearly a decade when You're Beautiful reached number one on the Billboard Hot 100 in 2006. The last British artist to do so was Elton John in 1997.

Before singing, Blunt studied sociology at the University of Bristol before serving as a Nato peacekeeper in Kosovo, where as a lieutenant he commanded 30,000 troops advancing on Pristina.
Follow Emirates 24|7 on Google News.