Crisis will breed entrepreneurs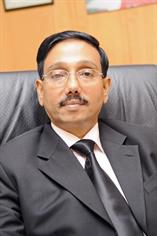 Morison Menon started out as a small auditing operation 15 years ago. Since then, it has grown to become one of the top 10 firms in the UAE, with activities encompassing IT, business process outsourcing (BPO), consulting and real estate besides auditing. "My vision is to position the company as a preferred and viable alternative to the Big Four firms in the region," Group Managing Partner and Chairman Raju Menon told Emirates Business.


We are still in a recession. When do you think we will see signs of it ending?

The impact of the recession has been massive and it will take its own time to bottom out fully. The economy has to, and will recover. The first signs of recovery will be seen in core business areas. Once the large economies such as the US, Europe and China wriggle out of the recession, we will see global business getting back on track.

Economists say every recession teaches a lesson. What lessons should we learn from the current one?

I strongly believe that the region, even without the global crisis, would have gone into recession, maybe in 2011 or 2012, when current real estate developments neared completion. There would have been a property price crash, a fall in rentals and a subsequent wave of unemployment within two years. However, had the current recession not happened, the projects that had already been announced could have been completed as the flow of funds would not have been affected.

Did the recession affect small and medium enterprises (SMEs) harder than other sectors?

The recession has not left any business unscathed, it has affected the whole economic system. SMEs are the largest employment generators in the UAE as more than 70 per cent of businesses in the UAE are SMEs. Needless to say, SMEs have been hit hard, if not as hard as real estate. Business volumes of SMEs had grown exponentially during the past six to seven years. While many new players were able to establish themselves in the market, most existing players were able to increase their business volumes substantially until the recession hit in mid-2008. Many businesses diverted funds from their core activities to real estate as they chased the dream of making a quick buck, and this pushed many SMEs into a liquidity crunch. Banks are also putting pressure on these SMEs by reducing their limits or not allowing or renewing facilities. I believe the SME business has come down by around 50 per cent since the recession hit us.

We are told that many people who lost their jobs have become entrepreneurs. Do you agree?

Several top-level managers, especially in the financial services sector, lost their jobs during the recession. Many more were concerned about losing their jobs. Some of these jobless are now seriously considering launching their own businesses. We ourselves have in hand inquiries from individuals and groups of individuals wanting advice on setting up own businesses. The recession will ultimately give birth to numerous new entrepreneurs.

Morison Menon has a division dedicated to setting up new businesses. How is it faring?

All businesses and professional establishments have been affected severely by this recession and we are no exception. Many of those potential business plans are on hold and may take a while to see the light of day.

There were two announcements recently in favour of SMEs. The federal government scrapped the minimum capital requirement norm for businesses, and Dubai waived penalties on delays in licence renewals. How do you view these moves?

In earlier years, Dubai businesses were well-positioned to cope with cost pressures as there were good margins and volumes were sizeable. Things have changed and now new entrants are not in a position to absorb high costs. In this context, the abolishment of the mandatory capital deposit gives a lot of comfort to new businesses. Moreover, most of the other overheads for businesses, mainly rent, have also come down. The waiver of penalties demonstrates the government's support for existing businesses.

Where is the auditing sector heading? Are we seeing better disclosure standards? And what moves would you, as an auditing firm, like to see to improve disclosure standards in the UAE?

As there is no accounting body in the UAE it is not possible to bring in any audit standards specific to UAE auditing. As far as International Accounting Standards (IAS) are concerned, the UAE has been adhering to these standards. With separate SME standards in place, IAS can be followed by all businesses in the UAE.

What are Morison Menon's expansion plans?

We will open offices in Kuwait and Saudi Arabia within two years. Currently, we operate in the UAE, Oman, Qatar and Bahrain in the GCC. We have audit offices in India at Bangalore, Kochi and Mangalore. We are in the process of acquiring a substantial slice of Indian chartered accountancy business by setting up offices in large cities including Mumbai, Delhi, Chennai and Kolkata. The first phase will see us opening 20 offices in India. Within five years, we intend to have 50 offices in India under a well-known brand other than Morison Menon.


PROFILE: Raju Menon Group Managing Partner and Chairman, Morison Menon Group

Menon is founder and leader of the Morison Menon Group, which began operations in 1994 in Dubai. An accounting and consulting firm with operations across the Middle East and a 200-strong team across the GCC, it has offices in Jebel Ali Free Zone, Abu Dhabi, Sharjah and Ras Al Khaimah in the UAE and operations in Oman, Qatar, Bahrain, Iran and India. Menon was honoured with the VK Krishna Menon Memorial Award from Kerala in 2008 and also received the 2009 Bharat Gaurav Award for excellence in leadership in India.
Keep up with the latest business news from the region with the Emirates Business 24|7 daily newsletter. To subscribe to the newsletter, please click here.
Follow Emirates 24|7 on Google News.