Customer-centric plan to aid double-digit growth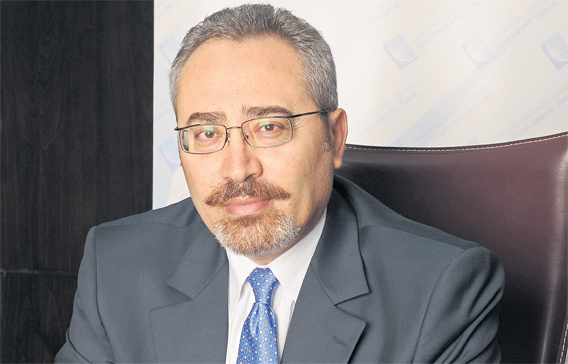 Abu Dhabi Islamic Bank (ADIB) is also a victim of recession, and more particularly, ADIB, the first Islamic bank from the capital, has also suffered from the exposure it had to regional corporate groups, including the duo from Saudi Arabia. Though this has affected the bank severely, the management of the bank headed by Tirad M Mahmoud, Chief Executive Officer, decided to come clean by taking all provisions possible during 2009 with the result that the net profit took a beating. "We do not intend to hide anything and that is the reason why we have large provisions," Mahmoud told Emirates Business in an interview. One thing the ADIB chief wants to drive in was his bank's decision to be totally customer driven. ADIB has moved ahead to expand its customer base, branch network, workforce and also to enter new markets in the region.
The year 2009 was a tough one for the banking sector as a whole. How about you?
We had a very good year in 2009 with good growth. The way we look at our business is how we performed on operating profit. We made good operating profit for 2009; we closed 2009 with a more than Dh1.5 billion operating profit. And the good thing is that the growth we achieved was based on our customer-based business, which is sustainable and renewable. In fact, ADIB has now moved to the upper middle segment of UAE banks.
Does it mean that the bank is not focused on investment income?
We believe in rationalisation of investments. In fact, we are bringing the investments down; we are more interested in customer business. We have taken our customer number from 200,000 to 342,000 in the past two years. The one-year growth was from 269,000 to 342,000. This works out to an annual compound annual growth of 30 per cent. This number doesn't take account of multiple accounts held by single customer.
Has your branch network increased during this period?
We have increased our branches from 40 to 52. This year we would increase them to 70, which means, 18 more branches during this year. The number of ATMs has gone up to 204, which we will increase to 300 during this year. We are aggressively growing our customer base, our distribution channels and the level of business we transact with our customers. Our customer deposits have gone up by 36 per cent in 2009.
The UAE has more than 50 branches. How did you manage to rope in more customers?
We are very much customer focused and the growth in the customer number is testimony to this.
The most discussed matter now is the growing lending-deposits ratio. What was the lending-deposit ratio for ADIB?
Our ratio was 83 per cent. I think this is one of the best in the industry. We are regarded as one of the most liquid banks in the country. I would say the most liquid bank in the country – in absolute and relative terms.
What is the size of your loan portfolio?
Our loan portfolio was Dh24bn as of December end, 2009.
But how come so much provisions?
It is very simple, we have changed our policy. We have decided to call spade a spade. We are very transparent and are particular that we should not hide anything.
Too much bad debt?
Obviously, there have been bad debts.
Has there been any policy change in provisioning?
We have introduced the 90-day rule for provisioning from January 2009. We have applied best practices in terms of recognising non-performing assets and taking provisions further. These are not just mechanical, but more of judgmental. We have taken a more forward-looking approach in recognising problems.
We have recognised our challenge, the size of our NPAs and have made sufficient provisions. Not only have we done that, the Central Bank is talking about introducing 1.25 per cent general provisions. The total provisions look very large because we have taken large general provisions in the fourth quarter. I believe there are not many banks in the country that have followed the provisioning policy like us. While total provisions this year were Dh1.44bn, specific is Dh932 million against NPAs.
How much exposure is there to the Saudi groups – Saad and Al Gosaibi?
As I have said on several occasions, our policy in the bank is not to mention customers' names. We simply don't do that. If it comes to our customer issue, the answer is consistent. I have mentioned this to ADX when it sought information on this.
Aren't you supposed to disclosethese details to ADX?
There is a law in the country that protects customer confidentiality. The Central Bank has full access to our numbers and has the right to ask for it. Our external auditors know the numbers, the Central Bank knows it, the Ministry of Finance and our board knows everything. But we don't go to the public about our customers. There are customers to whom we have zero exposure also. There also we do not go to the public and inform them on these customers. Our values prevent us from sharing information on our customers with public.
Can you give us the break-up of your assets – like how much is lending (financing), how much is investments, etc?
Our philosophy is to focus on customer business rather than going for investments. In ADIB, we build ourselves around customers.
The year 2009 was bad for all banks and so for you as well. How do you see 2010 shaping in terms of provisioning?
I think the year 2010 will be characterised as business as usual. When I say business as usual, '2009 provisions' was not business as usual. I would say 2008 was business as usual. So I am going back once again to business as usual.
In the context of the previous year, will you be restricting your business to within the UAE?
On the contrary we would be expanding. We have 69 branches in Egypt through our affiliate, National Bank for Development, where we own 49 per cent. We are converting this into an Islamic bank. Once it is fully Islamic, we will increase our shareholding to 51 per cent and rebrand it to Abu Dhabi Islamic Bank (ADIB). This should be completed by 2012, I would say.
Any other plans for outside the UAE?
We have got a licence to set up a branch in Baghdad (Iraq). This would be open for business this year itself. We have plans to expand the branch network in Iraq once the situation is fully normal there. Apart from these two markets, we are looking other major Arab markets such as Algeria. In all these markets we would go as majority owners through joint ventures.
There are good Islamic markets like Pakistan, Indonesia, etc. What is your take on them?
We don't rule out Pakistan or any other markets, but right now our focus is on Arab markets.
This needs a lot of funds. What is your current equity?
Our shareholders' funds are more than Dh7.1bn and our capital adequacy ratio (CAR) is at 17 per cent.
You have an Islamic insurance as your subsidiary. What are your expansion plans for that?
Expansion is definitely an option. It is a publicly listed company and hence I would not want to say anything about that. Any statement on that company will be made by its board of directors.
What is your view on conventional banks operating Islamic windows?
Islamic banking is growing much faster than conventional and these banks know that demand for Islamic products and services is great. But having said this, ethics play a bigger role in Islamic finance. For example, if you have a mortgage financing with us and if we come to know that your income has stopped, we have to be tolerant on you and we will work out something suitable to you until you are back to you regular income mode. I don't know whether conventional banks can do this.
Do you follow this on all youractivities?
Before we intend to sell you an investment fund product, we make sure a proper due diligence is done on that from our side. We will make sure that there is a benefit for the customer if he (or she) buys it. In all our activities there needs to be mutual benefit – for the bank as well as the customer. We do not do any business activity for the sole aim of making a profit or commission for the bank alone. We are against any hidden charges and hence we make sure we are fully transparent. The concept of Shariah also requires the bank to have asset base for any transaction. We do not encourage consumerism. We try to make sure that the money you are using is productive.
Can we surely say that Islamic banks do not move court in the case of mortgage default?
What you can say is that Islamic banks, by Shariah value, are tolerant with customers who have suffered, whose financial capacity has suffered.
So this year would be tough for Islamic banks?
Our default rate is very small. I can tell you that our default rate is fairly low. In the retail portfolio it's among the lowest in the market.
But you have a high NPL ratio?
That is mostly corporate and institutional.
Growth in Islamic finance is considered to be faster than conventional. Do you think we will have more Islamic banks in the future?
I hope there will be more such banks in the coming years. Today we [Islamic banks] are a minority. But in future, within a decade, we will become the 'conventional' bank. If today we are 30 and they are 70, by the end of the decade, it will be the other way round.
Do you see more customers coming to the Islamic banks than before?
In retail sector, migration is more visible.
What do you have to say about the ongoing controversy in sukuk?
I don't think there is a controversy, it's only a misunderstanding. The question is do Islamic banks have risk-free business? People should realise that neither Islamic nor conventional banks are risk free. Be it sukuks or bonds, both are based on risk. They have inherent risks in them. Having said that, I believe sukuk is less risky as it is based on availability of real asset.
Don't you think a separate regulatory body for Islamic banks is needed?
I don't see the need for a separate body. I think Central Bank has supported us very well, and hence I don't see that as an issue.
Is it possible for Islamic banks to access the liquidity support schemes offered by Central Bank?
The Central Bank has in place similar Islamic facilities made available for Islamic banks. The Central Bank has always been supportive to us.
Have you laid-off staff during therecession?
We have 1,500 staff working for ADIB. We continue to increase our staff as do our branches. We have not laid off and will not lay off people because of the current environment. And the reason for that is that we have had a tremendous growth story. We have in the past laid off bad performers. But look at the total number which is increasing. Since 2007 it has been going up every year.
Will there be an increase in employee number during the current year?
We are adding 18 new branches, which means at least 200 more people will be needed this year. We have been increasing our staff non-stop since bank opened. Now we are growing much more rapidly than before. Our emiratisation level is 40 per cent.
You posted a relatively small profit for 2009. Still your bank proposed a cash dividend. Can you explain?
Our shareholders would want cash dividend. You should notice one thing that we paid dividends from net income made in 2009 and not from the retained earnings. To give cash dividend or bonus share is an attempt by us to show respect to our shareholders.
Do you have ratings from international credit rating agencies?
We do not have solicited ratings from any agencies. When we need it we will go for it. But we are being rated by a couple of agencies, unsolicited.
Your outlook for 2010?
I am confident that we will record a double-digit growth for the current year. We will work towards adding more products and services to our existing ones.
How do you view prospects for the UAE banking industry in the future?
I think our banking sector has come a long way. The banks have benefitted a lot from the government. More importantly, the Central Bank has always been very supportive. Compare our market with that of the United States. Though we have a sophisticated set up with more than 100 nationalities, we have not had a single bankruptcy, not a single closure.
Do you have any suggestion to make?
Our lending-deposit ratio is very high for the industry. It stays above 100 per cent despite the fact that the Central Bank requires the banks to bring it below that number. However, I believe Central Bank should give the banks a grace period to bring it to a desirable level in a phased manner. Otherwise, the banks will be forced to bring in deposits at any cost and this will certainly raise the cost of funds for banks and this will in turn push up the lending rates [financing] in the country.
—What do you see as a major concern in the market?
—The supply side of the real estate market is increasing. At the same time, the demand has shrunk as speculators left the market. I am sure the real demand is still going strong but the problem is that lots of projects are in the pipeline. Once they are completed, we are likely to see excess supply of real estate units. This would have pressure on rent and price. This will pose a big challenge in 2010.
PROFILE: Tirad M Mahmoud CEO, ADIB
As CEO of ADIB, Tirad Mahmoud leads the fourth largest Islamic bank in the world. Prior to joining ADIB, Tirad held the position of General Manager and Head of the Corporate and Investment Banking of the Samba Financial Group (formerly Saudi American Bank). Before that, he held various leadership positions during his 22 years with Citigroup where he was the Chief Executive Officer and Managing Director for Citibank Romania as well as the Regional Business Head for Citibank Bulgaria in 2003. He held the position of CEO for Citibank Slovakia, overseeing both the Corporate and Consumer businesses between 2000 and 2003. He was also the Regional Credit Director for Citibank North Africa between 1998 and 2000. A Qatari citizen, Tirad holds a BCom degree with a major in Corporate Finance from Concordia University in Montréal, Canada. He also completed the Executive Management Program at Wharton.
Keep up with the latest business news from the region with the Emirates Business 24|7 daily newsletter. To subscribe to the newsletter, please click here.
Follow Emirates 24|7 on Google News.