Demand for solar panels is growing in the Middle East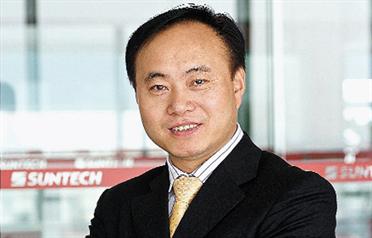 Abu Dhabi and Saudi Arabia are planning to adopt feed-in tariff policy to promote solar energy, said Zhengrong Shi, one of the biggest suppliers of solar equipment in the Middle East. Zhengrong's statement has found support in a comment from International Renewable Energy Agency (Irena) Interim Director-General Helene Pelosse who said GCC countries are considering policy initiatives to meet their targets of achieving an appreciable amount of power supply from renewable sources by 2015.
A feed-in tariff policy calls for the government to buy power produced from renewable sources at higher rates. Shi is founder, chairman and chief executive officer of Suntech Power Holdings Company Limited, a Chinese company that went public last year. The Middle East accounts for a miniscule percentage of Suntech's global sales but Shi projects an increase in this figure.
He said an attractive feed-in tariff policy can work wonders for solar technology in the region. Shi cites Europe as an example where feed-in tariff policies have helped solar technology and where a company like his sells 80 per cent of its products
Excerpts from an interview.
How would you rate demand for solar products in the Middle East? Is it growing at an appreciable rate?
There is demand for solar panels in the Middle East and it is growing. The region certainly has the potential to be one of the best markets in the world in a few years' time. We have several projects in the region, the primary one being at Masdar City. We produce five megawatts of Masdar City power, about half of the solar power produced by the City. We have also worked on the Formula 1 project in Abu Dhabi and on some projects in Lebanon with the United Nations Development Programme (UNDP).
Our equipment have been installed in a few desalination plants in the region.
These plants require couple of hundreds of kilowatts of power to operate. Many Middle East countries have realised the need of energy diversification. Some hotels run on diesel backups. They could use solar power instead.
What factors are essential to push the sale of solar equipment?
Feed-in tariff policy and subsidies by the government can stimulate the sector. The cost of solar panels has come down dramatically in the past few years because governments across the world promoted the sector. Feed-in tariff policies of European governments have particularly helped the industry. European governments are buying power at rates higher than what they pay for power from conventional sources. All these measures can be applied here as well.
Are the Middle East countries considering implementing feed-in tariff policies?
Abu Dhabi and Saudi Arabia are planning to implement it.
Is the Government of Abu Dhabi buying power from your installations at Masdar City?
We have been producing five megawatts of power at Masdar City. Much of it is used onsite and the rest goes to the grids. We have been paid for installing our equipment at Masdar City.
What's your annual turnover and what per cent of it comes from the Middle East?
In 2008, out turnover stood at $2 billion (Dh7.3bn). Less than 10 per cent of it came from the Middle East. It may be one or two per cent of our turnover. We will not be able to talk about the figures for 2009, as we went public last year.
What is the share of Europe in your revenues?
About 80 per cent.
Is there a possibility that revenues may have gone down last year because of the decline in prices?
There is a possibility that our revenues may have dropped even though our volumes rose.
Would a company like yours consider shifting its manufacturing operations to the region in future?
When the time is ready, why not.
Where do you have a presence besides China?
We have research and development facilities in Germany, Japan and Australia. We have manufacturing facilities in China, Japan and Germany.
How is it like to be benefitting from what the Copenhagen climate change conference attempted to do? Countries such as China and India have been blamed for spoiling the conference.
I am not sure about that comment (on China). In my opinion, the Copenhagen climate conference was a success.
Every country came to Copenhagen climate conference with a target to reduce carbon dioxide emissions and greenhouse gases. The current debate is about a greater target or a smaller target.
PROFILE: Zhengrong Shi Founder, chairman and CEO, Suntech Power Holdings Company Limited
Zhengrong holds a bachelor's degree in optical science from Changchun University of Science and Technology, a master's degree in laser physics from the Shanghai Institute of Optics and Fine Mechanics, the Chinese Academy of Sciences and a PhD in electrical engineering from the University of New South Wales.
Keep up with the latest business news from the region with the Emirates Business 24|7 daily newsletter. To subscribe to the newsletter, please click here.
Follow Emirates 24|7 on Google News.