Diebold eyes 40% market share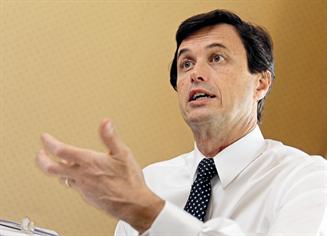 Diebold Incorporated believes it is under represented in the UAE, where it has below 10 per cent market share. As per the study of Abu Dhabi-based The National Investor (TNI), the UAE has become the largest banking economy in the GCC with an asset size of $335.6 billion (Dh1,232.6bn) by the end of 2007, overtaking Saudi Arabia with $286.9bn worth of assets. So although Diebold boasts more than 60 per cent market share in Saudi, the biggest player in the US has missed out lots of opportunities as well. It has relatively a low market share in other GCC states – 10 per cent in Bahrain, 20 per cent in Oman and 15 per cent in Kuwait. However, the firm has high penetration in other Middle East countries such as Jordan (40 per cent) and Lebanon (75 per cent). Dave Wetzel, Vice-President and Managing Director, Europe, Middle East and Africa (Emea), Diebold, said there is no reason why the company should not command at least 40 per cent market share. Emirates Business asks him what went wrong and how does he plan to turn the situation around.


With 10 per cent market share in the UAE compared to 60 per cent in Saudi Arabia, can we say you are under-represented here?

Yes you can definitely say that.

Why is that so?

We work through business partners throughout the Middle East and in the UAE we need to strengthen the business partner and the relationships we have here. We've been in the market for a pretty long time. The distributor in Saudi Arabia, Alhamrani, also represent us in other GCC countries and has not been able to leverage its strength in Saudi into other countries at this point.

How do you plan to address this?

We've had a series of meetings with Alhamrani last year and it is looking at strengthening its presence in the UAE and GCC. We expect it to invest more in the UAE, Bahrain and Oman. In some GCC countries we have signed new distributors like in Qatar [Qatar Business Systems] and Kuwait [Access Solutions], last year. We have some countries in the region where we are well represented. Now we have to make that work in all of the Middle East.

What is the target growth for the region?

I think 40 per cent is minimum. If you look at the 60 per cent market share we have in Saudi, there is no reason why we cannot achieve that in other places. Service is critical in the ATM industry and we offer the best alternatives from a service perspective. We drive between 40 and 60 per cent where ever we go.

Have you set a timeframe for this?
My timeframe is immediate. But I'd be hesitant to give the timeframe in writing. It is different in each market

Is it an option to look for other business partners?

It is always an option…That is something we look at on a regular basis.

Is it being looked into now?

No, we just recommitted to Alhamrani. Alhamrani and Diebold have a relationship spanning more than 20 years in the Middle East – we recommitted to Alhamrani and it has recommited to invest in this market with us. The strategy that we have for markets that Alhamrani serves today is to stay with it and help it continue to leverage what it does in Saudi into other markets. In some other markets we put new distributors. Kontak and CBM in Lebanon, and Jordan Business Systems in Jordan are strong. We are not changing anything because they've done a great job. You cannot have 60-70 per cent market share and not value what they do. But we need some additional investments in the UAE and other GCC countries.

How did this region fare in 2009?

Some parts performed well and some struggled. Asia and Brazil were good markets. Our biggest challenge in 2009 was related to regional banks market in the US. The large banks and our service units in the US were healthy but the regional banks hit us hard as they stopped capital purchases and building branches. The number of branches built was under 30 per cent of what we see in the US. Russia hit us hard. But I had good markets in France, Belgium and South Africa.

Did you see a rise in GCC spending  —We have not seen GCC increase in spending in 2009. There are still some unknowns to 2010. But there is potential for growth in MEA.

In terms of technology, what migrations can we expect?

In Asian market, recycling is important – money that someone deposits into the ATM is recycled to the next consumer. I see markets moving to recycling terminals but not yet on the recycling technology… I see markets looking at bulk deposits.


PROFILE: Dave Wetzel VP and Managing Director, Emea, Diebold Incorporated

Before his transfer to Emea, Wetzel was Vice-President, sales, for the US Western area in 2006 and, earlier, Vice-President for the US Central area from 2003-2005. Prior to that Wetzel held positions in sales, marketing, service and business development including two years (1993-1994) as marketing manager in Emea as part of Diebold's Interbold Joint Venture with IBM. He graduated from Purdue University in West Lafayette in 1980.
Keep up with the latest business news from the region with the Emirates Business 24|7 daily newsletter. To subscribe to the newsletter, please click here.
Follow Emirates 24|7 on Google News.