Diversifying investments holds the key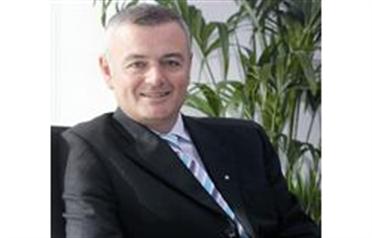 Carlos Sabugueiro of Zurich International Life (ZIL), is positive about the economic strength of the Middle East, its ability to survive through the present global crisis and its potential. Not only has the company chalked out expansion plans for the region, it is also expected to come out with more new products. ZIL recently released findings of its survey on expats in the UAE and Bahrain that reflect the confidence of people in this region who think that businesses across the region would hold steady and will be able to pull through in 2009.

According to Sabugueiro, the region is one of the best places to be and holds a very high potential. He also sees a rise in competition and thinks consolidations are not necessarily what many industries may be looking for in this part of the world as they would rather prefer to exploit the potential that is still untapped. He spoke to Emirates Business on ZIL's plans, the survey on expats and markets in the region.


ZIL recently came out with findings of its survey on expatriate population in the UAE and Bahrain. What did you find most striking?

At a time when crisis has hit confidence of people in a big way across the globe, the confidence of expats in the region reflects the kind of opportunities that people are getting here and the strength that the region holds. More than half of the people feel things would look up in the coming 12 months. Job security seems to be a concern but nearly 70 per cent of the respondents said they would stay put. They have a preference for this place, which they are convinced holds better opportunities. The relative despondency across the world comes as no surprise given recent events. But expats working in the Gulf have a social attitude and whilst the survey indicates that they are spending less, they still have a healthy appetite to plan for the future. One in five plan to stay in the region after they retire.

All this shows confidence in the region and the same is supported by World Bank's global economic prospects report pointing to expected GDP growth of 3.9 per cent for 2009 in the Middle East.

Have you found any change in investor behaviour due to the crisis?

Unlike earlier, almost 80 per cent to 90 per cent of the investments are typically in the lower risk end of the spectrum now. We have also started to see some speculation in investors' thinking, that the market may have hit the bottom, and some people have also started to buy cheap. So we have started to see some optimism on that front.

Our existing customers are taking advantage of the fact that unit prices are a lot cheaper than what they were, say 12 months ago. Changes in the economic scenario have changed priorities. For this part of the world, however, they feel that economy would recover faster and in a better way than others.

How hopeful are you on the region? Do you have any expansion plans here?

The region holds high potential and is one of the best places to be. We have chalked out some expansion initiatives. We are very interested in looking at Oman this year and also places like Kuwait and Saudi are very high on our list; we will analyse the opportunities. We have life initiatives in South Africa and Morocco and we are looking at developing those initiatives. In terms of product, we are looking at corporate, local and general insurance opportunities and takaful. We are confident the region will grow. We are expecting double-digit growth in 2009 in the region.

Late last year, Zurich announced the launch of its joint venture with Abu Dhabi National Takaful Company. The company has been planning to launch a Shariah-compliant product. What kind of future do you see for Islamic products?

The announcement of the joint venture reaffirms our commitment to this region. It's a macro revolution of what is becoming more educated and sophisticated part of the market. Therefore, I think it's an important development and Zurich as a global player needs to take it seriously. We haven't launched our products in this sphere as yet. Globally we would be launching them later this year. We are in process of going through legal structures and set-up, and development of our product proposition. For Shariah-compliant products, though a lot depends on the underlying assets involved in the product; they are attractive to customers specifically due to their ethical side. Interestingly, I understand that a fair percentage of people investing in these products are non-Muslims.

People think, and it is also a fact that this part of the world is attracting more talent, more business and it will continue to do so. What brings this confidence?

There is a general growth in this region; there is a confidence in the fact the petrodollar has been wisely invested. Over the years, the region has not just survived the challenges, it has emerged better. The fundamentals are strong.

But given the uncertainty prevailing globally, do you think the region would be able to retain its talent pool?

From the responses we got, people have faith and they want to be here. When it comes to employee benefits, they are seeking health, life cover and added benefits. For employers, it means the employees are now looking at not only salary but other benefits also. Employers who are able to offer that would manage to retain and attract the best talent, make their businesses more efficient and produce the best results.

For investors, what would be the wiser way to invest?

Diversifying your investment is important. So is regular saving. The longer you time your investment, the better it is because you can ride the blips. The past few months have seen a drastic fall in markets. But we should not ignore we are in the middle of it so it hurts more. Five or 10 years down the line when we look at it, it would not appear so big. Single premium products have taken a downward trend because people are worried about getting into the market on a particular day. But we have seen an interest growing towards regular savings. That means that you save some money every month and you get the benefit of time even if there is any volatility. In the present situation, I would say, "it's not about timing the market, it is the time in the market" that is important.



PROFILE: Carlos Sabugueiro CEO, Middle East and Africa, Global Life Emerging Markets, Zurich Financial Services Group


Sabugueiro, who became CEO for the Middle East and Africa region of Global Life Emerging Markets of Zurich Financial Services Group in October 2008, has around 24 years of work experience. Having started his career in 1985 with Nat West Bank and Coutts & Co Bank, Carlos was in Hong Kong for over seven years with ZIL as its Regional Director, Asia.

He handled the Asia international business through its branch offices in Hong Kong, Taiwan and Singapore, with the region expanding substantially under his leadership.

Carlos originally joined the business as a development consultant, working in Latin America. He was appointed development manager in 1997 and then business relationship manager in 1998, focusing on operations in Asia and helping redefine ZIL's strategy across the region. Later, he moved to Hong Kong to manage the business himself. He earlier held other positions at Falco House Corporation Limited and Lloyds TSB.
Follow Emirates 24|7 on Google News.