DME Oman provides most effective price discovery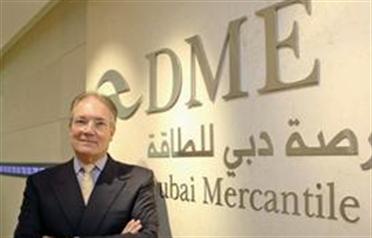 It is critical for Dubai Mercantile Exchange (DME) that national oil companies in the Gulf migrate to its contract. And the exchange has been holding regular talks with these firms, said DME's CEO Thomas Leaver. Average daily volumes trading at the exchange can increase dramatically if a prominent producer begins to price its crude off the DME benchmark, Leaver asserts. After the DME benchmark has been accepted by all major producers, the exchange may consider launching

new contracts that may offer gas-related products such as LNG or petrochemicals, he said. The exchange has no plans to release equity stake beyond current levels and it does not plan a cross-listing beyond the

Chicago Mercantile Exchange (CME) platform, said Leaver.


The DME Oman Crude Oil Futures Contract recorded a sustained rise in volume in the period October 2009 to January 2010 when demand for oil was not particularly high. Why?

The DME Oman contract is the largest physically delivered oil futures contract in the world. In the commodities markets, successful commodities contracts are all physically delivered. Without a linkage to the underlying commodity, a contract does not always work.

The DME Oman Crude Oil Futures Contract is the most fair and transparent crude oil benchmark in the East of Suez market. There is ever-growing acceptance that DME Oman provides the most efficient price discovery and risk management tool to market participants. That has resulted in growing confidence in the DME and rising volumes, irrespective of price movements.

Do you expect a national oil company such as Saudi Aramco to price its crude on the basis of DME benchmark sometime this year?

It is critical for us that NOCs do migrate to our contract. Though we have a regular dialogue with all NOCs in the region, we cannot comment on timing. This is a sovereign call. In 2009, DME migrated its contracts onto CME Globex, which is the world's most advanced derivatives trading platform. We had 30 companies trading at the exchange earlier. We now have 50. If you look at existing oil and gas contracts, it took them at least three to four years to become viable. With the governments of Dubai and Oman backing our contract and Dubai and Oman being two traditional benchmark crudes for the region, we are confident we will succeed. We are also talking to producers based outside the GCC to price off the DME benchmark. This includes producers in Russia, Australia and Asia .

Analysts say DME will need an average daily volume of 6,000 contracts a day to be able to attract NOCs. Do you agree?

I don't know where that figure comes from. Earlier there was a perception that when the volumes rise to 5,000 or 10,000 or 15,000 contracts a day producers would join. We are trading at a multiple of five to the production exposure we have to Dubai and Oman right now.

If we increase that production base from 850,000 barrels per day (approximate production of crude in Oman) to 14 million barrels per day (total production of crude from the Gulf) then our volumes will increase dramatically. In the case of other prominent oil and gas contracts such as Brent, the volumes could be 30 times the underlying contract.

But again, contracts such as Brent and WTI are very well established contracts and have a much larger financial mass behind them. I think the perception of producers now is that DME volumes will only grow with their help. NOCs in the Gulf are owned by sovereign governments and are conservative by nature. I think they understand that even though we are small, we bring fair and transparent price discovery and efficient risk management to the market.

Who trades at the DME?

We have a variety of traders with different trading strategies: there are people who trade calendar spreads, commodity spreads, arbitrage and there are algorithmic traders. We have hedge funds, trading houses, asset managers, refiners and banks trading at DME. The number of trading companies at DME increased from 30 to 50 in the last year.

Would you consider the release of equity stake in the exchange beyond the current levels?

There were a number of companies that wanted an equity stake in the exchange, but we released it to only those companies that could help us build liquidity. We continue to have demand from the market but we do not intend to release any more equity at present.

Will DME consider cross-listing on any exchange other than CME?

There are no such plans. I do not think that it will be a good strategy as it will fragment our markets.

Are you planning to launch new products this year?

The key thing is to remain focused on the DME Oman contract and have it accepted by all major oil players. Once that happens, we can look forward to launching other products. LNG could be fantastic for the Gulf but it could take a long time for the contract to become viable. New contracts have a 90 per cent failure rate, so the DME must target new products in conjunction with strong industry support.


PROFILE: Thomas Leaver Chief Executive, DME

Leaver has more than 30 years of experience in global refining, marketing, crude oil and petroleum product trading, marine transportation and logistics.

Prior to joining the DME as COO in 2006, Leaver was a senior fund manager of RAB Capital's commodities energy fund in London. He is a graduate of the University of California, Berkeley with a BSc (Hons) in Business Administration.
Keep up with the latest business news from the region with the Emirates Business 24|7 daily newsletter. To subscribe to the newsletter, please click here.
Follow Emirates 24|7 on Google News.