Emergence of UAE on world tourism scene is remarkable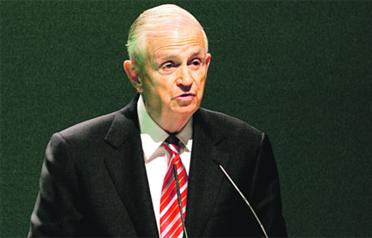 The emergence of Dubai and the rest of the UAE on the global tourism scene is an outstanding achievement, says JW Marriott Jr, Chairman and CEO of Marriott International.

He praised the trend towards the construction of green buildings in Dubai and confirmed that Marriott would develop environment-friendly hotels in the Middle East.

And he told Emirates Business that Marriott, despite the current difficult economic conditions, planned to open 130,000 hotel rooms by 2012, including 4,000 rooms in 17 new properties in the UAE to be opened by 2011.


Marriott International operates in 68 countries with more than 3,100 properties and employs more than 150,000 people. It has been a long journey since your parents started out with a nine-seat kiosk in Washington. What lessons were learnt from that modest start and what is the recipe for your company's success?

My dad J Willard Marriott founded our company on the simple desire to build something from the ground up and – most important – to build it to last. The foundations of our company embrace the premise that if you take good care of those who work for you they will, in turn, take good care of your customers and your customers will return time and again. My dad also believed that 'success is never final', and from day one our company has pursued an unceasing drive to change, improve and renew itself – not solely to become the multi-billion-dollar global enterprise we are today, but for growth and improvement for its own sake.

Last April at the World Travel and Tourism Summit in Dubai you spoke about the economic scenario in the US. Did you foresee the global financial crisis we are witnessing today?

Hindsight is always 20-20. But the depth and scope of the financial situation we've seen unfold globally was not expected. And the impact on the broader economy has of course been significant. But with every economic downturn comes opportunity and we are not resting as we continue to build the business. While we're still closing our books for 2008, as late as December we were on track to open 30,000 rooms during the year. As for the first quarter of 2009, close to 100 per cent of the 30,000 to 35,000 rooms that we expect to open during the year are signed and financed.

Almost two-thirds of our planned openings for 2010 are signed and financed. In addition we are introducing new lobby and guest room designs across our portfolio of brands and guests are raving about them. Our Marriott Rewards loyalty programme has celebrated its 25th anniversary and grown to 30 million members worldwide. Once the global economy improves we will be in a very strong position.

In the light of your unique experience in the business world, how would you describe the status of the US economy?

We are in a recession. Many experts think it will be significant. I've experienced eight downturns in my 52 years in business and our business has always come out of them stronger and more competitive than when the trouble began. I think our economy will too. It is important to make the point that when we come out of these tough times we will be ready. That does not happen overnight, but it will happen. I am confident that the actions of the political and financial leaders in Washington and globally are going to help the financial markets and in time the economy will recover. In the meantime we are doing what we can to contain costs, keep our loyal customers and attract new ones. This will help preserve jobs for our people, which is one of our top priorities. We are anxious to support the communities where we operate. Our hotels generate thousands of jobs and millions of dollars in wages and tax receipts that local governments need to pay for schools, police and fire departments. We are all connected and we are all in this together.

How do you think the global crisis will affect the travel and tourism sector?

The share of economic activity contributed by travel and tourism to the broader economy depends on many factors. Steps being taken around the world to generate economic activity will have an effect. And ours is a resilient industry. People have to travel to do business and visit friends and family. They also have an unquenchable desire to explore new cultures and places. We take the long view. Eventually the global economy will right itself and commerce will continue. So despite the current economic situation our global development pipeline of new hotels today totals over 130,000 rooms through 2012. In the UAE alone, we have announced signed contracts for 17 hotels totalling more than 4,000 rooms that are planned to open through 2011. Many more are in varying stages of development.

The travel and tourism sector accounted for 12 per cent of global export figures in the past year. What is the percentage expected this year in the changed global environment?

It's too early to say what the final receipts for 2008 will be. But we are looking ahead, we are continuing to add rooms, refresh our brands and lay the groundwork for better times.

You've often said that "the real global economic path is a symbol of freedom. The freedom of opportunities, the freedom of choice." Is this still relevant, considering what the free economy, open markets and globalisation have created in terms of the economic crisis around the world?

It is true today's economic troubles included some missteps across the spectrum of economic activity. But today's issues are not the failure of the free markets. Free markets remain absolutely relevant today. They offer people the freedom to choose where they work and what they do. Free markets are what made it possible for folks like my mom and dad to start their own business and to profit from their hard work and talent.

Free markets are the engines of social mobility. There is nothing like opportunity and choice to open the floodgates for ingenuity, prosperity and positive transformation. The world's free markets are resilient. I am confident that the problems we are facing today will be corrected in time and the global economy will be rebuilt on an even stronger platform.

What impact has the crisis had on your projects in the Middle East?

There has been some slippage in terms of construction schedules, some of which are due to the lack of availability of construction materials, but all the projects we have announced are on target, have their financing in place and we are confident they will open. We continue to be attracted by the tremendous growth and vitality of this region.

You have also said "tourism is trade", and while the economic reports are predicting a global recession next year, will this recession affect tourism too?

Slowdowns in the economy generally have a negative impact on tourism's rate of growth. But as I said earlier, travel and tourism are resilient. People ultimately want and need to travel. We at Marriott are focusing on riding out the current storm, finding creative ways to encourage people to travel and stay in our hotels, taking care of our existing customers, developing new markets and upgrading our hotels so that we are ready to take advantage of opportunities when the industry bounces back – as it always does.

You mentioned in your speech in Dubai that the US's share of tourism had fallen by eight per cent since 2000. Was this due to visa procedures and restrictions?

In 2007 the US welcomed two million fewer visitors than it did in 2000, despite the weak dollar and the millions more people who are travelling. The number of people travelling has been growing and the US has been getting a smaller piece of the action. After the US added seven more countries to its visa waiver programme, I said on my blog that visa processing and waiting times at consulates and embassies overseas were sometimes not a welcoming or efficient process.

I asked for the US State Department to reallocate resources for visa processing and shift staff and funding to countries with visa backlogs. We really do understand the importance of getting security right but getting security right does not mean we close our borders.

We believe a balance can be achieved between America's security needs and rolling out the welcome mat for tourists from other nations who help drive economic activity in our communities.

How do you view the UAE and Dubai's achievements in the tourism sector?

Dubai and the UAE's emergence on the world's tourism stage is nothing short of amazing, impressive and remarkable. I applaud the citizens of the UAE and their leadership for bringing their vision to life.

Dubai is applying a green buildings strategy. How do you view this initiative?

We are fully supportive of this effort. For our part, we expect to expand our portfolio of Leed-certified hotels across all our brands in the Middle East and are working closely with our hotel owners and construction and engineering teams to ensure that future Marriott International hotels in the region comply with the Dubai green building strategy.

Marriott International puts a special emphasis on environmental protection. Can you describe your approach in this area?

We aspire to be the global leader that demonstrates how responsible hospitality management can be a positive force for the environment while creating economic opportunity around the world. For us this is a business imperative. So early in 2008 we asked Conservation International to help us develop a five-point strategy that will enable us to measure, reduce and offset our global carbon footprint. This strategy is focused on protecting the rainforest through carbon offsets. We have committed $2 million (Dh7.4m) to protecting 1.4 million acres of the Amazon rainforest and set aggressive goals to further reduce our fuel and water consumption over the next 10 years and to install solar power where feasible.

We are engaging with our top 40 vendors to supply price-neutral greener products across our $10 billion supply chain, empowering our hotel development partners to site, design and construct new hotels in line with the US Green Building Council's Leed standards and educating and encouraging our associates and guests to support the environment through their everyday actions.


PROFILE: JW Marriott Jr Chairman and CEO, Marriott International

JW Marriott Jr has, over a 50-year period, transformed Marriott from a family restaurant business into a global lodging company.

He attended St Albans School in Washington, obtained a BSc in banking and finance from the University of Utah and served as an officer in the US Navy.

At an early age he developed a passion for business and worked in a variety of positions in the Hot Shoppes restaurant chain during his high school and college years.

He joined the family firm full-time in 1956 and soon afterwards took over the management of Marriott's first hotel. He became Executive Vice-President of the company and then, in 1964, its President. He was elected CEO in 1972 and Chairman in 1985.

Marriott's vision for the company is for it to be the world's lodging leader. Under his leadership Marriott continues to enjoy strong customer, owner and franchise preference, steady growth and profitability.

It has consistently appeared in Fortune's lists of most admired companies, best places to work and top companies for minorities.

Marriott is an active member of the Church of Jesus Christ of Latter-Day Saints. He and wife Donna Garff have four children and 14 grandchildren.
Follow Emirates 24|7 on Google News.