Etihad Airways has no plans to launch a budget airline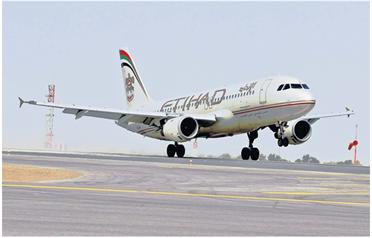 Just six years into the skies and Etihad Airways has managed to put 60 destinations on its map. As James Hogan, the Chief Executive Officer of the Abu Dhabi-based carrier says: "No airline in the history of aviation has achieved that. The advantage we have compared to a legacy carrier is that we are just six years old." Talking to Emirates Business, he discusses key challenges that the airline needs to tackle in 2010 besides the steps being planned to make it break-even in 2011 and move into profitability.


There were talks recently about Abu Dhabi launching a budget carrier. Does Etihad have any role to play in it?

Etihad has no involvement in it. I cannot comment on these talks. We introduced the A320 (single-aisle plane typically operated by a low-cost carrier) aircraft to give us greater frequency, and that feeds well into our long-haul aircraft.

As any business, we continue to look at different models. So are we involved with a consortium to set up a low-cost airline? The answer is no.

Any plans to look at it at a later stage?

We, as any business, continue to model all scenarios. What is important to me right now is to see the market come back and the yields and the passenger traffic on track. And I think that is the key issue for most airlines today.

Is yields one of your biggest challenges for 2010?

The challenge for us is to manage yields. What we have seen in 2008 is that the airline industry worldwide saw yields depressed.

Looking at the first six months of 2010, the airline has a seat factor target for each month. When we see the seat factor that we would expect in the first six months of this year – the economy traffic layering is strong.

The business and first class traffic is not where we would like it to be yet in regards to the yields, but a part of it is a slowdown due to European cold snap.

And these factors impact our yields. But the aviation industry will see yields moving back to 2008 levels this year because there was heavy discounting in 2009.

Besides, we have to now continue to focus on our customer, focus very hard on our costs, our ratios, our efficiencies and our utilisation of resources.

The Iata said in December last year that yields are going to be under pressure in 2010. Do you still see yields improving this year?

If Etihad was an American or a European airline, I would probably have that view, but it is not. The segmentation of the Gulf carriers is totally different to a transatlantic operator. And we have seen that.

If the corporate traffic had not disappeared for us last year, and also if the Middle East travel had not been down 45 per cent, it would have been a different scenario.

Now we would expect the Middle East to travel this year unless there is another pandemic. And I hope there is not.

If you look at Iata statistics, the Middle East was the only region that was positive in 2009. And we at Etihad outperformed those statistics in passengers. But what that meant is that European, Southeast Asian carriers put more capacity, or, diverted capacity, into the Middle East, and pushed down prices.

In 2009, the Middle East, which is our highest yielding market, was down 45 per cent over the previous year. People did not travel due to the flu concerns besides the global financial crisis.

But looking into this year, we are seeing positive signs. The advanced sales are stronger compared to the same months last year. The issue is just getting that corporate traffic moving.

What about premium traffic? Is that not still low?

Going back to the customer, the economy traffic is there, which is good. We are layering the business over the next six months. It is the premium traffic, which is key, and the cold snap in Europe has not helped at the start. But what we do see out of Europe and Australia is strong business cabin traffic.

The advantage we have over here is that in Abu Dhabi, in Saudi Arabia, the infrastructure projects have continued. Fifty per cent of our traffic comes out of Abu Dhabi. So that is certainly a plus.

What is also positive is India and China. While China has certainly come back strong on cargo volumes, and India is coming back strongly, too.

What is Etihad Airways' revenue target for 2010?

As for 2010, we are just rolling up. So we will be announcing that shortly. With regards to our 2009 revenues, we have not yet revealed the numbers. We are just closing out year-end with auditors, KPMG. However, in 2007 and 2008 we met our numbers.

How well placed are you in terms of raising finance for 2010 and 2011?

We received level one ratings last year with the ECAs (export credit agencies) and the Ex-Im banks. And we completed an aircraft deal in December 2009. And as for the aircraft we need to finance this year, we are already in a final stage of completing those requirements. So for this year for those aircraft, we are comfortable we can complete those transactions.

How are you getting impacted by oil prices slowly moving upwards?

We are hedged moving forward. We have a three-year rolling hedging programme. We continue to review that with the board. We are comfortably hedged moving forward.

Is Etihad Airways expected to announce any major deals in 2010, such as new aircraft orders?

No. I think we have got enough aircraft for a foreseeable future. Don't forget the last Farnborough Air Show. The reason that we did the deal then for 100 aircraft was to give us that ability to plan. So you won't be seeing any similar deals for the next few years.

We will introduce the Boeing 787s and Airbus A380s over the next three to five years. So we have enough aircraft to take us out to 2018-2020.

Also, Etihad took delivery of 11 aircraft in 2009, opened up new destinations, and, we had a very tough competitive period. We are taking delivery of only three Airbus aircraft this year – one new cargo aircraft and two passenger aircraft.

The Airbus A320 gave us the opportunity to improve the frequency and the network. It gives us a huge flexibility to develop a city [route] and when it gets bigger we can put a wide body aircraft on that route.

When are you due to receive the A380s and the 787s? Are they on time?

We will receive our first Airbus A380 in 2013 and the first Boeing's 787 in 2014. We have 35 firm orders for the 787s and 10 firm orders for the A380s. We have not changed any of these orders.

What new routes the airline is planning to introduce this year?

We are only opening up two new destinations this year – Sri Lanka and Japan (Nagoya and Narita).

While Narita would be a direct flight from Abu Dhabi – five times a week, Nagoya will operate via Beijing.

It gives us the opportunity in 2010 to stabilise the network.

Another thing we have done is work with other carriers – out of America, with American Airlines, out of Australia, Qantas. And just before Christmas, Etihad signed an agreement contract with Al Italia, which gives us Rome.

So we continue to work with other carriers to stretch our network in 2010 through code share partners.

Are you going to re-evaluate some routes which have not been profitable?

We pulled out of Sri Lanka two-and-a-half years ago and now we are back there. So we continue to look at routes and if we think we can't make the route work, we adjust.

But we also work very closely with other airlines, like we did with American Airlines for Chicago. When we go to Japan, we will work with ANA (All Nippon Airways). So our Tokyo and Nagoya service will be code shared with ANA.

So we probably work more with other carriers to develop our networks than others.

How much do you see ancillary business contributing to your total revenues this year over 2009?

2009 is really not a good year to baseline. I tell people baseline on 2008. Our ancillary revenue areas include excess baggage, duty free sales, and they were down last year. So within the business we continue to target cabin crew, to sell duty free. Though our Holidays division, we sell insurance, car rental. Talking of excess baggage, the American carriers now charge for a second piece of bag. Quite frankly, we would like to see those strategies coming to the Middle East.

It is a competitive issue and is something we would be scrutinising.

What is the projected load factor for this year?

We are looking to achieve a load factor of about 76-77 per cent this year, which means over the peak periods, we are full. Some of our routes that continue to be are Milan, Toronto, Geneva, Dublin and Chicago.

Plus, the India market slowed down during the tough part of the last year as did a lot of other markets. But it is good to see Indian market back on track.

In terms of passenger numbers, however, we just came under seven million passengers last year. What is more important to me is that we hit our financial numbers. So this year, we will be looking to carry just over seven million passengers.

How do you see 2010 overall faring for Etihad Airways?

In aviation over the past 20 years, the upside is that after every crisis the market rebounds and comes back strong. For instance, I see Indian markets coming back and becoming strong once again this year. Even the Chinese market, certainly in cargo, has started to come back.

So there are indicators, which gives me confidence on the way forward.

Aviation has always been a tough business but the Gulf airlines still have a fantastic opportunity to move share from the European hubs and the Asian hubs over the Gulf for the customer as one stop versus two stops.

I don't think we will have as hard a year as we did in 2009 in regard, hopefully to, the flu and financial crisis. And finally, I am a huge believer in the Abu Dhabi story, and that includes the Grand Prix, Yas Islands and others. So as Etihad Airways builds its story and the other projects of Abu Dhabi come online, that gives us a very positive view for 2010.


PROFILE: James Hogan CEO, Etihad Airways

With some 30 years of travel industry expertise, Hogan has overseen the rapid growth of UAE's national airline. After having joined Etihad Airways in September 2006, he was instrumental in adding 13 new destinations and 21 new aircraft to the Abu Dhabi-based airline that more than doubled the number of passengers carried.

Under his stewardship, the airline made history in June 2008 with one of the largest orders of passenger jets – 205 aircraft worth approximately $43 billion (Dh158bn) at list prices. He was named 'Aviation CEO of the Year' by CEO Magazine in November 2008. Hogan who started his career at Ansett Airlines in 1975 went on to hold senior positions with bmi, Hertz, Forte Hotels and Gulf Air. He is a fellow of the Royal Aeronautical Society and a former non-executive director of Gallaher.
Keep up with the latest business news from the region with the Emirates Business 24|7 daily newsletter. To subscribe to the newsletter, please click here.
Follow Emirates 24|7 on Google News.