GE confident of achieving $13bn revenue target by 2010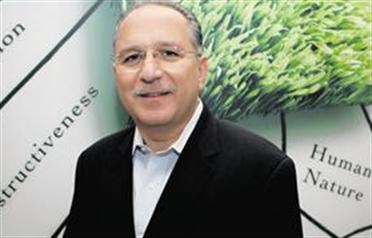 The pin-to-plane technology solutions provider General Electric Company is banking on growth potential in the Middle East and Africa. "Discounting the impact of global economic slowdown, we will sustain our business growth across different industry verticals, said Nabil A Habayeb, GE's President and Chief Executive Officer for the Middle East and Africa.
How do you rate the recent progress made in the Middle East and Africa? How has been the journey so far?

During the past four years, we changed the way market looks at the product value.

The Middle East with its natural resources has created lot of wealth. The young leadership in the region has been successful in diversifying the economy to improve non-oil revenues. We prefer to be in long-term partnership with our customers rather than just equipment providers.

How was the revenue growth in 2008 and what will be the projected revenues for the current year?

With 1,200 staff, GE registered revenues of $2.5 billion (Dh9.18bn) in 2003 and since then, we have been growing steadily. GE recorded revenues to the tune of $10bn in 2008, while the headcount stood at 3,300. We don't give projections for the future performance, what I can say is we are growing consistently.

Considering the global economic slowdown, can GE sustain its growth level?

Basic infrastructure and strength of the region have not been changed. The government has also increased its spend for 2009. We have not been exposed to financial and real estate sectors. So we do not see any impact. The government-supported projects will be implemented as per schedule, while private projects may witness some setback.

Which means, GE can achieve its target of $13bn revenues by 2010?

Yes, we are confident of achieving our $13bn revenue target by 2010. Moreover, we have $15bn worth backlog of projects and we can easily sustain the present level of business growth. We have recently signed multi-billion dollar worth contracts. With new contracts coupled with ongoing projects, we are optimistic about the future perspective of business performance.

GE has presence in several industry verticals. What is the business model behind its balancing act?

GE started its business in the Middle East as a supplier of equipment and other industrial products to oil and gas sector. There after, GE has expanded its product solutions portfolio to refrigerators and other appliances and later to industrial equipment and healthcare products. GE has a strong presence in infrastructure, energy, water, technology infrastructure, transportation, aviation, railways, healthcare and other industrial applications. Our subsidiary NBC Universal is into media business and another major company GE Capital has a strong hold in financial assets. Different industry verticals have their own business dynamics and growth rates. When it comes to overall performance, GE will be able to add value to its shareholders in times of economic slowdown.

Out of your focused areas, the major industry verticals like aviation, manufacturing, infrastructure are reeling under severe pressure of global economy meltdown. Are you restructuring your business plans in these segments?

We provide financial solutions to the aviation industry. Despite slowdown in the aviation industry globally, the Middle East is steadily moving northwards. Emirates, Etihad Airways and Qatar Airways are growing consistently. Hence, I do not see any problem for this industry. However, we closely study the ever-changing dynamics in the region and global markets.

How are energy, healthcare and aluminium sectors contributing to your bottomline?

These sectors are very high-growth business segments for GE. Energy sector is the largest contributor to the topline and this segment consists of gas, oil, power generation and water desalination projects. About 6,000 gas turbines have been installed globally and have accumulated more than 200 million hours of operation. We are in the process of setting up a new centre of excellence (CoE) on energy technology services in Saudi Arabia and in addition to this, another facility to manufacture healthcare products for the Kingdom is also under way. We have oil and gas headquarters in Doha and are in the process of setting up another technology learning centre at Science Technology Park in Qatar. The aluminium sector is a heavy energy important industry. We provide sensing, digital energy, inspection services and industrial products. Our aluminium customers are interested in environment-friendly initiatives, for which GE develops sustainable energy solutions. We are very keen on healthcare sector, which is one of the fastest-growing ones in the region. We are also participating in Arab Health this month.

GE has a presence in developed and developing countries. How does GE bridge the technology gap in Africa and what measures being taken for balancing it with the developed markets?

The Middle East and Africa want to have latest technology applications in different industrial and domestic services. Without having legacy of older technology, developing nations are gearing up to adopt latest technology applications, while the Middle East and other developed nations are upgrading their technology from time to time. However, we find commonality in the both the markets as the needs of the regions are same.

How far do GE solutions enable its customers to cut down on costs?

GE solutions enable our customers in several ways. Cost-cutting is just one of them. Besides reducing operational costs, our technology applications enable customers to improve operational performance. Our solutions range includes remote monitoring, better serving customers, etc. In addition to this, we prefer to share in the operational costs reduction exercise through long-term service agreements and customised service agreements. We develop technology solutions on temperature-based and pressure change.

What will be GE's strategy on M&As in the bottomed out market|?

We are always on look out for opportunities in the global market for attractive buyouts. We prefer to buyout companies that offer synergies with our style of functioning. We prefer to acquire companies, which can fit into our long-term plans. We continue to invest in acquisitions. Energy will be among the priority sectors, in which GE prefer to buy out companies. Industry verticals of future will be our focus areas.

Please elaborate on GE's technology on desalination in Middle East and Africa?

Water projects are one of our focus areas. I foresee water projects will become major ones in the near future as the demand for pure water is increasing by manifolds. Waste water treatment and water desalination are our areas of operation. We own and operate one of the largest desalination projects in Algeria, Hama, and this provides 50 per cent of water requirements of the region. We have one waste water plant in Kuwait. We have also partnered with Jebel Ali Free Zone for waste management to purify industrial waste water.

Owing to high costs, still most of the SMEs find it difficult to adopt latest technology applications. Do you have any specific plan for SME segment?

We look at all types of customers. Customising technology solutions as per the customer requirements is GE's specialty. It's big or small, it doesn't matter.

In healthcare, we provide portable ultrasonic equipment, which can be carried easily to remote areas. Products like this will bring the latest services to the poor and people in remote areas. We offer latest technology-supported products to small- and medium-size enterprises. GE technology centre in India develops cost-effective solutions to healthcare and other sectors. GE continues to focus on developing solutions that enable its customers to grow and protecting interests of shareholders.


PROFILE: Nabil A Habayeb President and CEO for Middle East and Africa, GE.

Born in 1958 in Beirut, Habayeb completed BS in mechanical engineering from Syracuse University in 1980 and an MS in 1982.
Based in Dubai, Habayeb is responsible for developing and expanding the growth of GE's different businesses across the region.

Habayeb joined GE Power Systems' field engineering programme in 1982 and held several field assignments internationally. In 1985, he moved to Dubai where he held several sales positions covering the region. He moved to Schenectady, New York in 1989 to be the commercial operations manager for the Middle East and in 1991, he was appointed the Power Systems Sales Manager for Egypt, Africa and East Mediterranean countries.

In 1993, Nabil returned to the Middle East as the Manager of the Western Region for Saudi Arabia and in 1995, became the Customer Services Manager for the region. He became the Europe Pole sales leader in 1996 and was named General Manager for Africa, India and Middle East (AIM) in 1997. In 2001, he was appointed to his previous role of regional executive and general manager, GE Energy, AIM region.
Follow Emirates 24|7 on Google News.