Gulftainer set to close major overseas port deals this year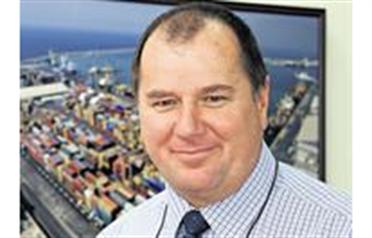 Gulftainer aims to secure 50 per cent of its revenue and volume throughput from its international operations over the next three years. Currently, 75 per cent of its revenue and 90 per cent of its throughout come from UAE operations.

The company is on its way to ramping up its business in Iraq, which it has been watching closely since 2002. The company is also in discussions with ports in Maldives, Mauritius, India, Turkey and Thailand for management opportunities. Two of these talks are set to close this year. Inspite of a rosy 2009 and promising 2010, the Sharjah-based firm has had to brave some difficulties, most of them linked to circumstances beyond their control. Peter Richards, Gulftainer Managing Director and General Manager speaks exclusively to Emirates Business.


You are in a joint venture (JV) with Turkey's Demas since 2008. There were high hopes when the JV was signed. Have these come to fruition?

Turkey, which is rapidly developing as a natural powerhouse and an essential link between Europe, the Middle East and Asia, was affected quite badly by the recession. This is because trade started to dry up in Europe and also because the Middle East wasn't demanding the goods it demanded in the past. We took a very cautious approach on Demas and didn't go in for major expansions. This will be reviewed in 2010. While the UAE and the Middle East recover, it will take time for Turkey and Europe to get back on their feet.

What about your JV to manage and operate the port and related activity in Moroni and Mutsamudu in the Comoros Islands?

We are operating in Moroni but have not participated in Mutsamudu because we are not confident of operating the port satisfactorily under the present conditions. We are awaiting the outcome of government discussions with the island. Once this is resolved we will participate. We promised Mutsamudu in 2007 but because of political reasons, the islands couldn't be handed over to us. Once their government has decided, we will be ready.

Volumes were reportedly higher in 2009. Do you think this year will be challenging?

Comoros is beautiful enough to be turned into a holiday resort but because of political unrest, investor interest is low. We're doing our best to help, a delegation from Sharjah Chamber of Commerce and Industry is visiting Comoros this month. The challenge is for them to convince people that it's safe to invest in Comoros.

How are you faring in Pakistan?

Pakistan has been a difficult operation. Our transport company there handles cargoes for US and British forces in Afghanistan. It transports goods from Karachi to the Pakistan-Afghanistan border and back. Because we are a UAE company, some people see us as Westeners because of which we were targeted. Two of our trucks were bombed last year.

Did you face any other casualties?

There were threats to drivers and local staff but no casualties. During the riots in Karachi, our office was damaged. It's a difficult environment to work in but we are persevering.

Have you incurred operational losses?

We've broken even in Pakistan. The first half was incredibly good but in the second half, we suffered because troubles that were centred in North Pakistan started to migrate to Karachi, our base.

Do you plan to stay on?

Yes we do. As long as we can provide service, we will stay there.

What are the deals that you are looking at under your International Port Management (IPM) division?

IPM has two sides. First is the consultancy, where we are approached by ports worldwide to improve their operations. In this we are involved in Kuwait, Pakistan, India, Kuwait and Qatar. The other is evaluating offers from port owners – either they want a management team for short-term projects such as training or for a long-term concession. We're looking at ports in Maldives, Mauritius, India, Turkey and Thailand. I'm confident two of these deals will be closed by the end of this year.

How much revenue and throughput have you targeted from operations in the UAE and internationally and within what timeframe?

I am looking at a 50-50 break up between the UAE and international projects, to be achieved in three years.

Is this because you have reached peak capacity in the UAE?

Opportunities for port development are less in the UAE because there are many ports for such a small country. Major development increases are possible in the region's transshipment market.


PROFILE: Peter Richards Managing Director & GM, Gulftainer

A qualified Master Mariner with a degree in Nautical Science, Richards joined Gulftainer in March 1987. He has held the positions of operations manager, terminal manager and operations superintendent, and is now board member of Gulftainer; executive chairman of Gulf-Com Port Management, Comoros; board member of GTL MTI Transport in Pakistan; vice-chairman of Gulftainer Transport and Logistics Qatar; board member of Demas International and Gulftainer Port, Transport and Logistics Services, Kuwait. Richards holds a diploma in Port Management from Kent University.
Keep up with the latest business news from the region with the Emirates Business 24|7 daily newsletter. To subscribe to the newsletter, please click here.
Follow Emirates 24|7 on Google News.