I knew what was coming even before I entered the industry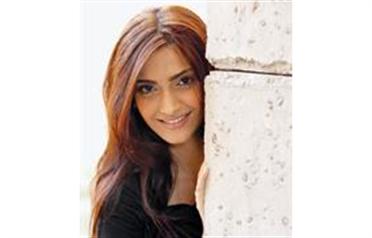 As Anil Kapoor's daughter, Sonam Kapoor seemed destined to enter Bollywood. And even though her first film, 2007's Saawariya, bombed at the box-office, the star-kid tag ensured her a place amongst cinema greats. Tell this to Sonam though and the actress gets defensive, saying a parent's success can only take you so far in your career, after which, your own mettle will pave the way or bring you down in a blaze of glory. Heavy words for someone so young, but the brash 23-year-old refuses to shy away from speaking her mind. Emirates Business learned this first-hand, as it chatted with the actress prior to the world premiere of her latest, Delhi-6, in Dubai.


Have things always come easy for you being a star daughter?

I had to work like everyone else. My first job earned me only Rs3,000 (Dh220). So now, when I can afford my Ford car, the success is much sweeter.

Do you have an investment portfolio?

I invest in property, but my mother and my accountant handle the basics.

Endorsement deals are the bread and butter for Bollywood stars. Have you signed any contracts?

I've signed on with L'Oreal, a name I have always used and it seemed a perfect brand fit.

Once I got that contract, other deals came flooding in because they liked my hair and smile. I'm being very selective because I don't want to lend my name to a product that I would be ashamed of, like cigarettes and alcohol. What I do in my personal life aside, I know my public image comes with a sense of responsibility and I need to set by example.

Have you been enjoying the fame?

I've lived in the spotlight being a Kapoor so I knew what was coming even before I entered the industry, the good and the bad.

Is it true your co-star Abhishek Bachchan made you cry on the set of Delhi-6 as reported by the media?

No! He's a great co-star and nothing like that happened. Honest.

You were the toast of Bollywood before Saawariya released, but after the film's failure you disappeared until now. Why the hiatus?

I was busy filming for Delhi-6. You can't say I disappeared from the scene.

That's true, considering you did stir-up controversy a few months ago by calling Shobha Dé a 60-something 'porn writer' after she ridiculed you on her blog...

Oh no! She said something again?

So you did say that?

Yes, I said that and I stand by my words. It was all very silly. I was at the Filmfare photoshoot and my journalist friend told me that Shobha has slagged off industry newcomers, including Imran Khan, Deepika Padukone and myself.

That woman has never said anything nice about anyone. And if you have such strong opinions, you should be open to criticism.

You defended Deepika? Isn't there a rivalry between you two considering she's dating Ranbir Kapoor, rumoured to be your ex?

There is no rivalry. Ranbir is my childhood friend and my first co-star. As all of us hang out together, Deepika is someone I'm getting to know.
Does it mean actresses can be friends?

Yes they can, but women, unfortunately, are very insecure about other women. That said, I do have a few actress friends in the industry like Rani Mukherji, who is like a big sister and the first person I would call for advice. Priyanka Chopra is someone else I'm getting to know.

Many complain about a casting couch in Bollywood. Do you agree?

I've never experienced it and no one would dare really, since I'm Anil Kapoor's daughter. But it exists in every industry.

Has there been a story you've read about yourself that has shocked you?

Someone wrote that I was dating actor Kunal Kapoor. As I've only met him twice in my life, it was hard to swallow.

What about all the bad press your father's film, Slumdog Millionaire, seems to be generating in India?

Honestly, I don't agree with critics that Slumdog shows Mumbai in a bad light; that is the city. Not everyone grows up as Anil Kapoor's daughter, living in a lavish home and dining at five-star restaurants. Neither does everyone live in sprawling mansions with spiral staircases and 25 bedrooms. What they show in Bollywood, a term I personally hate by the way, is escapist cinema. Mumbai's reality includes the rich, but also includes places like Dharavi, the biggest slum in Asia.

Would you call this crab mentality at its worst – pull down whoever is trying to climb to the top?

Absolutely! Anyone who has seen the film will understand Slumdog is about hope. It shows the rise of an orphan boy who dreams big, finds love and becomes a millionaire. Why not understand the film's message highlights Indians are resilient? Why not see Slumdog showcases goodness exists in the country?

Do you think it may be difficult for people to relate to this goodness since last year's Mumbai terror attacks?

What happened in Mumbai will never be forgotten and action should be taken. But at its core, India is a non-violent nation; do you know we are the only country that has never invaded another?

Every country has its flaws and in India there exists an underlying communal unrest, but racial prejudice exists all over the world, so why single us out?

Of course there is goodness around us. Don't forget, our father of the nation is Mahatma Gandhi, a man who won independence through non-violence.


PROFILE: Sonam Kapoor Actress

A Bollywood blue blood, Sonam Kapoor's film connections go back two generations. Her grandfather, Surinder, was a successful producer; her father Anil is an award-winning actor; her uncles Boney and Sanjay also work in the industry.

The 23-year-old is the eldest of three children. After finishing her studies in London, she returned to Mumbai and pursued a career in Bollywood.

Sonam signed on as an assistant director to Sanjay Leela Bhansali in 2005's Black. He would later direct Sonam in Saawariya.

After the film's failure, Sonam maintained a low profile until now, with the release of Delhi-6, currently playing in UAE cinemas.

She is single, but has been earlier linked with former co-star Ranbir Kapoor.
Follow Emirates 24|7 on Google News.