India's PNB eyes bigger wholesale market share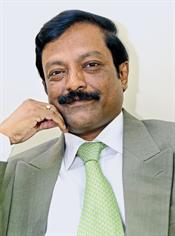 Punjab National Bank (PNB), India's third largest bank next to State Bank of India (SBI) and ICICI, is in an upbeat mood for expansion. The bank, which has a presence in Hong Kong, London, China, Norway, Kazakhstan and the UAE, last week obtained a Category 1 licence from the Dubai Financial Services Authority (DFSA) and is looking at acquiring a bigger market share in wholesale banking.

It also plans to open a subsidiary in Canada, a joint venture in Bhutan, and an offshore unit in Singapore this year. Thanks to the $45 billion (Dh165bn) trade between India and the UAE, India's largest nationalised bank is positive that it can get a fair share of trade finance business. "The comfort of Indian banks is that they may not have the issue of exposure limits on other Indian banks, as local banks have," Raj Kumar Nair, CEO at PNB Dubai International Financial Centre (DIFC), told Emirates Business. "This will ease the discounting of bills under bank letter of credits (LC) or granting buyer's credit against these LCs." He said the bill-discounting proceeds could be easily made available to local corporates by crediting to their account with mainland banks. "If they want in local currencies, it can be converted into AED, which is pegged to USD, without exchange risk," he said.


We have seen a number of Indian banks opening up in DIFC. Are there more to come?

Indeed SBI is already there and there is another Indian bank coming shortly. There is a lot of trade taking place between India and the UAE. Non-oil trade volume is already about $45bn last year. There is enough space for Indian banks to work here. A lot of Indian businessmen are also here. They take the comfort of dealing with Indian banks because what happens is in trade finance, when LCs are opened by Indian banks, local banks may have some exposure limits. We don't have that kind of a problem. That gives me a big opportunity of doing business here.

What licence did you obtain from DFSA? Is doing business here easy despite restrictions on deposits?

We have a Category 1 licence where we can accept deposits, arrange credits, provide treasury products and all other facilities except retail business. We cannot accept deposits from the UAE market so we have to get it from outside. We have very good financials so we don't find any difficulty in raising funds from our corresponding banks. We can raise funds by getting deposits from outside the UAE; through the funding from international banks; and our own head office is also there. If I want to do a credit transaction, we will have no problem in raising resources.

Most of your funds are sourced offshore since you cannot get deposits here. Does that translate into lesser profits for PNB or higher lending rates for your customers?

It's not like that… but if my cost is high I will prefer to lend it at a high rate. If there is no taker for that kind of credit, then I will not take the resources also.

What kind of deals are you specifically looking at?

Initially we want to concentrate on trade finance, an area where there is a lot of scope. Then gradually we'll be moving on to other areas. Initially we'll concentrate on Indian companies but it doesn't mean we'll deal with Indian firms only.

Are you talking to government-related agencies as well for export credit agency backed deals, for example?

We have not approached [the government] so far because we are concentrating on businessmen here and those in India or countries such as Britain or Hong Kong.

What is your target for this year?

Within March 2010, I want to make this branch profitable. That profitability will depend on profit margins, which depends on the volume and spreads.

Can you be more elaborate on that?

That quantification may not be available now because it is also a sensitive matter.

Don't you think the UAE is overbanked already?

Dubai is a trade hub so there is enough scope. Maybe a number of banks are financing international transactions only and some banks may be doing local deals only. We have a large Indian corporate business that have international business as well so a branch in Dubai is quite strategic for us.

We've heard in the past few months that banks have been reluctant to lend. Is the appetite to lend becoming stronger?

One of the reasons why some banks couldn't lend is because they may not have enough surplus for lending. In that case, we are getting the opportunity. We don't have liquidity or funds problem. And there is so much trade happening between India and this place. We don't have an exposure problem, we are comfortable for discounting any LC bills so naturally customers will prefer to pay a little higher to us for easy business.

What are PNB's expansion plans?

Slowly we are expanding overseas. We have two branches in Hong Kong, one subsidiary with four branches in London, one branch in Kabul, one joint venture bank in Nepal, and we have representative offices in Shanghai (China), Oslo (Norway), and Almatty (Kazakhstan). We also have a representative office in Karama, Dubai. We are going to open one subsidiary in Canada, another joint venture in Bhutan, and an offshore unit in Singapore – these are all going to happen immediately.

When will they be opened?

The bank in Canada and Singapore may be taking a little bit of time but Bhutan will be opened by this month. Canada will happen this year, while in Singapore they are in a watch and wait mode.


PROFILE: Raj Kumar Nair CEO, Punjab National Bank, DIFC

Nair, 53, has 32 years of banking experience in retail and corporate credit, with more than two decades of forex experience since 1984. His expertise includes trade finance, credit processing, UCPDC articles, credit insurance, remittances, non-resident accounts, correspondent banking, maintenance of Nostro/ Vostro A/c and drawing arrangements. He has a Master's in Commerce and holds a Certified Associate of Indian Institute of Bankers and Diploma in System Analysis.
Keep up with the latest business news from the region with the Emirates Business 24|7 daily newsletter. To subscribe to the newsletter, please click here.
Follow Emirates 24|7 on Google News.