Jacky's Group optimistic about business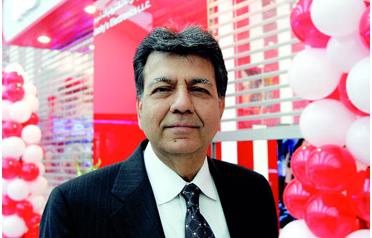 At 57, Jacky Panjabi – who refuses to divulge his real first name – can proudly look back at the strides his family-run company has made and at the pace of its growth. But for the New Delhi-born entrepreneur, who started Jacky's Group in Hong Kong with his brother in the seventies, there is really no time to rest.

You keep reiterating the importance of your family and how it has contributed to your company's growth and success.

My brother and mentor Iswar Panjabi founded the company in 1970 in Hong Kong. We were a small mail-order organisation with humble beginnings. Although we have now massively grown with business interests across the world, it is essential that all those involved in the company understand its history and heritage. That is why all members of my family are very active in the business and we are all involved in the day-to-day functioning of it in one way or the other.

These are not the best of times for the consumer electronics industry, what with analysts projecting a slowdown in sales and steep drops in profits for manufacturers in 2009. As a major retailer, doesn't that worry you a bit?

I have never seen anything like this. I was in Hong Kong two months ago to attend a business lunch and they were calling it an "economic tsunami." But these things come and go. Tourist flow and visitor numbers might have gone down but it is only temporary and we are not really scared of such short-term occurrences. We are looking at the long term. People will come again and everything will be back to business. Dubai has been very fortunate and government policies are very clear. So there's nothing to really worry about.

What new concepts are you introducing at the latest store that recently opened at The Dubai Mall?

At 8,000 sq ft, it's one of the largest spaces we have. Again, this new property will have a complete range of electronic goods. This time, we have introduced a number of shop-in-shop concepts with brands such as HP and Sony Vaio stocking their full range of products. We do not exclusively stock brands because we believe in healthy competition.

You say you have aggressive expansion plans?

Although we will not consider anything new in the UAE this year, in two months we will open another Jacky's Electronics store in Al Ain, our first in that emirate. Then, plans are already in place to move to other GCC countries and the Far East. We already represent some of the top electronic brands in Africa and have offices in Kenya, Tanzania, Uganda and Rwanda. Then of course, there are our offices in Singapore, China and Hong Kong. We are also promoting our in-house home appliances brand called Venus. Our turnover in the UAE alone is over Dh1 billion.

What, would you say, is your guiding philosophy and strategy?

I don't believe in hit-and-run. Slow and steady wins the race. We look at each market differently and assess it year-on-year. Market situations change all the time and we need to be prepared to handle them. We don't believe in committing ourselves to something we cannot fulfil. We also move with an awareness and understanding of where we stand and our position in the market. We know our size and we move accordingly and know that no one can move us from there.

How important is Jacky's Electronics to the group?

It is our retail arm and is headed by my son Ashish Panjabi. Both our store concepts – Jacky's Electronics and Jacky's Express – are doing very well and make up 25 per cent of our turnover. Jacky's Electronics is a multi-award winning power retailer. It is a brand we are very proud of and one we wish to see grow.

Are you still very active in the day-to-day functioning of the company?

I am only 57. I am still very active and I still work my usual 12 hours a day. I have seen this company grow in the last 39 years of its existence and I am going to see it further expand. With the family working together, there is a nice mix of the old and new. I maintain the ethos and character with which the company was founded and the younger generation brings in new ideas and thoughts. When those concepts go hand in hand, I think it's the perfect recipe for growth.


PROFILE: Jacky Panjabi Group Managing Director

From a small mail-order company founded in Hong Kong in 1970 to one of the leading retailers in the UAE with a turnover of Dh1 billion, Jacky Panjabi has seen his company, Jacky's Group, flourish over the years. Today, with a strong business presence across the African continent and with offices in Singapore, China and Hong Kong, Panjabi attributes his company's success to its policy of keeping it all in the family. The company's retail arm, Jacky's Electronics, is currently on an aggressive expansion drive, opening its 13th store in the Emirates at The Dubai Mall last week. The next step, says the patriarch, is to expand regionally and then to the Asian market.
Follow Emirates 24|7 on Google News.