Momentum is picking up for e-commerce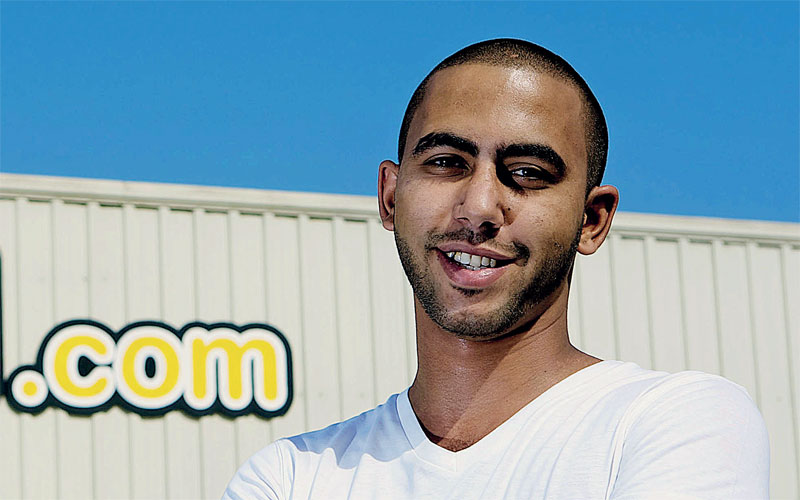 Once dismissed as a money-losing model that would never take off in the region, online shopping or e-commerce, has recently been making a lot of noise. Sounding the trumpet is Dubai start-up Nahel.com, whose founder Saeid Hejazi is determined to change the public's mindset. The service is currently available only in the UAE, but Hejazi plans to extend it across the Gulf Co-operation Council (GCC), Levant and North African countries. Emirates Business spoke to Hejazi to find out more about these plans.
E-commerce has not been considered a viable model in the region, yet you have invested heavily in it. Why?
The market didn't exist before. People said e-commerce wouldn't work here. Nobody here did e-commerce before. But in the past two years, a bunch of small e-commerce sites have appeared. They focus on niche segments but are gradually gaining a footing. Today the business is becoming more viable and customers are accepting it. More people are entering the e-commerce segment with small ventures. The momentum is picking up. Our sales grew by 35 per cent in March-over-February. New registrations on our site too grew by the same percentage and traffic has increased steadily since our launch in August 2009. All the signs are very positive and very encouraging.
Did you find it easy to obtain funding for your venture?
No, it wasn't easy. When the business plan was ready and written for the local market in 2008, the economy was booming. Everyone with liquidity was putting it into real estate. I found someone who was interested in starting something online. He wasn't a strategic partner but had liquidity so I punted up with him. It's definitely not easy to get funding.
Online shopping is competing in a retail environment that already has very low profit margins. What other revenue streams exist in this model?
The main revenue source is still sales. The percentage of profit varies. Some products are loss-leaders so you make money from the accessories. In other segments, the margin is pretty good. Because we sell everything from watches and perfumes to electronics, the percentage varies, but on the whole it is still healthy. We are very bullish about sales. We add 500 products a day and have 10,000 available. We are growing our inventory. We have a no-shelf place policy when it comes to inventory, we just want to grow it. We adopt a blanket approach. We would go to a Samsung store and say, "Give us everything you have". That way, customers are not stuck at the store where they have just three options and are forced to go for the one with the best price. We have six departments right now and within the next 12 months, we will have 13. We will continue to upload products as long as factories in China are open because that is where everything is getting made these days. Another revenue stream is selling our know-how to other offline stores. We offer e-solutions where we build the platform, upload and translate the product and do the taxonomy. There has been a lot of interest and we have already built two sites for retailers.
The biggest hurdle for online shopping is the security threat perception. What have you done to allay these fears?
We have the highest level of security. It is twice as high as that of UAE banks. I know it's a big claim to make. Go to our website, check our security level and go to your bank and check theirs. We make people trust us. They have a map of our location, our names and numbers. I don't think it's about trust, rather it's about getting them through the first experience. I think they're just not accustomed to shopping online.
People in the region enjoy shopping at malls, so why would they choose to go online?
That's true, but that's social shopping. Take your cellphone, for example. Would you buy a cellphone at the mall socially? You need a phone, it's an investment, you want a good price on it. You trust the brand, you know its features and you want to save money. So you'd go online because we undersell the product. We have a "don't-be-greedy" pricing model. We have tiny overheads compared to retailers and consequently we'll always be cheaper.
Are only Western expats taking to it?
Absolutely not. Don't underestimate Arabs and the local population, they form the huge majority of our customers. Locals who speak only Arabic are big customers. They come to our website and buy 10 to 15 bottles of perfume at a time.
Are companies in this emerging industry coming together to tackle common challenges?
Yes, we have started talking to other players. We want to set up an association where we as the e-commerce community come together and tell the customer we've all checked each other out and we know we are all safe. But the biggest benefit of this is to push the government and banks because they are the ones standing in our way. We can't get payment gateways, the government and banks aren't really pushing for it. They are scared of fraud. It's a trust issue. Today to get a payment gateway you have to put a Dh1 million bond. What kind of start-up has Dh1m sitting in the bank just in case someone scams a credit card and buys a phone? Because e-commerce didn't exist before, there was no reason for them to push for it, but once we become bigger, we hope they will. The government could lower start-up costs… Dubai though is still the best place to start from, an incomparable trade hub for my kind of business. All the partners I'm looking for are here, the biggest ports are here, everybody's here. It's perfect.
PROFILE: Saeid Hejazi Founder, Nahel.com
Hejazi is a young entrepreneur with a background in computer engineering. Nahel.com's original business model won the University of Toronto's National Business Plan Competition among 470 teams.
Follow Emirates 24|7 on Google News.