No end in sight to decline in shipping rates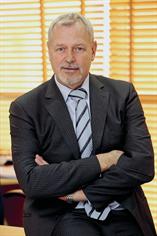 Shipping is arguably the most battered sector globally, in the wake of the economic recession. But there are some players, including ship managers, who have escaped the wrath of the downturn. "We are the middlemen, so we are relatively insulated against the crisis," said Lars Modin, President and CEO, International Tanker Management Holding. The Dubai-headquartered firm, which was recently bought by V Ships – the world's largest ship management company – saw a nine per cent increase in its managed fleet in 2009 and is looking at a further 35 per cent growth in 2010. It saw a two per cent increase in profits against a 20 per cent rise in revenue, largely because it hiked salaries, its main cost, by five per cent while freezing fees despite the escalating costs. "The result was not great, but it was okay," Modin said. Although internal projections are positive, he does not rule out the possibility of a double-dip. "I believe the dip will stretch out for a little bit more because we don't see an increase in employment."


The shipping sector is said to be the last to exit a recession, so everyone's eyes are focused on this industry. If it did see the worst, then everyone else must have seen the bottom as well. Is that the case now?

Shipping is related to the world economy. I find the situation a little weird at the moment because some areas are picking up and some are not. I tend to believe that the dip will stretch out for a bit more time because we don't see an increase in employment around the world.

Do you believe there could be a double dip?

Yes. Three months back, oil tankers from the Middle East to the Far East were paid $15,000 (Dh55,093). Two weeks back, this went up to $100,000 per day but is now down to about $50,000 a day. I don't know what's controlling that. It could be China looking for more oil or it could be speculators.

How does this extreme volatility affect the ship management business?

We are a service company, middlemen for ship owners who don't want to manage the ship. When times are tight, they tend to go to third party managers, that is why we receive more requests. At the same time, it is becoming more difficult because oil majors want to avoid the blame when something happens. So they increase their requirements which makes operations more expensive. It is good in a sense but when you talk about details and are competent, then you'll find many of their demands ludicrous.

Do you pass on that increase in cost to customers?

That's the difficult part. Although we get more work, our margin is reduced. To have the same financials, we have to attract bigger volumes. We are not trying to tie up our work with owners. In the heyday of the past seven years, we could spend a part of our profits on those requirements but now we try to recover 10 per cent to 15 per cent of these additional costs from owners.

How much can a ship owner save by going to ship management agencies?

The cost of managing a ship in the shore side is about $200,000, we do it for about $150,000. Many owners have costs of $300,000 so savings are much more.

Did you perform well last year?

Not that well. The result was not great but it was okay. Customers asked us to cut costs and not charge for certain things. They asked us to freeze the fees. Our revenues increased by 20 per cent but profits came down because we increased wages by five per cent. Profit margins increased by only two per cent.

What were the year-on-year profits in the past?

Below 10 per cent. But this is reduced due to higher salaries and pressure to freeze fees. We had to do more with the same number. A lot of our staff stays up late. We hope to correct that later on.

Why increase salaries in a deflationary environment?

It's a supply and demand issue. There is a shortage of competent people. In order to retain them, we needed to keep them happy. We have 57 persons, the same that we had in 2008, but we have more business now, with 48 ships.

How are your Singapore, Germany and Texas operations faring?

We closed down the Singapore office last year because it's difficult to get good profits out of managing ships in the Far East. We did only one ship. We got lot of negotiations but these broke down. In Germany, we have 17 ships but this may come down to 12 ships in future. In Houston, we do not have more than three ships, but the fleet there and in Dubai will grow this year.

What are your projections for 2010?

Growth will be significant. If 25 per cent of discussions lead to signed contracts, then we will probably grow to 65 ships this year.


PROFILE: Lars Modin President and CEO, International Tanker Management Holding

The 55-year old Swede has been working with ships and shipping all his life. A former chairman of the Chemical Tanker Committee of the International Association of Independent Tanker Owners, Modin served Stolt Nielsen in Rotterdam and Houston for nearly 20 years in various managerial positions. He holds a BSc in Marine Engineering and a chief engineer's unlimited licence for both steam and motor. He is keen on golf, sailing and biking and hopes to sail around the world some day.
Keep up with the latest business news from the region with the Emirates Business 24|7 daily newsletter. To subscribe to the newsletter, please click here.
Follow Emirates 24|7 on Google News.