Our strategy is to create best first impression for Dubai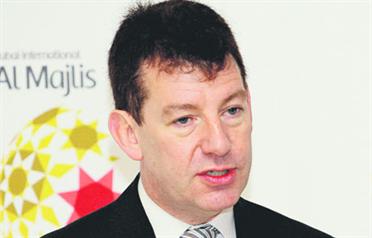 The growth of Dubai's aviation sector looks promising even as the world aviation industry grapples with slowing demand and declining capacity.
Heading this growth, Paul Griffiths, Chief Executive of Dubai Airports, talks to Emirates Business about what goes into making the world's largest airport – Al Maktoum International – also the finest in the world. He also discusses the synergies to be brought in between the two airports in Dubai.
What are your goals and strategies for the two airports?
The principal strategy is to create the sort of growth and custom service excellence that Dubai has built its global reputation on. We are here really to reinforce the strategic vision of High Highness Sheikh Mohammed bin Rashid Al Maktoum, Vice-President and Prime Minister of the UAE and Ruler of Dubai, who in 2005 said he wanted to establish Dubai as a powerful and a highly dynamic city.
And since 97 per cent of all visitors to the UAE use Dubai airport and of the 37.4 million passengers that went through our doors last year, approximately 40-45 per cent did not come to Dubai. They just connected on to other flights. So we are quite uniquely placed.
So in a way, Dubai airports certainly touches more people than any other UAE-based entity. So we felt we are in a unique position to create that very important first impression. And therefore, our mission and strategy is to make sure that the first impression we create is the most positive and the most successful of any airport company.
Now that's a journey. We are not there yet. It is going to take a while to get there but we are very firmly on a mission to create an excellent facility where the technologies, the process and the people who work in perfect harmony, produce a service model that is one of the best in the world.
The new airport gives an even bigger opportunity because we will be able to employ a huge number of new technology in processes that will be able to put us in the forefront of innovation.
So the strategy is, let us get our traditional service model fine-tuned and working really well at the existing airport and then we can take the learning from that combined with the investment in new technology to the new airport and create something that is even better.
So when is the first flight scheduled to take off from the new Al Maktoum International airport?
It is going to be in mid-2010. Basically, we are on the road to an airport opening day, where lots of things are going to come together. We have got to complete the infrastructure. The road access to the airport has  to be completed, the control towers have to be populated and the technology have to be upgraded. It is a very long and complex process. And then we have to go through the licensing phase. Once all that is in place, we will be able to open the airport to passenger and cargo traffic, which we believe will be in the middle of 2010.
The reason for doing it this way… is a bit like Terminal 3. We made a strategic decision with T3 that we would only open the terminal once everything is absolutely ready to go. That is because there were plenty of examples where airports have opened around the world and they got it badly wrong. These include London's Terminal 5, Bangkok and Hong Kong. And we wanted to make sure that we got it right.
So having so successfully opened T3 with  minimum fuss, we wanted to take more time with Dubai World Central's airport to make sure that it is a similar success.
What kind of synergies and disparities do you foresee between the two airports?
The major difference, of course, is the size and scale. When Al Maktoum International airport is fully operational it will be capable of handling 160 million passengers on five runways, and that is about 118 to 120 aircraft per hour.
When the original model was created and the architectural outline described six runways. But we found that we can get just as much throughputs with four main runways and one intermediate runway as a standby  so that when the others are being maintained we still can operate with four runways.
And that would actually create more than enough capacity to get to the 160 million passengers number.
How many passenger terminals will the new airport house?
We haven't finalised the design for the long term planning but we are trying to actually create an environment where the size of the airport is not too daunting for the customers. So we probably will create one or two terminals but they will all be a part of the fairly close-knit and integrated complex even though we are spread over quite a large area. We are working very hard to mitigate the problems of scale with things like walking distances, transit time, connecting time etc, by clever and modern technology and airport design.
What about the dedicated terminal for low-cost carriers?
There won't be one for now. The first passenger terminal at Al Maktoum International, which is the only terminal, is being built for between eight to nine million passengers. And because it will be the only terminal, we have got to make it multi-purpose. So it will serve full-service carriers, low-cost carriers and executive jets.
But as the airport develops, we would probably either build an additional terminal for low-cost airlines or incorporate a low-cost solution into our design one way or the other, depending on the way the business models for our customers evolve.
What about the advanced technologies being deployed at the new airport?
We are trying to think of new technologies like is it possible to make greater use of solar power during the day and then store the cooling capacity that we create during the day and use that at night, for instance.
We are trying to look at ways to make the place energy efficient as well as customer friendly at the same time.
What we are trying to do is a very close integration between surface transports where we expect the rail links to be properly integrated into the terminal, and have a very short distance between arriving at the airport and actually getting on to the aeroplane.
So we are looking at some sort of circular type of terminal complex in the centre. We also believe by then the idea of actually having to go to a terminal may have changed. Things may have moved on and you might not have to check in at the airport, for instance. A lot of check-ins are increasingly being done either through the internet or on the mobile phones.
For instance, it would be good if you could check in at a railway station located maybe in the centre of the town, get the train to take your bags to the plane and have the whole process seamlessly integrated. That is the sort of thinking. The other thing is that we want to integrate security, immigration and check-in into one seamless process, so that you can deal with all those issues in one go. And there may be some technology to enable us to automate that in some way.
Would Al Maktoum International be the first airport in the world to integrate technology on such a large scale?
Airports around the world are using bits of the technology that I described. But we have got an opportunity here to create something that is wholistic. We can approach this with a completely new idea of saying we have got an opportunity to build something from scratch… how can we make absolutely sure that every single element is the best possible way to do something. And that is partly architecture and part process driven but very much enabled by technology. You have got to make all those things work in harmony to produce the best result.
What kind of capacities are you projecting at both the airports once Al Maktoum International is also operational?
We think we will get to about 80 million at Dubai International, probably by about the middle of the next decade, by 2015. We currently have the capacity of about 60 million passengers. The new concourse – Concourse 3, which is rising out of the ground, will be finalised by 2011, and will take us to about 75 million passengers.
Also, through a number of incremental process improvements and other things we are confident of getting another five million.
And at the new airport, it would be exactly double of Dubai International. About 160 million passengers a year is the sort of design capacity we are working on.
Would you look to move some of the current capacity from Dubai International to the new airport?
What we want to make sure is that when we do create the large part of the capacity at the new airport, then there is enough ability to start moving a large part of the operations there.
Whether the current or the new airport will co-exist, is not a decision we have to make now. It may be that we keep both airports fully operational. But it also may be that we decide at some stage we want to transition most of the commercial flying from Dubai International to Al Maktoum International. But fortunately, we don't have to make that decision.
How are you coping as the aviation sector flies through rough weathers globally?
We are in a very good situation because our growth is still positive. We recorded 9.5 per cent increase in passenger traffic during 2008, which actually is a very impressive result when you look at the figures worldwide.
I am sure the growth won't be of the order that we have seen in previous years, but certainly I still believe that we will grow passenger traffic in 2009, maybe at a lower rate.
The difficulty with infrastructure development is it is a very long-term business, and when you get a situation like the one we are in at the moment, it can be very tempting to say let us slow down. The difficulty with that is it increases your costs significantly and it also impacts your delivery time.
How much investment is earmarked for the expansion of both the airports?
Our budget for Dubai International's Terminal 3, Concourse 2 and Concourse 3 is about $4.2 billion (Dh15.4bn). That is what we are investing here and we will continue to develop this airfield because there are many things we can still do to the capacity here. The investment into Al Maktoum International is about $10 billion. But that is right now, you never know what happens next. We are only at preliminary stages of the main terminal design, so dependent on what we specify and the time in which it is going to be built and developed, the costs could vary quite significantly.
How do you plan to finance all this expansion?
The good thing is that we are a very revenue positive organisation and we have got the benefit of revenues from the Duty Free as well as the aeronautical revenue, besides various other forms of revenue like from the retail and car parks etc. So the idea is that the revenue generated by the airport would go largely to help finance the new facility.
What's the status of your MoU with Dubai Aerospace Enterprise? What plans have you got with DAE?
We still have a business relationship with DAE and the idea is that if we get into some new technology then they can partner with us. And then hopefully, help to defray the cost of that by remarketing that technology to other airports around the world.
PROFILE: Paul Griffiths, Chief Executive of Dubai Airports
The man with the responsibility for the operation and development of the world's largest airport — Al Maktoum International, as well as the expansion of the Dubai International airport, Griffiths was appointed as the Chief Executive of Dubai Airports in October 2007.
Prior to that he was the Managing Director of the UK's second largest airport – Gatwick Airport. Before joining airport operator BAA in 2004, Griffiths spent 14 years with the Virgin Group.
And in the 1980s, he spent four years in Hong Kong developing the marketing, commercial planning and technology functions for the then start-up airline Dragonair.
Follow Emirates 24|7 on Google News.