Philips registers double-digit growth in Middle East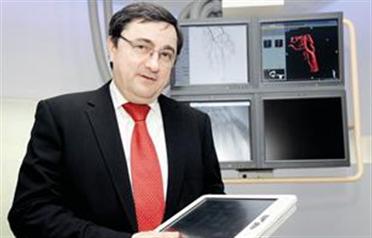 Royal Philips Electronics, the Dutch industrial giant, is convinced that there are not just downsides in a recession. On the contrary, there are both upside and downside in the current situation, according to Dr Gottfried H A Dutine, the company's Executive Vice-President and Member Board of Management.

"On the downside, we have seen a decline in sales of automobiles, which is affecting our business and on the upside, our healthcare segment is doing very well." With this mix of portfolio, Philips still has a very strong cash base. The company has reported 2008 sales of €7.6 billion (Dh36bn) and the full-year sales for 2008 stand at €26.4bn delivered Ebita of €931 million.

Within the Middle East, Philips is doing particularly well by registering a double-digit growth. The company saw a 22 per cent growth in 2007 over 2006 and 15 per cent in 2008 over 2007. In 2009, it again expects double-digit growth. The company is also going massively on an acquisition spree. After having acquired many companies last year, it does not rule out the trend in 2009 as well. However, the economic downturn has affected Philips' short-term fortunes and the company is looking at ways to control costs.

Having said that, the company is not shying of investing in research and innovation as it focuses on people's health and wellbeing. Most recently, it entered into a joint development agreement to explore future-generation approaches to the problem of infectious disease in critical care. Another partnership was announced to develop drug delivery technologies that could significantly impact the treatment of cancer and cardiovascular disease.

These are just two examples that work towards realising the achievements of the company's Vision 2010. The motto is putting people right at the centre of attention, while addressing their needs and aspirations for health and wellbeing.

What are the risks and opportunities due to the deterioration of the economy and financial market turbulence?

In the present situation we can see both upside and downside. On the downside, we have seen a decline in sales of automobiles, which is affecting our business and on the upside, our healthcare segment is doing very well.

Healthcare revenues from developed markets have been solid in the fourth quarter, especially considering the challenging macro economic environment, while our healthcare sector also showed strong growth in emerging markets.

We are encouraged by the fact that China recently pledged to make major investments of over $100bn (Dh367bn) in healthcare services up until 2011. Also, the Obama government in the US is investing in IT infrastructure in a big way and that will impact us.

In the consumer lifestyle sector, people have been reluctant to buy but I see sales stabilising or picking up in developed markets after having seen a fall. We have seen an increase in sales of coffee makers and electric shavers and home appliances.

It is extremely difficult to judge the future. Governments across the world have taken measurements to stimulate the economy by going for tax cuts, subsidies investments being made in infrastructure. These measurements are being implemented now.

How is Philips coping with this global economic slowdown? Have your sales dipped and what steps are you taking to keep the business profitable?

As a group, we have taken measures in the last quarter of last year to be prepared for an economic downturn and at the same time continuing to invest in growth businesses and markets, while looking at opportunities for further expansion in emerging markets and also mature markets.

We have broadened our healthcare portfolio and made many acquisitions in this sector in the past two years, especially with companies that offer solutions that improve the quality of people's lives, for example by presenting solutions to sleeping disorders such as sleep apnea.

We have a solid cash balance of €3.6bn. We had a free cash flow of €1.75bn cash in the last quarter so we are operating from a very solid position. And, given our strong cash base I do not rule out more acquisitions.

What about your cost-cutting measures? You just announced laying-off 6,000 people.

We announced in October that we were looking to accelerate business optimisation initiatives to limit the impact of the macro economic downturn on results, and we also started looking at products that were expected to come under fire or were at the end of their lifetime, like conventional light parts. During the fourth quarter, we accelerated those restructuring efforts in different countries and markets and the 6,000 job cuts that have become evident in the media is part of those announcements in the fourth quarter. Many of these announced measures are now in full swing and we will continue to execute on this in 2009. The majority of these job cuts are taking place in the US and Europe.

We are taking other steps as well to control costs. We are putting in place measures that simplify process, example harmonise IT systems. We work in 100 countries worldwide so it is very important that we look at these things. We also look at productivity levels and then define ways to improve it.

Which of your businesses is most profitable?

Healthcare is our strongest business and it showed strong 2008 fourth-quarter sales growth of nine per cent and improved earnings. We continued to gain market share and Ebita was a solid 14.2 per cent. Excluding the 3.5 per cent reduction from restructuring and acquisition-related charges, Ebita was 17.7 per cent, with a continued strong contribution from the former Respironics business.

At Lighting, our Professional Luminaires business maintained moderate comparable growth in a declining market, while in our Lamps operations we focused on drastically reducing inventory and production.

I am confident the significant restructuring programmes we pulled forward in response to the rapid deterioration of the economy towards the end of 2008 will enable us to improve the competitiveness of this sector as well, despite the clear challenges ahead, particularly in the automotive and construction sectors.

How has growth been in this region and what do you expect in the future?

We are doing very well in the region by registering a double-digit growth. We saw a 22 per cent growth in 2007 over 2006 and 15 per cent in 2008 over 2007. In 2009 we again expect a double-digit growth.

While our focus will remain on markets like Saudi, [the] UAE, Egypt and Iran, we are also looking at other markets where we see potential.

How important is research and innovation to Philips' operations?

Research and development is a very important aspect of who we are and how we do things. To give you an example, in 2008 we spent €1.77bn which translates into 6.7 per cent of sales on R&D. This is a significant amount, which allows us to remain on top in this area. We currently have over 80,000 patents in our portfolio.

What is your growth strategy in the UAE?

Our regional strategy revolves around further growing in all the three of our sectors – healthcare, lighting and consumer lifestyle – as they have been resilient in this downturn.

What we are also looking at partnership opportunities in which we move away from a supplier logic to an enabler and solution provider.

What is the biggest challenge for Philips today?

Managing our LCD business, which has seen a huge drop in business and at the same time capture the opportunity in our expanding healthcare and new lighting business.

The Company

PHILIPS' VISION 2010

Vision 2010 establishes the character of Philips as a people-focused, market-driven company that is organised around customers and markets. By understanding trends in society and obtaining deep insight into issues confronting people in their daily lives, Philips ensures that people's needs remain at the heart of everything they do.

The Vision describes what Philips sees as one of the biggest challenges facing people today – and how the company can help them meet that challenge. Philips has identified the difficulty of coping with complexity as a major challenge for people in our time. One of the things that make life today so complex is the fact that technological progress comes to us very often in a way that is too difficult to experience.

Philips believes that this situation can be changed, and that they can help to make the benefits of their products and solutions easier to access and more relevant to people's needs and aspirations.

THE THREE PILLARS
Philips' positioning as a leading brand in health and wellbeing is implemented through their activities in the areas of healthcare, lighting and consumer lifestyle.

HEALTHCARE

The healthcare sector focuses on improving healthcare, at lower cost, around the world. This includes helping to reduce the incidence and severity of many of today's deadly and debilitating diseases, such as cancer and heart disease. By approaching healthcare from the perspective of a patient or a physician, Philips believes it can ultimately create the best solutions for them.

Whether it is in the hospital or in the home, Philips seeks to improve patient outcomes throughout the entire "cycle of care" – from preventive medicine, including screening, through diagnosis and treatment in hospital, to recovery and, where needed, long-term disease or health management in the home.

LIGHTING

The Lighting sector focuses on new ways of using light to enhance people's wellbeing and safety – in the home, at school, at work, in shops and public places. Recognising how resource conservation and climate protection will play an increasingly significant part in human health and wellbeing, Philips pays special attention to maximising the effect of lighting while minimising the energy required to produce it.

CONSUMER LIFESTYLE

Philips will build on their deep understanding of people's needs and aspirations in these areas in order to create innovations that help consumers achieve their lifestyle ambitions. Philips believes their sectors overlap. Good health is supported by a healthy lifestyle. Consumers buy retail products to manage their health. Care cycles often start and end in the home.


PROFILE: Dr Gottfried H A Dutine Executive Vice-President and Member, Board of Management, Royal Philips Electronics

Dutine began his career in 1979 at Rockwell-Collins GmbH in Frankfurt as Director of Engineering. In 1984, he joined Motorola and became Group Director Product Operations of its European Communications Group. In 1989, he moved to Robert Bosch GmbH in Stuttgart, where he served as President and Chief Executive Officer of the Mobile Communications Division. Blaupunkt GmbH and a number of automotive activities were part of that assignment. At the end of 1997, he joined Alcatel in Paris and became Vice-President of the Telecom Board Committee and Area President for Central and Eastern Europe and Russia. Dutine joined Philips as Executive Vice-President in 2002 and was appointed as a Member of the Group Management Committee and of the Board of Management later the same year. Dutine holds a diploma in Electrical Engineering and a PhD in Communications Technology from the University of Darmstadt, Germany.

He is a member of, among others, the Brussels Round Table, the Transatlantic Business Dialogue and has been awarded the Senator honoris by the Technical University of Darmstadt in 2000.
Follow Emirates 24|7 on Google News.