Region offers strong growth opportunity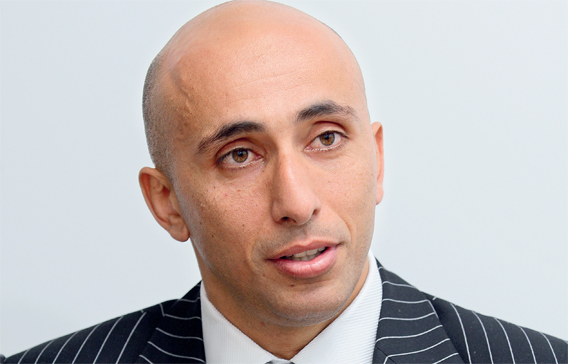 For the region's under-penetrated insurance industry, bancassurance could play a major role in reaching to a wider segment of people and in acting as a major revenue stream for banks and insurance players. "The region has responded well to bancassurance and we see a huge opportunity in co-ordinating with banks," Omar Shelbaya, Head of Bancassurance, Middle East, Friends Provident International (FPI), told Emirates Business in an interview.
Friends Provident, which has presence in the UAE for almost three years, has been witnessing an encouraging growth in business. The last quarter of 2009 saw more than 20 per cent growth in premiums over corresponding period of 2008. "It was an excellent quarter. We expect a similar growth in 2010," said Shelbaya.
The region, he said, offers immense growth opportunities, though more efforts are needed to increase awareness levels so as to improve penetration from the existing less than one per cent.
How was growth in business for Friends Provident in the Middle East?
We have been growing significantly in the region. In 2008 and 2009, there were tremendous growth. The growth has been in double figures. The last quarter of 2009 was exceptionally good and we recorded almost 20 per cent growth over the corresponding quarter in 2008. We have been here since 2007 and are developing our distribution channels, we have tied up with all reputable providers.
What led to the growth given that almost all sectors were hit during the financial crisis?
In economic crisis, people revised their statistics in terms of investment and insurance. Perceptions did change and when things went wrong, people started to evaluate what happened. In the UAE, from 2005 to 2008, almost all were talking of stock markets, quick gains. People were also talking about real estate. The quick gains are short term. The crisis saw people relooking at their decisions and considering investments on a medium to long-term basis.
But insurance penetration in the region is estimated to be even less than one per cent. What are the reasons?
There are lots of reasons for that. Sometimes the concepts of insurance conflict with beliefs, social reasons as well. The concept of future financial planning is very weak. Besides, insurance firms have not been in the region for a very long time. It takes time for people to have belief in a product. The UAE Government has taken a positive move by making medical insurance compulsory, this has helped. There are other ways such as making retirement plans compulsory in companies.
Which segments contribute significantly to your firm's growth in the region?
The UAE is a complex market, you have the locals and expats. For each sector there is a different proposition. For nationals we still don't have many options in Takaful. Their financial planning is also different. But for expats the market offers varied products. As for our company, we are approaching people across different segments.
Bancassurance has become a successful distribution model worldwide. How has it contributed to spreading insurance in the region?
In under 10 years, bancassurance in the region has made quick progress with almost all banks seeing the value of partnering with an insurance provider to offer products to their clients. This has resulted in excellent sales and strong growth to date, but now is a crucial time and FPI is taking an active role in looking at ways the sector can maintain its current growth and remain buoyant.
There is an influx of investment products with insurance embedded into them. Do you think there has been a change in the perception regarding insurance only as a means of protection?
Yes, the old way of looking at insurance as protection has changed. It is now embedded within the whole theme of financial planning. Protection is one element of financial planning. Saving plans is another plan of financial planning. These days consumers also prefer products that offer both.
What are your expansion plans?
We are studying different markets in the GCC [Gulf Co-operation Council] and Mena [Middle East and North Africa]. As and when the opportunity is available we would expand. Before stepping into any market, we would have our business plans in place. We study markets first and ensure that we must have added value for client, market, regulator and whole industry.
What are your growth targets for 2010?
We saw significant growth last year, especially in the last quarter. We expect around 20 per cent growth in 2010 too.
Omar Shelbaya Head of Bancassurance, Middle East, FPI
Shelbaya joined Friends Provident as head of bancassurance for the Middle East in May 2009. He is responsible for increasing FPI's market share within the bancassurance sector as well as developing new and existing bancassurance agreements in the region.
He has more than 12 years experience in the financial services industry. Prior to joining FPI, Omar worked with Allianz Egypt and Zurich International Life.
A BA in Economics and Political Science from Cairo University, Omar has a Diploma on Islamic Banking and Islamic Insurance from the Institute of Islamic Banking and Insurance, London. He has also been educated in the US and former USSR.
Keep up with the latest business news from the region with the Emirates Business 24|7 daily newsletter. To subscribe to the newsletter, please click here.
Follow Emirates 24|7 on Google News.